Edward Tatnall Canby: Reviewer, Critic, Audiophile, Conductor, Teacher & Host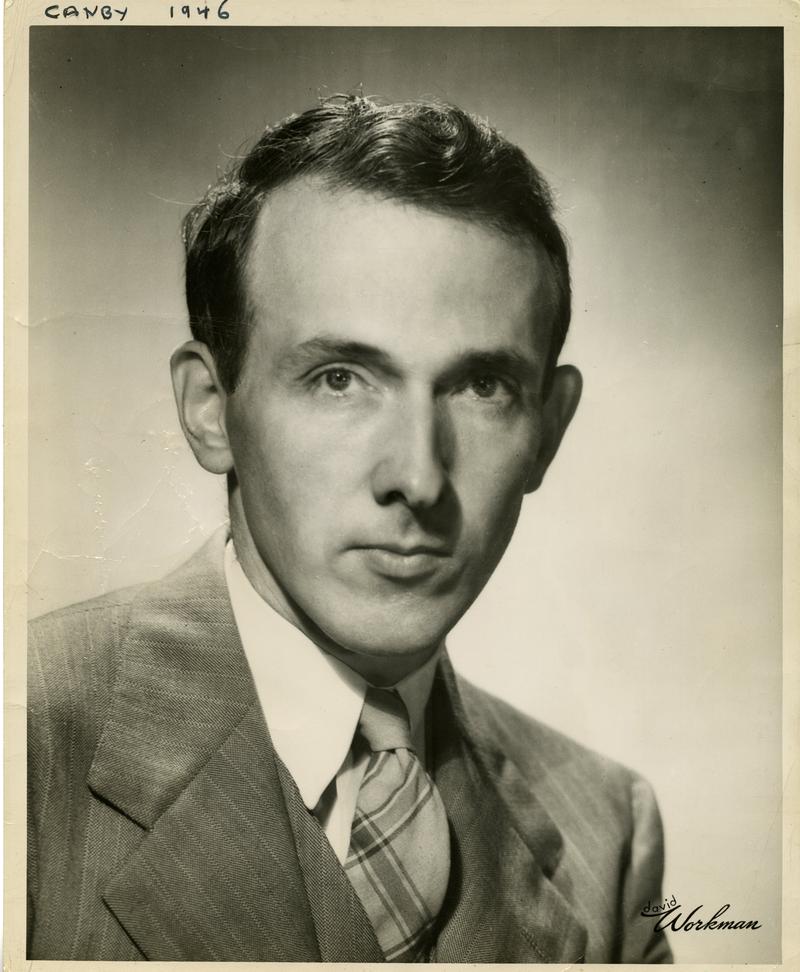 WNYC music critic, reviewer, audiophile and host Edward Tatnall Canby (1912-1998) began his nearly 25-year stint at WNYC in 1947. His show, The New Recordings, was described that first year as "a program of wide-ranging comment on music in general and the new records in particular." It was based on his weekly column in The Saturday Review. The name of the program was changed and is probably best recalled as Recordings,  E.T.C.
The Saturday Review column was also the basis of a 1952 book: The Saturday Review Home Book of Recorded Music and Sound Reproduction. It was written by Canby with C.G. Burke and Irving Kolodin. In it Canby writes:
"There are ways of listening to recorded music that involve quite different values from "live" listening. Never, then, confuse recorded performance with "live." Open your mental ears to a recording's own values, without prejudice. Search, not for a "concert hall" sound, not to convert your living room into a spacious auditorium such as it obviously can never be; but knowing that the recording is basically an ingenious trompe-l'oreille, a fooling-of-the-ear, give it aid in its own terms."
Canby was an early exponent of electronic music who brought many WNYC listeners their first earfuls of Stockhausen, Dockstader, and Moog. The above program is one such example from November 25th, 1962, where he features Dockstader's Luna Park. The recording critic also wrote reviews for Harper's Magazine (1952-1959) and album notes for Nonesuch. Absorbed by the relationship between music and audio equipment, he contributed a regular column to Audio magazine from 1948-1996. An audiophile, he engineered and produced all his WNYC programs favoring acetate based tape over polyester. Canby was also a well-known choral director and founded the Canby Singers in 1957.  He taught at Princeton University and Finch College. After leaving WNYC's air, he continued to broadcast over WNCN in New York.
_________________________________________________________________________________
Broadcast on WNYC Today in:
1949: Mayor William O'Dwyer speaks at the cornerstone-laying ceremony for the new St. George Ferry Terminal in Staten Island. He says, "Staten Island can't be a stepchild of New York City."
1954: For this edition of Lecture to the Laity, A. Hyatt Manor delivers the George R. Seidenberg Memorial Lecture at the New York Academy of Medicine. His talk is titled "Medicine and Art." Note: Manor was the Curator of Prints at the Metropolitan Museum of Art.
1964: Representative Melvin Laird, Chair of the Republican platform committee for the 1964 Republican National Convention, speaks at an Overseas Press Club luncheon.
2005: French composer Sylvain Chauveau discusses his music with Spinning on Air host David Garland. He also plays some of his compositions on the WNYC piano and on his electric guitar, which he plucks, strums, bows, and layers. Later, Parisian writer and performer Felicia Atkinson joins Chauveau for a moody spoken-word pop song abstraction, and Chauveau sings one of his favorite songs by Bill Callahan of Smog. Note: Chauveau creates a unique kind of quasi-chamber music of gentle intensity, with roots in both modern pop and the music of such early 20th Century French composers as Erik Satie. His subtle, understated album "Nocturne Impalpable" always generates a lot of inquiries when it's played on WNYC.