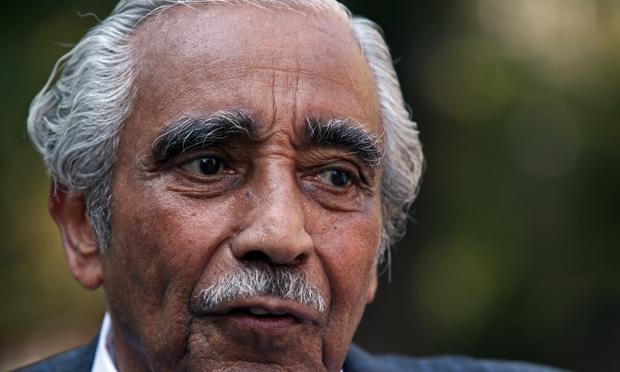 (Stephen Nessen/WNYC)
Some words of encouragement for embattled Rep. Anthony Weiner from a fellow New York Democrat who's no stranger to controversy. Representative Charles Rangel said Friday that Weiner can still be an effective lawmaker but "only if the press gets off his back."
"Of course he can be effective. He's smart, he's respected," Rangel told reporters outside City Hall Friday after a news conference on Iranian human rights. "But if indeed members, and especially Democratic members, find that every time they go out to campaign that people like you come and ask them about Anthony Weiner, it becomes a very difficult thing."
Rangel, who was censured by the House of Representative last December for ethics violations, said the question of whether Weiner should resign is "something that's hyped up by the press more than his ability to serve."
When asked what he thought of Weiner's conduct, Rangel said he didn't understand what he called "high-tech stuff like this."
"I know one thing. He wasn't going with prostitutes, he wasn't going out with little boys, he wasn't going into men's rooms with broad stances," said Rangel.
Another New York City Democrat, Rep. Carolyn Maloney, also spoke to reporters after the press conference on Iran, even though no one asked any on-topic questions. Maloney said Weiner's political future is a decision for him and his constituents. (A poll conducted on June 8 shows a majority of Weiner's constituents do not want him to resign.)
Maloney said her heart goes out to Weiner and his family. She did not answer a question on whether Weiner's scandal is hurting the Democratic Party. When asked whether she would support Weiner for reelection, Maloney said, "I don't even know who's running or if anyone is running against him. I have to see who's going to be on the ballot."
Other members of Congress representing New York City either declined or did not respond to WNYC's request for comments.
More in: