Lower East Side Middle School Explores What it Really Means to 'Raise Standards'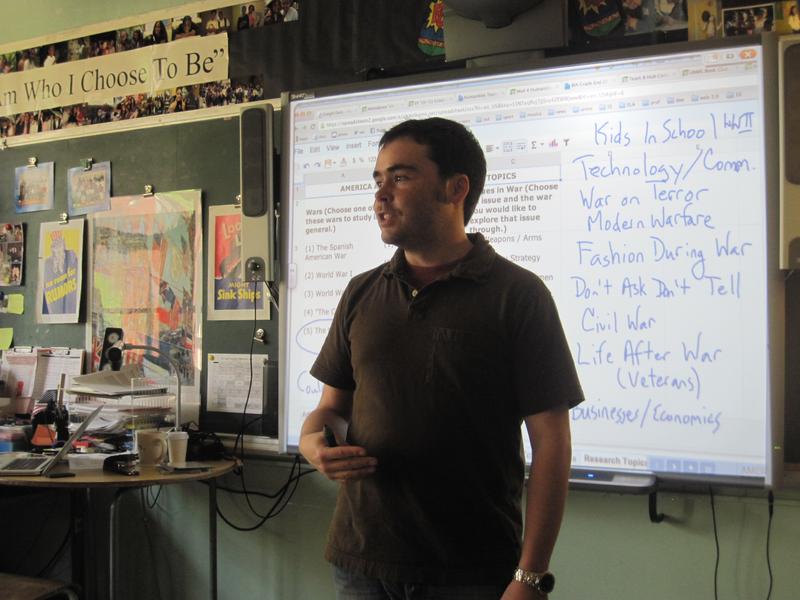 When it comes to public education, everyone from President Obama to Mayor Bloomberg is clear about the need to raise standards. It turns out, many states had weakened their standards to satisfy the testing requirements of No Child Left Behind. Now, 100 New York City public schools have begun experimenting with the new standards that will soon be required by New York State.
Guideposts, Not a Curriculum
Standards are kind of like guideposts for teachers. They don't say all 8th graders must read "The Old Man and Sea" by Ernest Hemingway. But, for example, one of the many new writing standards does state:
"Conduct short research projects to answer a question including a self generated question, drawing on several sources and generating additional related focused questions that allow for multiple avenues of exploration."
What does that mean? Mike Locker, an 8th grade humanities teacher at the University Neighborhood Middle School on the Lower East Side, translates the academic-sounding jargon this way:
"Writers are driven by the desire to develop and explore questions about life that are meaningful to them."
So, to meet that particular standard, Locker is directing his students to write research papers on the topic of war. Here are some of the questions they say they're planning to explore as writers.
"Is it possible to win the current warfare against terrorism?"
"What was the different role of fashion, like what were the different types of uniforms at home and during the war?"
"Don't ask don't tell, how if there was a gay person in the army they couldn't tell."
The students will research these topics and write essays, satisfying one of many writing standards expected of 8th graders.
How Teachers Use Standards
Standards are necessary because they guide teachers toward what their students have to master in order to move on to the next grade. Laura Peynado, the principal of University Neighborhood Middle School, says New York State didn't set the standards very well.
"They were very vague," she states.
And there were too many of them. In elementary math, for example, teachers were expected to cover dozens of topics each year. Asian countries with higher math scores only teach three to five topics a year. And because many districts, including New York City, don't have a set curriculum for English, schools and teachers had to often design their own. That's why Peynado says standards must be clear.
"You need to be able to know what students were expected to do in the 5th grade possibly, in the 4th grade, or 3rd grade if you're dealing with students who are not reading at grade level or writing at grade level," she explains. "So you can meet them where they are and move them to where they need to be."
Otherwise, she says, they fall even further behind when they get to high school or college.
Teachers say the state's new standards are shorter and more user-friendly. University Neighborhood Middle School is among 100 city schools that are piloting them this year. These Common Core standards are being used by many other states as part of a national effort supported by the Obama Administration.
More Writing
The new standards put more emphasis on writing. In Locker's 8th grade humanities class, 14 year-old Elijah Matthew Moore says he thinks his writing has improved.
"Instead of using a regular period, now I'm using semi colons or colons or other punctuation marks along those lines," he says.
Thirteen year-old Gabriel Arjara was worried about all this writing when WNYC visited his class last fall. But now he gets it.
"I think it's useful for us to learn because in daily life we're going to be writing a lot," he says. "Like for jobs and other things like that."
Preparing Students
Educators say that's the real goal of the standards movement: to get more students ready for college and work. For too long, students appeared to be scoring well on state exams. But they were doing poorly on national tests, a sign that states including New York had set their standards too low.
University Neighborhood Middle School started putting more emphasis on writing a few years ago. The school's teachers say many of their students have poor grammar, and the school has a large percentage of students who grew up speaking another language. Teacher Mike Locker says the new standards made it easier for him to plan his lessons. And he thinks his students did improve this year.
"They've been writing all year. They're more comfortable with it, they've done on-demand writing," he says.
But he thinks the state hasn't caught up yet with its own standards.
"I was very angry at the 8th grade test because the day of the writing there was not enough time," he explains. "And this was something I heard from all over the city."
The state says it's just begun revising its tests and officials say standards are just the first step. Schools also have to integrate a curriculum aligned to those standards. And by 2015 the state says it will have all new tests. Meanwhile, the city will begin phasing in the new standards this fall. Examples of work from this pilot program at the University Neighborhood Middle School could become models for other schools.