Profile of a Teacher Who May Be Among the Thousands Laid Off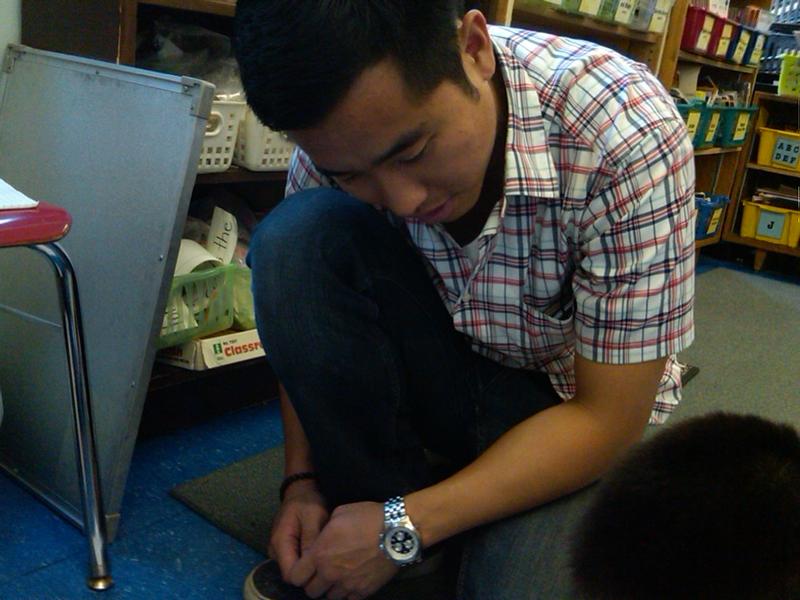 For the first time in more than 30 years, thousands of teachers could be laid off this month unless the City Council and the mayor work out an alternative to the city's budget crunch before the deadline at the end of June. With time running out, educators are nervous — especially new teachers like Juhyung Harold Lee, one of the 4,100 teachers at risk of losing their jobs this month. 
Lee, 26, teaches third grade at PS 124 in Manhattan's Chinatown. The union contract requires the least experienced teachers to be let go first meaning that elementary teachers with less than four years' experience are most at risk.
Lee is wrapping up his third year and his prospects for keeping his job aren't promising.
Uncertain Times
"I wish that there was more certainty especially as we move towards the end of the year because you really want to be thinking about next year," he said. "And it seems kind of preposterous that we're just expected to wait."
Lee isn't the only one waiting at PS 124 in Chinatown; the school expects to lose four of its 55 full-time teachers if the layoffs go through.
"I hope they don't think I'm lying, but I really don't have any information that I can share with them at this time," said principal Alice Hom, who noted parents and teachers are anxious. "I've spoken to other principals who are in the same boat – some of them who have, like, 13 staff members who are supposed to be laid off."
Because the layoffs are based solely on last in first out, some schools with a lot of new teachers would be especially hard hit.
Lee at Work
Lee said he tries not to dwell too much on the future in order to do his job. His third graders are learning to write realistic stories based in history now that the state exams are over. They talk about how to construct a good starting sentence, and one boy suggests "a dark and murky post office."
"Maybe it's dark and murky. Maybe it's not even a post office," Lee tells him, encouraging the boy to remember that the story takes place in early 20th Century China.
Lee, the son of Korean immigrants, said he wanted to become a teacher because education enabled his parents to become successful. He graduated from Brown University and Teachers College at Columbia. Lee still considers himself a "novice," but said he's learned a lot from veteran teachers.
"I was just trying to survive," he said, recalling his first teaching stint at a school in Queens. "I was really fortunate that there were a lot of teachers at my old school that were incredibly supportive — willing to share ideas, materials, willing to brainstorm with me."
He now co-teaches a class of 14 students, almost half of whom have special needs. He said he's learned a lot through colleagues about classroom management and working with students of all different levels.
Seniority Protections
That's why, despite his own predicament, he wouldn't want to throw out seniority protections completely without a better way of evaluating teachers. The state recently created a new evaluation system, but the city and the teachers union are at odds over the details and the role of student test scores.
"In general policy makers and school leadership, administrative leadership, they're too quick to try to identify, you know, these are the characteristics of a good teacher," Lee said. "And too often it's tied to things that we know aren't the signs of good teachers like good test scores, for example."
Principal Alice Hom agreed rating teachers is more of an art than a science, which is why she opposes the law that requires new teachers to be the first ones to go during layoffs. The union said this protects senior teachers from being eliminated because they make more money. But Hom said a good teacher is worth the cost – and principals should get to make that decision.
"There are always other people you might want to have leave your building for one reason or other and you have no control over that," she said. "You have to deal with your staff as best you can."
If the layoffs go through, Hom could replace some new teachers with more experienced teachers from other schools, but she said it would be chaotic and she likes the energy and enthusiasm of her new teachers.
"I don't think teachers who are new in the system should be necessarily the first to leave because they have some added value," she said, noting that Lee is one such teacher, calling him "smart and dedicated."
Lee said he envisioned himself teaching for at least five years before moving into education administration or curriculum planning. But he lost his first job in Queens because of budget cuts, an experience he calls "heartbreaking."
Now that he's at risk of losing his second job for the same reason, he said he's planning to go to law school unless a deal is struck very soon. He applied last year to give himself more options and was accepted at the University of California at Berkeley.
"At this point, it's looking more and more like that's the route I'm going to take because I'm not going to wait until July or August to see if I have a job," he said, noting that he's still paying off student loans.
But if he does become a lawyer, he says he plans to use his experience as a teacher to work in education policy because he says too many policy makers have never been in a classroom.
Right now Mayor Michael Bloomberg and the city council are still negotiating over the budget. Some longtime observers believe the mayor is bluffing, because he's made similar threats in the past, but the mayor insists the money just isn't there.
LISTEN: New Teachers Most Vulnerable In NYC Layoffs (NPR)