Watch: Weiner Cops to Lewd Twitter Photos, Breitbart Crashes Stage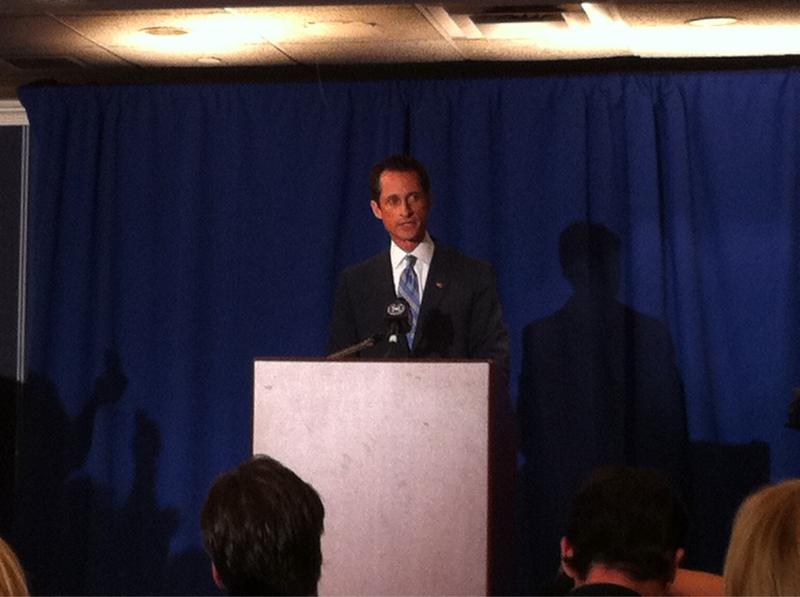 In one of the more head-scratching resolutions to a political sex scandal in recent memory, Anthony Weiner today admitted that he did in fact send lewd photos of himself to women he'd met on the internet.
In an emotional and bizzare press conference at the midtown Sheraton this afternoon, Anthony Weiner admitted that he had contact through social media with several women from around the country. He reiterated several times that he had never met any of these women in person, but that his actions constitute "a personal failing" that will no doubt cast his political future into question.
The gathered media was expecting a significant announcement but got more than it bargained for when Andrew Breitbart of BigGovernment.com appeared in the ballroom and took the stage, hijacking the podium ten minutes before Representative Weiner was scheduled to speak. Breitbart claimed to be in possession of at least one more lewd picture of the Congressman, which he is "witholding to protect [his] family." But, he added he would release the photo if he continued to be "attacked" by Weiner.
In reaction, most major news outlets cut away from the press conference while Fox News continued to stream the event. 
Breitbart, whose website BigGovernment.com played the central role in publishing and publicizing Weiner's photos, commandeered the podium and demanded an apology from the congressman. The libertarian-conservative new media mogul claimed he broke the scandal for the benefit of Weiner's family—who he said had a right to know they were being hurt—then claimed he had been unfairly bashed by Weiner for doing so.
Bizarre, we told you. This was Breitbart's "Kanye moment."
This became a moot point ten minutes later when Weiner took the stage and admitted to the behavior, even offering an apology of sorts to Breitbart, who remained to the side of the press conference but did not ask any questions.
When Weiner finally did speak, it was through tears. He not only admitted that the risque photos were indeed of him, but that he fabricated the story about his Twitter getting hacked. He had meant to send the photo to a woman via direct message as a "joke." When it appeared on his public feed, he "panicked" and quickly deleted it, though not soon enough.
"I was embarrassed and I didn't want this to lead to other embarrassing things," Weiner said. "It was a dumb thing to do to tell lies about it because it just led to more lies."
Weiner also admitted that he had pursued such online correspondences with six women over the past three years, both before and during his marriage. He said he had never once met any of them in person or engaged in any physical affair.
"This is a deep weakness I have demonstrated and for this I apologize," Weiner said. The congressman will not step down, however. "To be clear, I am deeply regretting what I have done and I am not resigning.
"The last thing on this day when I've done this harm to my wife and my family. is thinking of this or next year's election. The first thing I need to do is make sure this never happens again," he said.
When asked about his political future, Weiner said that he is not resigning, but that he would leave it "to my constituents" to decide his fate.