Intrepid City College Staffers Record Dust Bowl Refugees for WNYC Documentary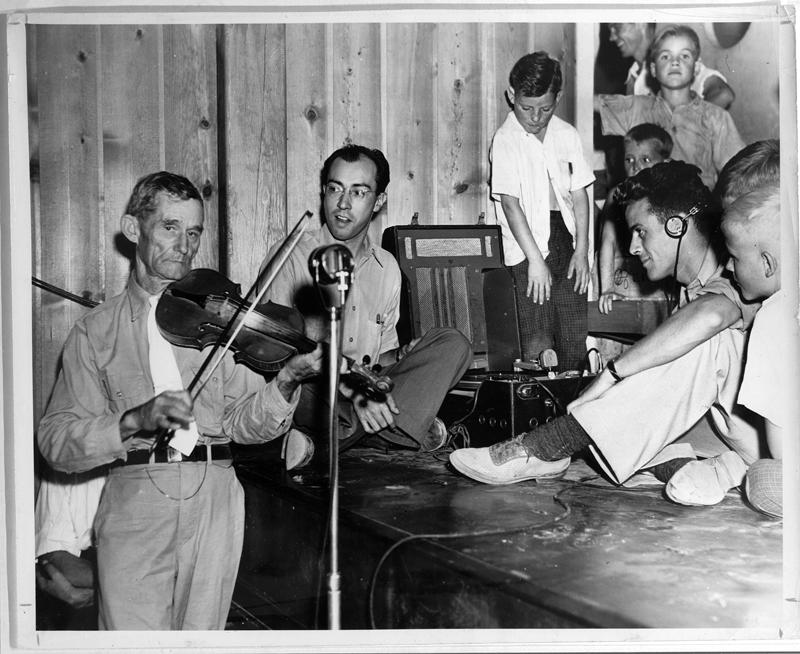 Robert Sonkin and Charles Todd were working at the City College Department of Public Speaking when they decided to spend their summer vacations in 1940 and '41 at the Farm Security Administration (FSA) camps of central California. With the help of Alan Lomax, their project was underwritten by the Archive of American Folk Song at the Library of Congress. Carrying a "portable" 50-pound Presto disc cutter, they recorded cowboy songs, traditional ballads, square dance calls, camp council meetings, storytelling sessions and the personal experiences of the Dust Bowl refugees who lived in the camps.  Drawing from more than 200  field recordings, the folklorists produced the above documentary for WNYC in 1942, one of three in a broadcast series called Songs of the Okies. 
Sonkin and Todd described their folksong expedition for the New York Times Magazine in November, 1940:
"It is a somewhat bewildering experience to travel a few miles inland from the modern, sophisticated cities of the California coast to the hot valley of the San Joaquin, where many of the Okies have made their homes in government camps, private camps or in roadside tents and shelters. Geographically, it is still California, but for the collector of songs it is another and far more fascinating world. Strolling in the evenings through one of the big Farm Security Administration camps, past long rows of tents and metal 'units,' one hears fragments of tunes that a more prosperous America has forgotten in the process of growing up and getting rich." [1]
In addition to the ethnographic research Todd did with Sonkin in California, he also documented folk music in upstate New York and parts of New Jersey. In 1942, he returned to California and worked as associate manager of the Tulare Migrant Camp in Visalia. He was later drafted into the Army and went to work as a public relations officer. After the war Todd continued to work in public relations and later headed up the Speech and Communications Department at his alma mater, Hamilton College.
Sonkin had degrees from both City College and Columbia University and founded the speech clinic at City College. In addition to the research he did with Todd in California, Sonkin also documented the African-American community of Gee's Bend, Alabama, where other FSA work was being carried out. After the Japanese attack at Pearl Harbor, he participated in an Archive of American Folk Song-sponsored project to document the man-in-the-street's opinion of the war effort. Like Todd, Sonkin was drafted into the military during World War II, where he served in the Army Signal Corps.
At the end of the war, Sonkin became a speech professor at City College, where he retired in 1976. Todd and Sonkin remained in touch and undertook a collaborative project which resulted in a book on Alexander Bryan Johnson, an American philosopher and banker, published in 1977. Robert Sonkin died in 1980 at the age of 69. Charles Todd lives Vero Beach, Florida.
For more about Sonkin and Todd's recordings and work, go to the American Folklife Center, Library of Congress, Voices from the Dust Bowl.
[1] Charles Todd and Robert Sonkin, writing in "Ballads of the Okies," The New York Times Magazine, November 17, 1940, pg. 117.
______________________________________________________________________________________
Broadcast on WNYC Today in:
1925: Uncle Dave Cory tells children's stories.  Note: Uncle Dave Cory was known as "The Jack Rabbit Man" for his jack rabbit tales told over the radio. Cory wrote more than 50 children's books and was syndicated in over 80 newspapers across the country.
1940: Mayor La Guardia asks New Yorkers of Italian descent to preserve strict neutrality in light of Italy's declaration of war against France and Great Britain. "I want to make myself perfectly clear that we will brook no demonstrations, no propaganda that remotely touches on any disloyalty to our country by anyone. Just as I said on September 2, we must meet this situation. Therefore we cannot permit demonstrations, for or against, to take place in the immediate neighborhood of any foreign consulate...I know how painful this moment is to a large majority of the people of this city. It is for me, for I fought with the Italian forces, when I was in the American army, against Germany and Austria..."
1968: Psychoanalyst Esther Menaker speaks about "Creativity as Conscious or Unconscious Activity" for the Cooper Union series Peace, Love, Creativity: Hope of Mankind.
1970: Ruth Bowman talks with William Woolfenden, Director of Archives of American Art at the Smithsonian Institution, for this edition of Views on Art.
1993: Emanuele Segre, guitar, and Steven Lubin, piano, perform for Around New York.
2001: Survival Kit's Leonard Lopate invites Art Spiegelman to choose eight cultural items he would need to get through a snowy winter in a remote cabin in the woods. Note: From 1980 to 1991, Art Spiegelman and his wife Françoise Mouly produced the avant-garde "graphix magazine" RAW, and in 1992 he won a Pulitzer Prize for his graphic novel Maus, which told the story of his parents' ordeals during the Holocaust in comic strip format. He has also collaborated with Mouly on a series of children's books in "comix" format.