Street Performers Upset Over New Central Park 'Quiet Zones'
Street performer John Boyd has been coming to the Bethesda Fountain and to Strawberry Fields in Central Park every weekend for the last four years to sing opera and jazz classics. But if park officials have their way, Boyd and others will no longer be performing there. Last week, the Central Parks Conservancy, which is the official manager of Central Park, posted new "Quiet Zone" signs at the Bethesda Fountain and in Strawberry Fields that explicitly forbid the use of musical instruments and amplification there.
Although park police have been enforcing the new rules, Boyd was singing in the Bethesda Alcove with a trio and an amplifier on Monday. He said he was arrested last Wednesday and that he had racked up thousands of dollars of fines for disobeying the Quiet Zone rules.
"It's called civil disobedience," he said. "This is a public space, and they're violating our free speech. We don't accept this notion that they [the Central Parks Conservancy] give us permission to express our First Amendment rights. Our rights come from the Constitution."
The new Quiet Zones extend to the patio surrounding the fountain and the nearby arcade -- a covered stone passageway long coveted by classical musicians for its superb acoustics.
Just a few feet outside of the new Quiet Zone area, Arlen Olson played the hammered dulcimer. Olsen said he had been performing folk music in Central Park for over a decade, and that the new rules were just another phase of escalating tensions between buskers and park officials that had heated up in the past two years.
In 2009, he said the Conservancy attempted to impose a similar ban on playing music near the fountain, only to lift the Quiet Zone restriction a month later.
Olson said he was upset that the ban was back.
"There are plenty of places in the park that are quiet," he said. "But this is the busiest hub of the park. It seems like a very strange place to pick for 'quiet reflection.' It just doesn't make any sense." 
Parkgoer and cyclist Baba Tunde said he was on the fence about the new regulations.
"I think we need a balance," Tunde said. "Acoustic stuff should be allowed, but some people playing loud drums or blasting with amplifiers -- that can be disturbing. Maybe they could do auditions, like in the subways, so you could guarantee a certain caliber of musician playing."
The city's Department of Parks and Recreation, which retains policy control of Central Park, said the new Quiet Zone policy was enacted in response to public complaints.
"The Quiet Zone here assures the historic area's visitors a chance to stroll, picnic, or go boating without loud sound traveling across the area," said Vickie Karp, a spokesperson for the Parks Department. "Music is welcome by visitors in most sections of the park, but if an area is overwhelmed by musicians, particularly with amplified sound, they can be asked to move."
The Central Parks Conservancy did not return WNYC's call for a comment.
6/2/11 Update: According to the Department of Parks and Recreation, Strawberry Fields has been a Quiet Zone since 1985. Last week marked the first time the parks department posted Quiet Zone signage and enforced the zone rules at Strawberry Fields. There are eight Quiet Zones in Central Park, including Sheep Meadow and the Conservatory Garden.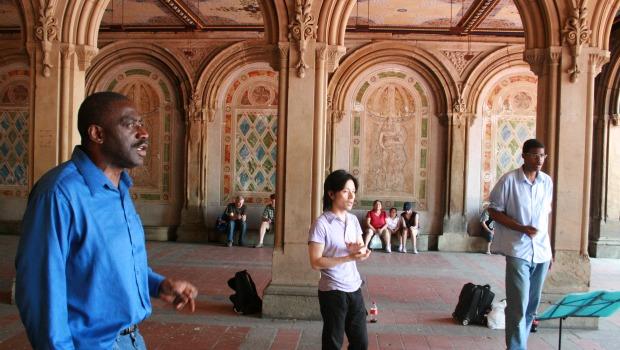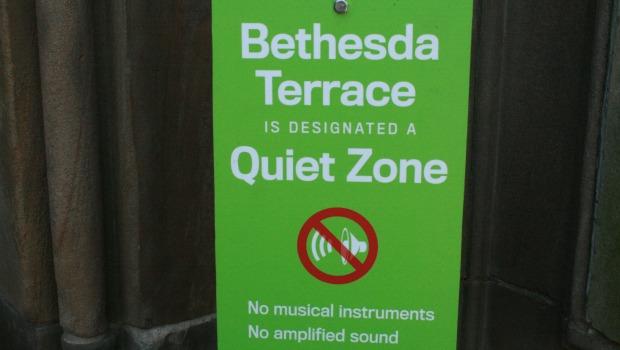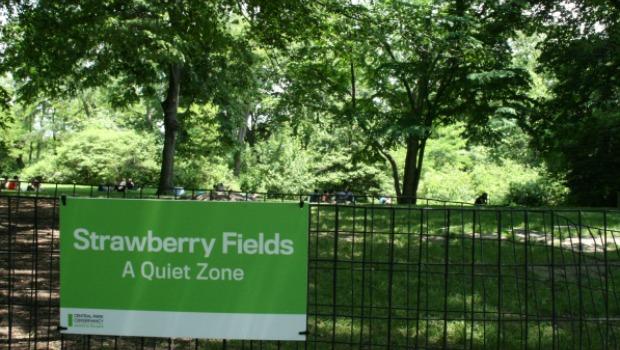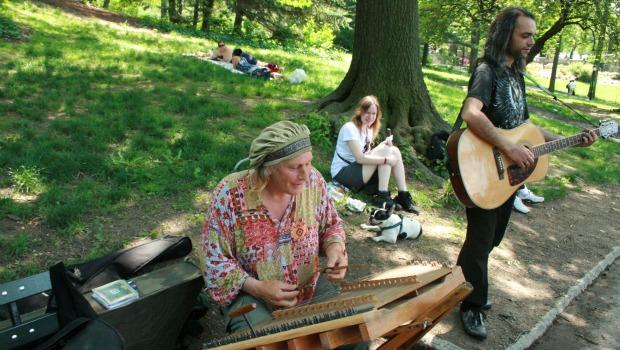 of