Two Months Into Tenure, Schools Chancellor Dennis Walcott Continues Push for New Tone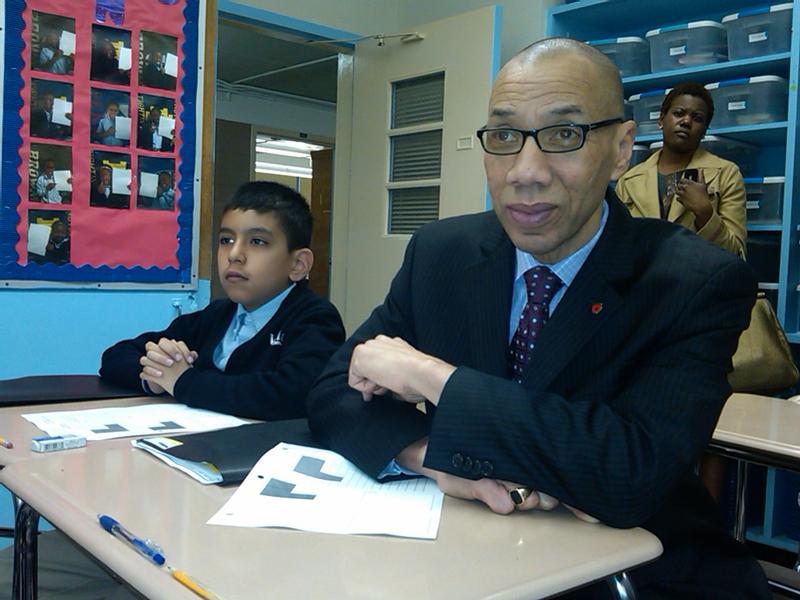 In the nearly two months since former deputy mayor Dennis Walcott took over as Schools Chancellor following the stunning departure of his controversial predecessor, the city's highest-ranking African American has relied on his political prowess and knowledge of the schools system to redefine the role and set a new tone.
Walcott, 59, was appointed to chancellor following the departure of unpopular publishing executive Cathie Black, who was criticized for her lack of experience in education.
In contrast, the Queens native, who sent his four children to public school and is himself a product of the system, is no stranger to the schools system and estimated he visited 500 schools during his nine-year tenure as deputy mayor. He said he now works six to seven days a week visiting community meetings, churches and schools to tell the city's parents he intends to strike a new tone.
No Stranger
The new principal of the Coalition School for Social Change, Sheldon Young, was thrilled to see the new chancellor in his East Harlem building at 8 a.m. during a recent visit to the school. He was also surprised when Walcott introduced himself.
"Yes, I kind of know who you are," Young said, laughing. 
"I never assume, I never assume," Walcott reportedly said.
The two chatted about the school's efforts to make students feel more included, and within a few minutes Walcott recommended the name of a student poet who might be a good guest speaker. He then headed upstairs to visit a charter school in the same building, greeting students as "sir" or "ma'am" as he passed them in the halls.
He observed a few classes at the Harlem Village Academy Leadership charter school, and sat down next to a fifth grade boy who was working on a geometry problem.
The school's founder, Deborah Kenny, said she was surprised when Walcott revealed to her that he had arrived more than a half hour ahead of schedule to watch a student leadership presentation in the auditorium without anyone knowing he was there. "Don't be impressed," she said he told her. "That's just the way I am."
Walcott's apparent comfort level in schools is in sharp contrast to his predecessor, yet he said he wasn't interested in the job of chancellor until the mayor asked him to replace Black in April.
But Walcott now calls being chancellor his "dream job" and he recently told a crowd of students at a public arts event in Union Square that he doesn't take his role lightly.
"I am the father of 1.1 million students," he said. "I believe in what all of you are doing. I talk about you all the time, and try to make sure I celebrate what you do every day."
But Walcott said he believes deeply in public education, and he's the city's highest ranking African American — something he can't ignore with a population that's mostly students of color: "I will always be a black man," he said. "I take that role very seriously. But you'll not see any deviation of how I act now versus before, or in the future."
A Change in Approach

What New Yorkers are seeing is a Department of Education that has great ambition despite the prospect of deep budget cuts and teacher layoffs, Walcott said. The chancellor quickly replaced two deputy chancellors and said he has been reaching out to parents who felt alienated by the mayor's dramatic reforms.
"While we may not always agree on issues, whatever the group may be, they will be part of the conversation," Walcott said of his approach. "I will talk to them, meet with them, and [be] inviting people who may have felt that we didn't listen to them to say 'Hey, this is where I am.'"
At a Panel for Educational Policy meeting in April, Walcott, known for never losing his cool, told the audience he wanted to strike a new tone.
"I hear a lot of times from individuals that, 'You talk to us, and we don't respond to you at all,'" he said over a few jeers. "A couple of things: I'll be respectful of you. Please be respectful of me."
The panel still voted to close several failing schools, including PS 30 in Queens, where parent leader Tareeka Kelly said she didn't feel like families, teachers and students were heard.
"If they weren't successful at changing their minds then I don't know what else they want," she said, expressing her disappointment with Walcott and the panel members. "It's a farce."
Walcott defends mayoral control of the schools and said he wants to improve parent involvement. But the city so poorly managed this year's community education council elections that a do-over was necessary. When asked if he would run for community education if he were a parent today, Walcott – whose four children attended the city schools - said the question should be reframed.
"If I was a parent today," he said, "would I want to have as many options to choose for my children as the parents do today? And I'm jealous that parents have way more options than I had when I was a parent of school children."
Sued by the Teachers Union
Options include hundreds of new schools and privately-managed charters that, Walcott argued, have better outcomes than the schools they replaced. But the teachers union and the NAACP disagree and have sued to stop the city from closing 22 more low-performing schools.
United Federation of Teachers President Michael Mulgrew said the department of education allows too many schools to fail.
"What we're asking [from the] DOE is stop this process, come out and work with us because their responsibility first and foremost is to help schools help children," he said. "Not sit in that Tweed courthouse and say we're not helping schools we're going to hold them accountable."
Walcott countered that the city has tried to help the schools. And he's frustrated by the lawsuit, which follows a similar one last year.
"That gets me," he said. "Trying to perpetuate poor schools that are not educating our students for the purpose of either keeping adults there or for purposes that I don't know. ... There's one school in particular that jumps off the page that has, I think, a three percent proficiency rating. Three percent proficiency rate in English Language Arts. And they're suing to keep this school open. They should be ashamed of themselves."
Relations between the city and the teachers union are especially strained now with the prospect of thousands of layoffs. The two sides are also at odds over a new system for rating teachers based on how their students perform on state exams.
"We are measured by tests," Walcott said, defending the new system against critics who say there's too much test preparation. The goal, he explained, is to "make sure it's not the bubble type of tests but it's critical analysis."
Walcott said new state standards and tests that value those skills, will do a better job of preparing more students for college and work, but there are serious questions about how the city will make that happen given the budget constraints and labor issues. For now, Walcott seems to be enjoying a kind of honeymoon period.