Last Chance Foods: Craft Jerky
While many have snapped into Slim Jims at one point or another, the time has come to take beef jerky to the next level: craft jerky. This is no mechanically separated, chemically dehydrated meat product. Instead, jerky makers in New York are embarking on the age-old method of preserving meat by using grass-fed, local and organic beef.
That's the case at Kings County Jerky Company. Owners Robert Stout (below, left) and Chris Woehrle (below, right) get their beef at Fleisher's in Kingston, N.Y., Williamsburg's The Meat Hook, and occasionally WholeFoods, as well. Woehrle spoke with WNYC's Amy Eddings about how they started curing meat armed with nothing more than two air conditioning filters and a fan. They sandwiched the beef between the filters and bungee-corded it to the fan. Eighteen hours later, they had a rudimentary jerky. About six months later, they're in the process of launching a retail line for their burgeoning company.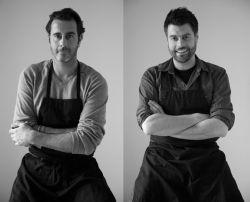 Woehrle bemoaned the fact popular brands have reduced jerky to sad rubbery impostors with one of three flavors: original, terikayi and spicy. "We really wanted to take jerky out of the flavor clichés that it's had," he said, adding incredulously, "I didn't know spicy was a flavor, but apparently it is." Kings County Jerky Company created a smoky classic variety, as well as orange ginger and bulgogi flavors in response.

The company is not yet selling their products. Instead, consider this a preview of what to expect in April, when Woehrle and Stout hope to have maneuvered through all the federal, state, building and health regulations needed to go retail. For now, the two neighsbors are still making jerky in the smoker on their terrace in Bed-Stuy.

Woehrle suggests crumbling jerky on top of salad as a sort of amped-up version of Bac-Os. If all goes well, area bars might get in on the action, too. "We've gotten some calls from bars who are really eager to stock it, because they know that the more jerky you eat the more beer you drink," he says with a laugh. "And frankly, the jerky tastes better with beer. And the more beer you drink, the more jerky you want, so it's a synergy we're hoping to take advantage of." He notes that the company might soon be making vegetarian jerky from produce like mushrooms, as well.

Woehrle recently consulted craft beer expert Sal Fristensky, who owns Luckydog bar in Williamsburg, and sent over this beer pairing guide for their jerky.

Classic Jerky: I'm thinking pilsener here, the American style, which is sweeter and less hoppy—like Genesse Cream Ale from Rochester, N.Y. The Czech- or German-style pilsener is crisper with more hops. I'd recommend Penn Kaiser Pils or Stoudts Pils, both brewed in P.A.

Bulgogi (Korean BBQ) Jerky: I happen to like low-alcohol stouts with Asian food, so I'm thinking Keegans Milk Stout from Kingston, N.Y.

Orange Ginger Jerky: I would recomend a Belgian white, saison, or wheat beer. Two of my personal favorites are Brooklyn Sorachi Ace and Ommegang Hennepin. Brooklyn uses Japanese sorachi ace hops, and Hennepin is a classic farmhouse saison made in Cooperstown, N.Y.

Also, for a DIY jerky recipe, Woehrle recommends this recipe from Alton Brown.