Conde Nast Signs Lease for One World Trade Center
Conde Nast, the mega publisher behind Vanity Fair and The New Yorker, signed a $2 billion, 25-year lease for office space at One World Trade Center on Wednesday.
The Port Authority board, which controls the new skyscraper rising at the World Trade Center site, approved the deal that will bring Conde Nast in as a tenant Wednesday afternoon. The publisher will move about 3,000 employees into 1 million square feet of office space by the fourth quarter of 2015.
"It will be the catalyst for the downtown area, just as we did for Times Square," said Conde Nast chairman S.I. Newhouse before signing the lease Wednesday.
The 1,776-foot tower is one part of the area's redevelopment, which includes the 9/11 Memorial Museum, a transit hub and performing arts center.
"Bottom line is: Osama bin laden is dead and we are growing alive," Mayor Michael Bloomberg said. "Conde Nast coming here [is] reaffirming the fact that it's cool to do business downtown."
One World Trade Center has now reached 66 of the planned 104 stories.
"It's a game changer for downtown," developer Bill Rudin, who attended the signing, said. "It's just an affirmation of all the hard work everybody's been doing for the last 10 years on redeveloping downtown."
The other confirmed tenant at One World Trade Center is Vantone Industrial of Beijing, which finalized a lease in 2009 for about 200,000 square feet.
"It really shows the diversification in terms of the type of businesses that are choosing to locate in lower Manhattan," said Julie Menin, chair of Community Board 1 in Lower Manhattan. "Traditionally, for many years, we saw Lower Manhattan as being dominated primarily by the financial sector, and that's just simply not true anymore."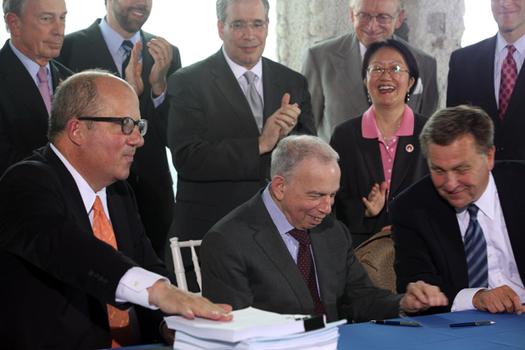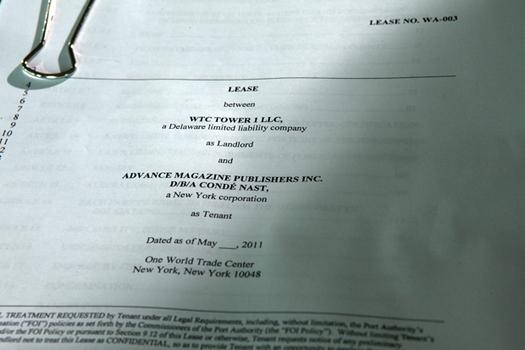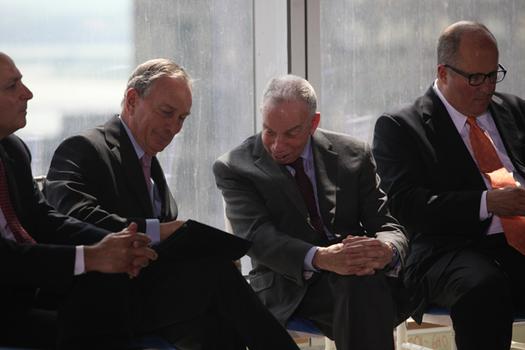 of