This Week: Must-See Arts in the City
Hacked video games and remixed Internet videos at the Whitney, topless human-animal dancers at Jonathan Levine, a look at life in Cuba at Marlborough and some '60s comix psychedelia at Andrew Edlin. Plus, a sampling of outdoor public art in the event that you don't want to spend Memorial Day Weekend indoors. It's a good week to be in New York City. Here's what we've got in the hopper for arts events in the coming week:
Cory Arcangel, Pro Tools, at The Whitney Museum No artist embodies contemporary hacker culture quite like Cory Arcangel, the Brooklyn-based musician, programmer and artist who, in 2002, busted into the Super Mario Bros. video game to produce a significant piece of minimalist simplicity: an endlessly rolling reel of white, puffy digital clouds. (See it here.) Now The Whitney is devoting its entire fourth floor to some of his most recent works, which feature the same D.I.Y.-hacker ethos. There are modified video games (including a relentlessly frustrating version of a golf game that has been configured to never sink a putt), geometric drawings produced with a vintage pen plotter machine from the 1980s and an absolutely manic video of spliced-together heavy metal guitarists reconfigured to play Paganini's "Caprice No. 5." Many of the pieces are one liners — such as the stack of boxed 55" televisions, a piece called "Volume Management," which reads like a techno-fetish version of the Schrodinger's Cat paradox. (Would look great in the gift shop.) Others might seem one-dimensional on the surface, but in all actuality end up being more profound. A stack of synchronized dancing stands turn a tacky store display item and transform it into sculpture. This idea may hardly be new at a time when any old object can be tossed into a museum and referred to as ART. But this one plays on various levels: not only is it downright absorbing to stare at, it pays tribute to Marcel Duchamp's idea of the readymade and Sol Lewitt's highly clinical geometric cube sculptures -- if you happened to be looking at them while on acid (see the video below). Overall, it's a worthwhile show, one that will be infinitely more comprehensible to the non-techie set by checking out the current profile of him in The New Yorker. (Subscription required.) Opens on Thursday, in Manhattan.
Miss Van, Bailarinas, at Jonathan Levine Gallery in Chelsea In the early 1990s, this French-born artist was one of the first women to work on the streets -- dotting Toulouse with her hand-painted poupées (dolls), half human/half animal hybrids that are all kinds of pin-up sexy. In her second solo exhibit at the gallery, Miss Van showcases her latest studio works -- paintings devoted to a new series of frilly, corseted figures. Opens on Thursday at 6 P.M., in Manhattan.
Living in Havana at the Marlborough Gallery in Chelsea Featuring five artists who live and work in Cuba, this exhibit tackles (and gently skewers) issues of migration, race, poverty, class and political iconography -- among other things. The best known of the bunch is the sculptor Kcho, known for his dramatic three-dimensional renderings of boats, the primary form of escape from Cuba. In addition, expect wry pieces from the likes of Abel Barroso, a sculptor with a knack for the mechanical (his pieces often include a hand crank), and William Pérez, who refashions political icons with lights and incised Plexiglas. Through June 18, in Manhattan.
Zap: Masters of Psychedelic Art, 1965-74 at Andrew Edlin Gallery in Chelsea This will no doubt be a must-see show for comic book and graphic design geeks of all stripes. Organized by comic artist and painter Gary Panter (of Jimbo fame), the exhibit looks at the original line-up of the famed San Francisco alternative comics house, Zap -- the company that put the 'x' in comics (literally). Featuring the work of artists such as the notorious R. Crumb, S. Clay Wilson and Robert Williams, the show is filled to the max with the sex-drugs-and-politics saturated imagery of the period. Should be a good trip. Through June 25, in Manhattan.
And, because 'tis the season to be outdoors, a couple of public art installations worth checking out:
Sol Lewitt: Structures, 1965-2006 at City Hall Park Speaking of Sol Lewitt (the non-LSD version). Outside Bloomberg HQ (as in our municipal government, not the media company), various structures by the minimalist, conceptualist and all around geometric maniac go on view in City Hall Park this week. If you happen to be in the neighborhood for a protest, be sure to check out the art. Through December 2, in Manhattan.
Mark Di Suvero at Governor's Island The good folks at Storm King, purveyors of monumental sculpture in the Hudson Valley, have gathered together a number of pieces by Mark Di Suvero, the kind of guy who's never met a piece of steel he hasn't wanted to bend, stack or carve. Get ready to feel very, very small. Opens Friday, on Governor's Island.
Check out Cory Arcangel's piece "Research in Motion (Kinetic Sculpture #6)" at his Whitney Museum show, "Pro Tools" below.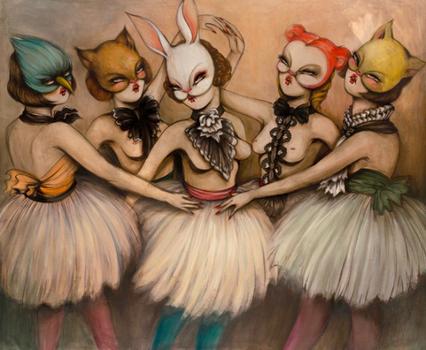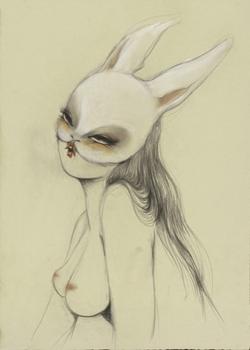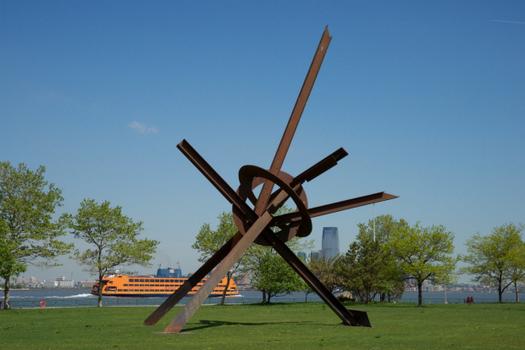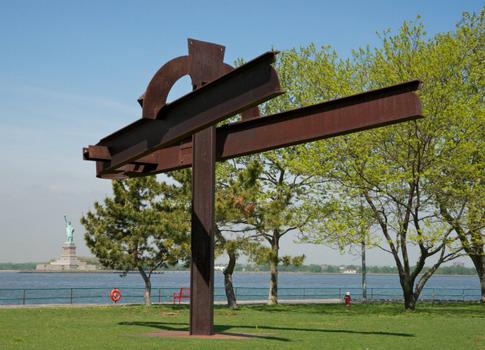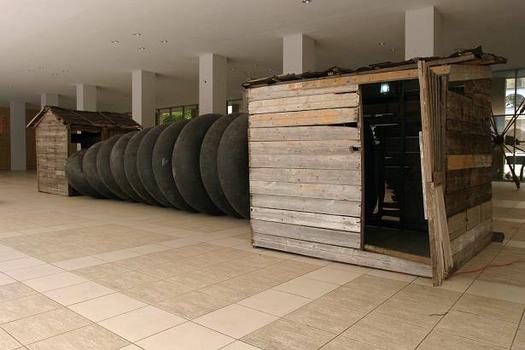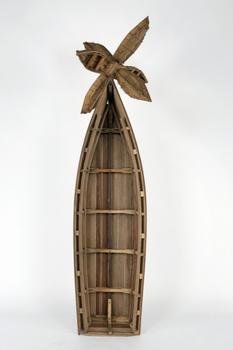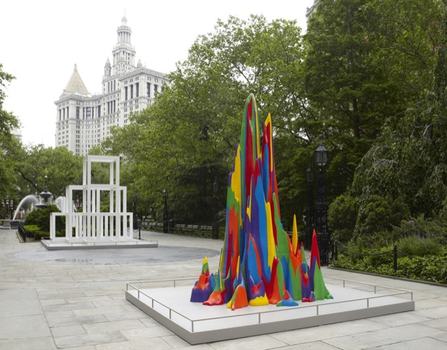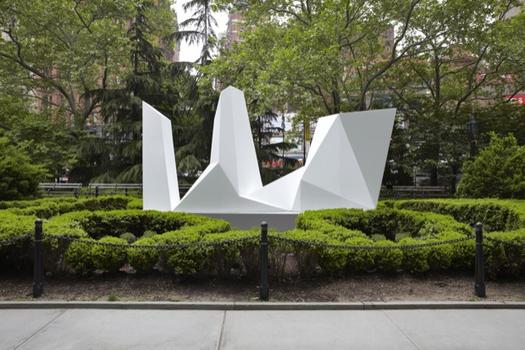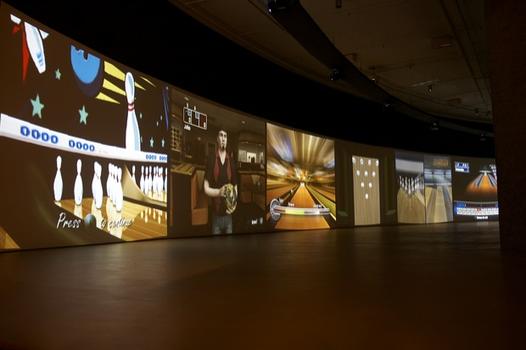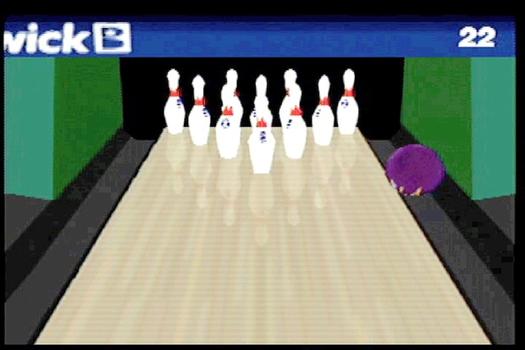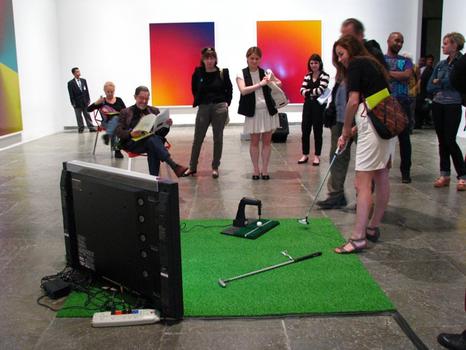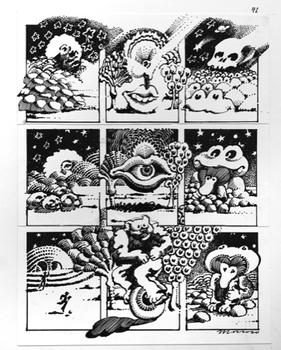 of