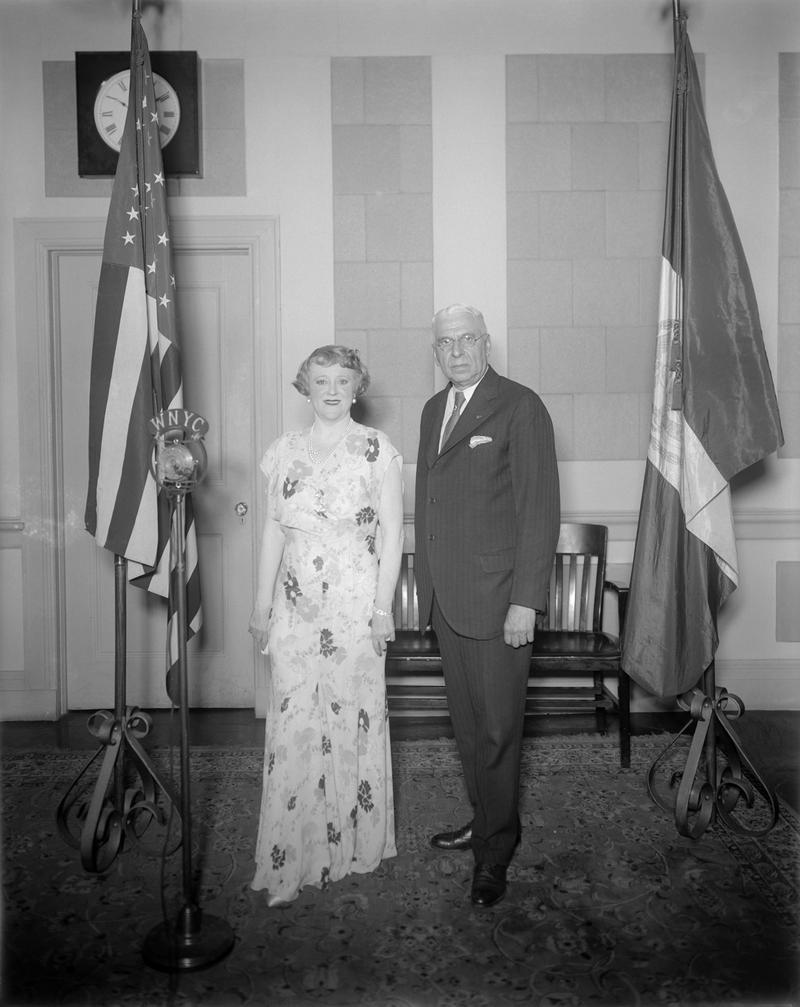 Former Metropolitan Opera star Frieda Hempel in the WNYC studio with station head (NYC Commissioner of Plant and Structures) Frederick J. H. Kracke, July 9, 1934.  This photo marks the first in a series of broadcast performances over WNYC by Hempel. A week earlier she had generously offered to sing over the station "in appreciation of the happiness she has found in this city" and added that radio tended to neglect the works of great composers. There was, she commented, too little of this music on the air. Mayor La Guardia said he could not find the words to thank her and had directed Commissioner Kracke to arrange the concerts at Hempel's convenience. [1]
In a letter to the editor of the New York Times a few days later, reader Frank Norris wrote, "If Mme. Hempel will start the custom of great musical artists giving great music, she will earn the praise of a very large body of listeners, who have long waited for this event. It has been a painful fact that, while many of the greatest singers and instrumental players have appeared over the radio, their programs frequently have been deplorable...If Mme. Hempel will give us only the best music and create a standard, other great artists who follow her will scarcely dare to give the miserable stuff they have in the past."[2]
Hempel's appearance on WNYC in 1934 was far from her last. In fact she had a series of fifteen minute programs (later extended to thirty minutes) known as Municipal Concert Hall that aired March through May of 1943 on Sunday evenings.  Her piano accompanist was Celius Dougherty, who was sometimes replaced by WNYC Music Supervisor Herman Neuman and Paul Meyer. The above recording is from the April 18th edition of that 1943 series.
(Photo by Eugene de Salignac, NYC Municipal Archives) 
[1] New York Times, June 29, 1934, pg. 16
[2] New York Times, July 4, 1934, pg. 14
________________________________________________________________________________________________