Opera Soprano Frieda Hempel Sings on WNYC Because She Loves New York!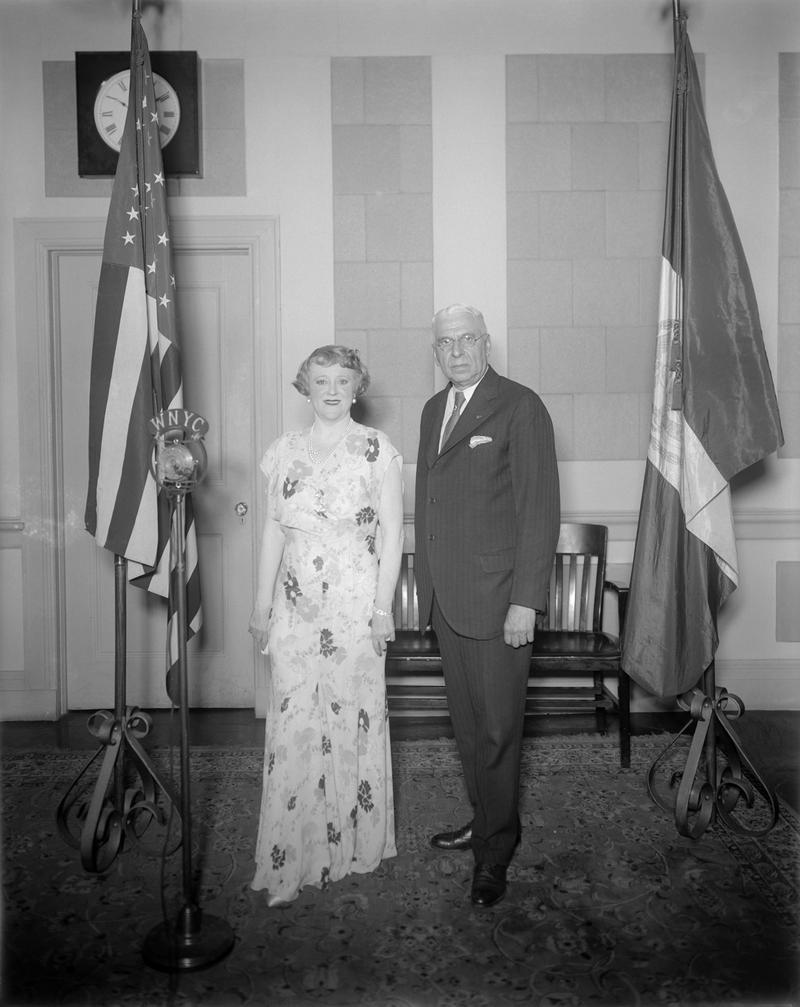 Former Metropolitan Opera star Frieda Hempel in the WNYC studio with station head (NYC Commissioner of Plant and Structures) Frederick J. H. Kracke, July 9, 1934.  This photo marks the first in a series of broadcast performances over WNYC by Hempel. A week earlier she had generously offered to sing over the station "in appreciation of the happiness she has found in this city" and added that radio tended to neglect the works of great composers. There was, she commented, too little of this music on the air. Mayor La Guardia said he could not find the words to thank her and had directed Commissioner Kracke to arrange the concerts at Hempel's convenience. [1]
In a letter to the editor of the New York Times a few days later, reader Frank Norris wrote, "If Mme. Hempel will start the custom of great musical artists giving great music, she will earn the praise of a very large body of listeners, who have long waited for this event. It has been a painful fact that, while many of the greatest singers and instrumental players have appeared over the radio, their programs frequently have been deplorable...If Mme. Hempel will give us only the best music and create a standard, other great artists who follow her will scarcely dare to give the miserable stuff they have in the past."[2]
Hempel's appearance on WNYC in 1934 was far from her last. In fact she had a series of fifteen minute programs (later extended to thirty minutes) known as Municipal Concert Hall that aired March through May of 1943 on Sunday evenings.  Her piano accompanist was Celius Dougherty, who was sometimes replaced by WNYC Music Supervisor Herman Neuman and Paul Meyer. The above recording is from the April 18th edition of that 1943 series.
(Photo by Eugene de Salignac, NYC Municipal Archives) 
[1] New York Times, June 29, 1934, pg. 16
[2] New York Times, July 4, 1934, pg. 14
________________________________________________________________________________________________
Broadcast on WNYC Today in: 
1927: The poet Joseph Auslander reads his work. Note: Ten years later Auslander was appointed the first "Consultant in Poetry" to the Library of Congress (i.e., the first U.S. Poet Laureate) and served in that role for four years. The LOC website indicates, "He was noted for his war poems, and his best-known work is The Unconquerables (1943), a collection of poems addressed to the German-occupied countries of Europe."
1934: Carmen Haider talks on "Fascist Tendencies in the United States." Note: Haider had a Ph.D. from Columbia University and spent time at the Brookings Institution. Her book Do We Want Fascism? had just been published by John Day in New York. A New York Times book review noted her extensive studies in Europe, particularly Germany, in which she described fascism's "anti-intellectualism" and "acceptance of violence as a means of gaining a desired end." As for fascism in the United States, the reviewer wrote: "She thinks that the only group that would gain under Fascist rule would be the industrial and banking capitalists." The unnamed reviewer concluded that Haider's research is "marked by much finely spun theorizing and acceptance of hypotheses as realities."
1945: Mayor F. H. La Guardia delivers another regular Sunday Talk to the People. This week His Honor opens with the following: "Well, we certainly pasted Tokyo in the last few days, didn't we? And did you notice, we bombed the Imperial Palace. So the Chief Monkey has learned that we are not afraid of the 'Son of the Sun.' If I were not on the air, I would tell you what kind of son he is. This news is exceedingly grateful [sic] to me because when I was on shortwave, I was always forbidden from saying anything disrespectful about the Emperor. Well, he got it good this time. Good work, boys, keep it up. Keep up this pace and Japan will soon know that they have something to learn from the Germans, that is, to quit in time."
1952: Radio France North American Service interviews writer James T. Farrell, author of the famous Depression-era trilogy Studs Lonigan.  Farrell had been in France as an American delegate to the festival of arts known as "Masterpieces of the 20th Century."  In this broadcast he talks about his address to the festival, where he emphasized ideals of reason and enlightenment and the creative capacity in all people. Farrell says the writer is not separate from his audience but gives expression to their thoughts and feelings. He refers to Sherwood Anderson's book about growing up in a country town in Ohio and says if the feelings of a boy in a small Ohio town are important, then "perhaps my own emotions are important and I use this to emphasize that culture makes life meaningful." This, he says, is why we write.  "The best conditions for writing are conditions of freedom.  And thinking of this, we must think not only of the writer, we must think of the audience.  I mention in passing that with that we have in America a commercial culture in which we have many moving pictures, many television programs and so on, which are false, which are banal, which present false images of human beings.  And that we must recognize and criticize it, but we must not be afraid of it.  We must not be afraid of new means of communication.  We must not be afraid of the new arts.  We must master it." [sic]
1964: Overseas Press Club hosts former newspaper reporter Bill Haddad, then running for a congressional seat in Manhattan. He discusses the influence of the press in revealing the failings of government and discusses "open secrets" about New York City government, including judgeships that are bought and sold and surrogate posts as payoffs for political favors.
1987: Pegeen Fitzgerald, Leonard Lopate, and Kate Borger look into the hidden differences between the Japanese and Americans on New York and Company.