Brooklyn F and G Train Riders Get Service Back -- for Now
Subway riders from Brooklyn neighborhoods Kensington and Windsor Terrace have gone four months without Manhattan-bound F and Queens-bound G trains. But beginning on Monday, straphangers at 15th Street-Prospect Park and Fort Hamilton Parkway will get their subway service restored.
"It's exhausting," said Donna Rubens, a Brooklynite who walks with a cane and boards the F train on her way to Wall Street for life-long learning classes. "I'm already 80, but I feel like I'm 180."
New Yorkers such as Rubens have been a mile or more to other subway stops, riding the bus or driving since January. Many opted  to travel two stops deeper into Brooklyn to Church Avenue, where they switch to northbound trains. The MTA said the service disruptions are due to track configuration.
"I was astonished, frankly, when I saw the sign that said on May 23rd full service was going to resume," said Philip Traugott, 54, a recording producer who takes the F to Midtown. "I was very happy, and I was amazed that that actually got done on time as promised."
The disruptions came at the same time the $275.5 million Culver Viaduct project is causing other disruptions along the line. Full service will only last until late fall, when Brooklyn-bound trains will start skipping the stops.
That won't be a problem for Windsor Terrace resident Lee Wilson, who said the service disruption was a hassle that also had its benefits: "I just ended up walking to the 7th Avenue Station because the B61 bus was too unreliable to wait around for, so maybe I lost a couple of pounds walking an extra seven-tenths of a mile every day."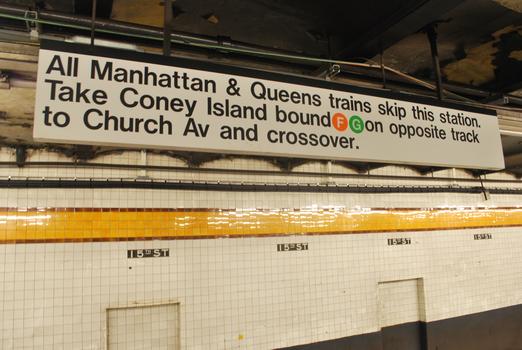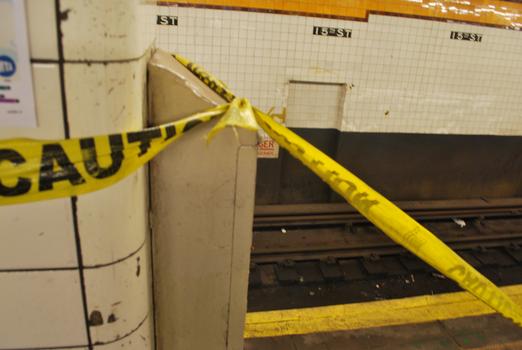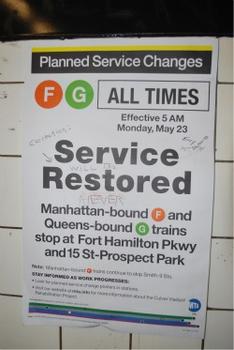 of