Let's Lunch: City Students Make Art out of Lunch Tables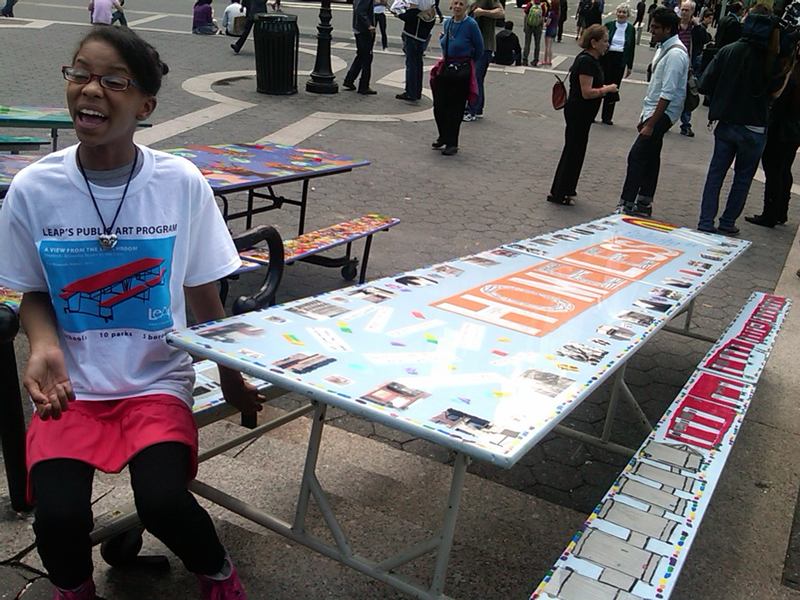 Ten different lunchroom tables with colorful messages went on display at Union Square on Thursday, in the largest student art exhibit ever in the city's parks.
The tables were designed by students from all five boroughs who worked with teaching artists from the group Learning through an Expanded Arts Program (LeAp).

Jasmine Dixon, 11, of PS 169 in Manhattan, collaborated with her classmates and the artist Christo to create a lunch table about homelessness. They put the word "homeless" in big letters on an orange background.

"We put it in big letters because it's a big thing," she explained. "So we didn't want to put it in, like, little letters, we wanted to put it big so people can see it all over. And we made it colorful so they can see it from far away."
She said Christo gave them a sample of his famous orange fabric, which he used in "The Gates" exhibit in Central Park.

The students from PS 169 also interviewed a homeless man and decorated the table with some of his quotes. Other students chose themes such as bullying and nutrition. One table had a yin-yang theme on it — with pollution, violence and war as the negative part and more hopeful life choices representing the positive part.
Teaching artists from LeAp worked with students in ten schools to explore these different issues in color and words. There were also guest artists who met with the students, including Julian Schnabel, Milton Glaser, Audrey Flack, Tom Otterness, Vito Acconci, Christopher Wool, Emma Amos, Julie Heffernan, Will Ryman and Seth Wulsin.