Surprise Surplus Intensifies NJ Budget Standoff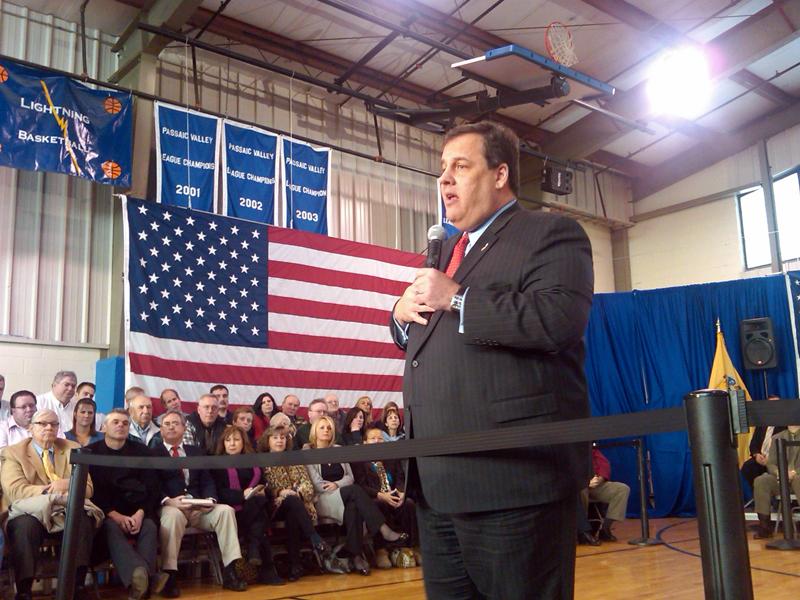 In any other place in the universe, a fight over whether your revenue is $900 million or just $500 million above projection would be a heartwarming news story.
But not in New Jersey, where word of a surge in income tax revenues from high-end earners has only intensified the Trenton budget battle.
The non-partisan Office of Legislative Service (OLS) informed legislators yesterday that the income tax revenues were $913 million ahead of projection. Meanwhile, the Christie Administration's Treasury Department says the windfall is just $511 million.
Still anemic are the state's business tax revenues, a sign that the recovery has not taken hold where it counts.
Before you go uncorking the sparkling Jersey cider over the surge in income tax revenues, remember the state's bipartisan malfeasance in managing its public employee pensions plans. New Jersey is shackled with tens of billions of dollars in unfunded pension liabilities, and that doesn't include a similar eye-popping liabilities for public retiree health care.
All totaled, you're looking at a $110 billion liability, which makes that "extra" revenue look more like the quarter you found in the sofa.
So far the consensus appears to be any additional tax revenue should go to property tax relief and some to the state's underfunded pensions. Either way, all this has to be sorted out by the end of June to make the state's statutory budget deadline.
Senate Republican Leader Tom Kean Jr. says Gov. Christie and his caucus believe appropriating that additional revenue can only come after the state has adopted comprehensive pension and public employee benefit reform.
"Far too many states are on the pathway to bankruptcy in their pension areas. New Jersey is leading that pack, and would be bankrupt by 2018 if nothing is done," said Kean in a phone interview.
Kean's pet peeve is the public employee prerogative to cash in on unused sick time at retirement. Some payments for this get into the six figures for one-time cash payouts. And they really do squeeze Main Street. "Some cities have to actually go into emergency bonding to make these payments and layoff firefighters" to make good on the decades of accumulated sick time, he says.
Today Gov. Christie's press operation was pounding what they saw as a weak Democratic reform of the sick-day benefit. Count on the Governor to work this into his townhall stand-up.
"Going forward, the Democrat's $7,500 sick-pay cap based on the current 434,017 state and local employees would cost New Jersey taxpayers at a minimum a staggering $3.25 BILLION in sick pay," according to the Christie press office.
The Democrats do have their own plans to bend the cost benefit curve for public employees. Democratic Senate President Stephen Sweeney has a comprehensive alternative to Governor Christie's plan.
But members of the Democratic caucus are not going to sign off on a wholesale abandonment of the state's commitment that the public unions keep the respect that comes with collective bargaining. Part of Gov. Christie's plan calls for public employees to pay 30 percent of their health care premium, up from nine percent now.
Democratic Senate Budget Chairman Paul Sarlo says "health care has got to go through collective bargaining."
Democratic Budget Chairman Sarlo says the state needs a bipartisan plan to reform the system and to make up for missed pension payments.
"That's something that both Republican and Democratic governors have been derelict in their duties in the past, so that is a good start. I think we will come to a compromise on pension reform."
Earlier this year, New Jersey's bond rating was downgraded over analysts concerns about the state's public pension fund's unfunded liabilities. That in turn raises the state's borrowing costs.
The Communication Workers of America represents the state's workers, and is the largest public union in New Jersey. Political director Bob Masters says he still hasn't gotten a response from the Christie Administration over the CWA's proposal to cut healthcare costs, as well as have workers pick up more of the cost.
"We've got to talk about more than just cost shifting. We've got to reduce the overall cost of health care," says Masters. The CWA's plan would in part count on migrating plan participants to less costly generic drugs.
Still pending is the State Supreme Court ruling on the constitutionality of Gov. Christie's previous $1.7 billion cut in education aid to some 200 school districts including the so-called Abbott urban districts.
For years the State was under court order to make up for decades of under funding of the state's poorest school districts. Should the high court rule that Christie has to restore that money the stage could be set for a classic standoff. Who said budgets were boring?