Obama, Israel and the Arab World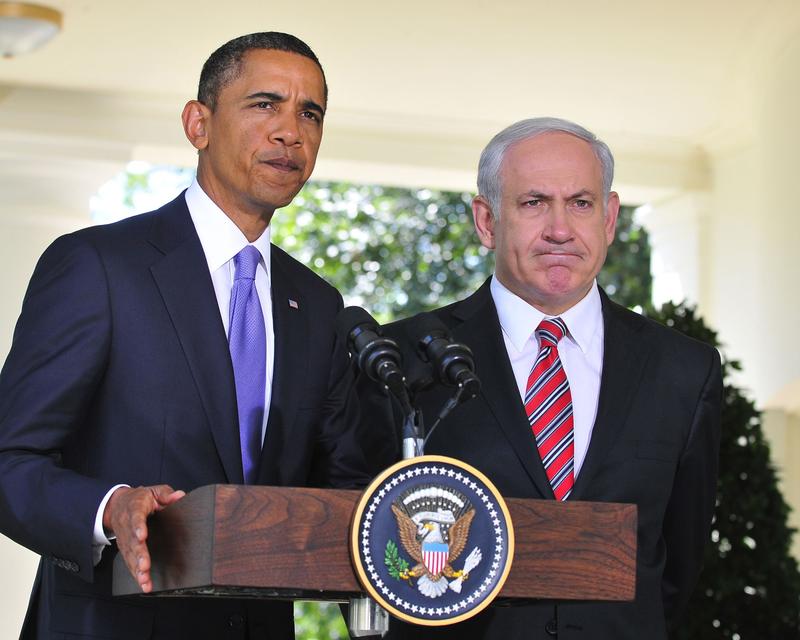 Welcome to Politics Bites, where every afternoon at It's A Free Country, we bring you the unmissable quotes from the morning's political conversations on WNYC. Today on the Brian Lehrer Show, Washington correspondent for The Jewish Daily Forward, Nathan Guttman previewed President Obama's pending speech Thursday on the uprisings rocking the Arab world as well as Obama's scheduled meeting with Israeli leader Benjamin Netanyahu on Friday.
There's a confluence of events these days around the prolific Israeli-Palestinian conflict — multiple incidents along Israel's borders on Sunday are showing a new kind of Palestinian activism, President Obama and Israeli leader Benjamin Netanyahu will meet in Washington on Friday, Obama gives a speech on Thursday on the Middle East and Mahmoud Abass had an op-ed piece in the New York Times on Monday pushing for Palestinian statehood by way of the U.N.
So, what will come of this succession of events and what is America's role during this "Arab spring" beyond Israel's borders? Nathan Guttman, Washington correspondent for the Jewish newspaper The Forward, weighed in.
Conflicting narratives
How does the "Arab spring" change the tone of this old conflict?
In recent years we see these competing narratives, the Israeli narrative of Jewish independence of the historic homeland and the Palestinian narrative of the Nakba, the catastrophe that drove Arabs out of their homeland, and we definitely see these clashes increasing in recent years. I believe that the change this time mainly had to do with the circumstances overseas. Palestinians and their supporters are looking around to the Middle East, they see Tahrir Square in Cairo, they see people going out to the streets all over and there is this attempt to harness this spirit of change within the Arab world, this idea of mass demonstrations of putting civilians on the front lines for their own cause and this is why we saw these demonstrations go on this week with the attempt to cross the border on the Syrian and Lebanese side...it was definitely an attempt to try to echo this popular sentiment in the broader Arab world and replicate it within the Arab and Israeli-Palestinian conflict.
Shifting landscape of an old conflict
Guttman argued that discussion of peace and resolution to this conflict aren't presenting negotiations now as they have in the past.
We saw in President Mahmoud Abass's op-ed in the New York Times, he wants to seek Palestinian statehood, not through negotiations with Israel, but rather through recognition by the U.N's general assembly. This is the path similar to the one Israel pursued back in 1947. Abass believes that is the only way he can bring Palestinian statehood about. Now Israeli prime minister Netanyahu is still calling for negotiations with the Palestinians but he has a caveat now. He says if the Palestinians are going for a unity government with Hamas, this is not a government we can talk peace to because Hamas doesn't even recognize Israeli's rights to exist...
And all of this shifting, Guttman said, doesn't mean the peace process is any further along. In fact, he said it's taken a few steps back because there is no real talk about negotiating.
What will Obama say?
Because Obama has been criticized for not presenting a coherent and consistent response to the Middle East uprisings, Guttman said he expects to see the president present a clear "Obama doctrine for the Middle East" in light of the popular uprising in the Arab world. According to Guttman, originally there was some expectation that the president would come out and take a stand on the Israeli-Palestinian conflict in this speech, but not anymore.
The sense now is that the President Obama now will stop short of actually making any suggestions. He will just speak of the principle of the need to resolve the conflict, maybe he will mention the need to resolve it based on the 1967 borders with land swaps which is something the administration has already said, but he will not come forward with an Obama plan.
According to Guttman, the progressive and left-wing elements will be disappointed not to hear a more firm plan from the president on the Israeli-Palestinian conflict because they think Netanyahu won't negotiate without any U.S. pressure. But he argued that it may also leave Netanyahu feeling relieved that he doesn't have as much pressure from the U.S. as to what he says.
What will Netanyahu say?
The Israeli leader will speak at the annual policy conference of the pro-Israel lobby in Washington and he will also speak to Congress. Despite the fact that he may not hear pressure from the U.S. through Obama's speech, the Obama administration is still expecting to hear something new from the Israelis, Guttman said.
The administration does feel that...looking forward at this Palestinian drive for statehood through the U.N., America does need something from the Israelis to fight back, something that they can come to the Palestinians, to their world and say, listen, Netanyahu is serious with his willingness to go forward, drop this unilateral statehood idea and let's negotiate.
Netanyahu is also under pressure at home. His coalition doesn't want to see any negotiating right now, Guttman said.
What Mahmoud Abass said
In his New York Times op-ed this week, Abass made the case for the U.N. recognition of Palestinian statehood. This is clearly a big concern for Israel, Guttman said.
Israel is very worried about this prospect, not because it has that much of a practical meaning in terms of the way Israel will conduct its business. It doesn't really matter if the U.N. general assembly votes in September in favor of forming or recognizing a Palestinian state in the West Bank because it doesn't mean there is a Palestinian state there and it doesn't mean that Israel has to withdraw and it doesn't change anything on the ground. It does however change Israel's position in the international arena, and that is something that Israel is increasingly aware of and worried about because if the U.N. actually declares that the West Bank is a Palestinian state than legally, Israel is in a very difficult position and it will be difficult for Israel to come to these international bodies and protect its presence and its occupation of the West Bank..and Israel is afraid that this will just strengthen a movement...an attempt to take the Israeli conflict to the courts, to the legal arena. It can also, Israeli's fear, increase the efforts to de-legitimize Israel.