Happy Birthday, Brooklyn Bridge!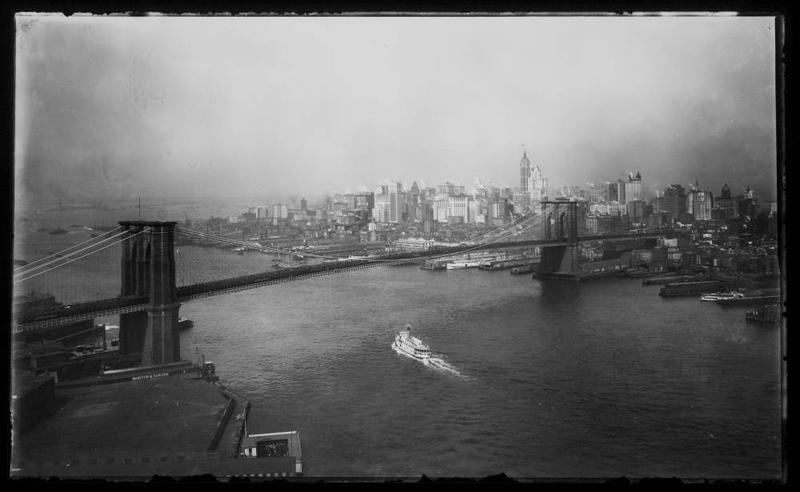 The Brooklyn Bridge is celebrating its 128th anniversary this week by undergoing heavy rehabilitation and causing problems for late-night borough-hoppers, a drastic change from its 60th anniversary celebrations, when the Bridge reminisced on WNYC with Public Works Commissioner Irving Huie about its grand opening and the changes it brought to Manhattan and Brooklyn.

When it opened, the Brooklyn Bridge was the longest bridge of its kind. By the time of this recording, in 1943, newer bridges had surpassed it in size and technological advancement, but the impact of the Bridge on New York City had not diminished. As we learn in this broadcast on the 60th anniversary of its opening, what was once considered by some to be a dangerous experiment doomed for failure had become an integral part of a New Yorker's daily life.
As soldiers pass over and under the Bridge, heading to and returning from battle in Europe, we hear the Bridge's memories of the debates surrounding its development and construction. Despite these controversies, the opening of the Brooklyn Bridge in 1883 proved to be a historic moment, an early step in the incorporation of Brooklyn into New York City in 1898.
Followers of Annotations will be glad to know this isn't the only time an inanimate object is given voice in a WNYC production -- so stay tuned!
After the dramatization of the Bridge's history, Brooklyn Borough President John Cashmore and New York City Mayor Fiorello La Guardia address the radio audience. Cashmore takes a somber tone, while La Guardia dazzles, as usual, with his charm and wit.
Audio courtesy of the NYC Municipal Archives collection.