The Catholic Case Against Boehner's Budgets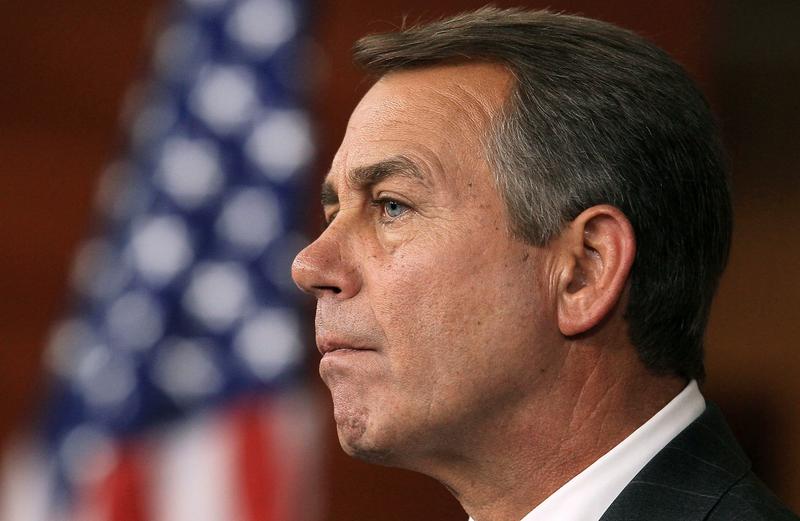 Welcome to Politics Bites, where every afternoon at It's A Free Country, we bring you the unmissable quotes from the morning's political conversations on WNYC. Today on the Brian Lehrer Show, Stephen F. Schneck, Director of the Institute for Policy Research & Catholic Studies at the Catholic University of America, talked about the critical letter to Speaker Boehner which he and other Catholic academics signed, and other reactions from Catholics to the GOP budget.
Boehner's unlikely foe
John Boehner is set to give the commencement address at the Catholic University of America this Saturday, capping off a week in which, ironically, dozens of Catholic academics signed a letter condemning the Republican party's budget proposals for 2012 and beyond. Boehner, a fellow Catholic, is feeling heat from an unlikely source.
In the letter, Catholics urge Boehner to consider the his faith and the "teachings of charity" while criticizing cuts that would affect social insurance and welfare programs. Stephen Schneck's name was at the top of the signatories.
It looks as if the Ryan budget takes as its special target programs that serve the poorest and most vulnerable of Americans. Maternal and child health grants, WIC programs, food stamps, Medicaid and Medicare...All these things really put at risk the poorest of Americans. It seems as if that's contrary to the way our faith talks about preferencing the needs of the poor in our public policy.
Schneck went on to say that Republican policies reducing aid to pregnant women and children "could very well work to increase the number of abortions in the United States."
Preferencing the poor? What about Planned Parenthood?
Schneck maintained that the Church's teachings have been passionate about preferencing the poor for centuries, but more than one caller expressed concern about a glaring contradiction in Catholic politics. A doctor named Manuel pointed out that by opposing Planned Parenthood, the Church isn't just attacking abortion rights—they're also working against an organization that provides much needed reproductive care and contraception for the same underprivileged citizens that Schnek says he wants to defend.
Another caller went further with his accusation of hypocrisy:
I'm shocked that this discussion is even permitted. The single most important alleviation of poverty throughout the world for the past 100 years is birth control, the ability of people to control the number, spacing and timing of their children. The Church is universally opposed, throughout the world, to permitting people access to birth control.
In response, Schneck seemed to suggest that the alternative was worse than poverty.
I could get really philosophical and talk about why the Church does have its position with regard to contraception, how its opposition fits into an understanding of the fullness of human life, which includes the preferential option for the poor among many other things, but I think it's just a little too far for me to reach. It's outside the area of my expertise. 
Catholicism, or liberalism?
Toward the end of the interview, Brian Lehrer referenced an alternate budget put forth by Catholic University in response to Republican Rep. Paul Ryan's. Their fiscal plan, which they say is founded upon Catholic principles, balances the books 10 years sooner than the GOP's. They do it through a combination of closing tax loopholes, drawing down troop presence in the Middle East, raising taxes on the wealthiest Americans, decreasing nuclear weapon production...
Wait, are we talking about Catholics, or Democrats?
Given my opposition to Planned Parenthood and contraception, I don't think Democrats would be too willing to embrace me on these kinds of points. If you look at this budget, which is more of a thought experiment, we tried to put together one that was consistent with Catholic social teachings, and that found a way to balance things...I did better in this little thought experiment, balancing the budget in 30 years rather than 40 years, as the speaker's budget would do.