On the Road, Cuomo Pushes Legislative Agenda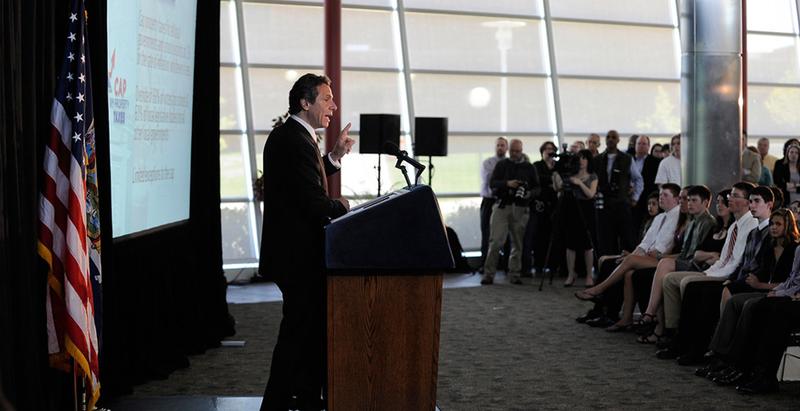 Governor Andrew Cuomo is wrapping up the first week of his statewide tour to tout his legislative agenda and taunt the legislature.  With stops in Syracuse and Buffalo so far, Cuomo has been talking up his agenda for a property tax cap, ethics reform and gay marriage while dressing down the legislature and the Capitol's political culture.
"You see lobbyists and they have the politicians buttonholed," said Cuomo. "It's a battle for control of the government. It's a battle between the politicians and the people."
Cuomo says the rationale for his tour is simple, the legislature won't move on these issues until their constituents prod them.
"They've become divorced from the people, and they're in that bubble, the Albany beltway bubble," said Cuomo. "And the one factor that's missing in the Albany equation are the people of the state."
Siena College polling spokesman Steve Greenberg says the governor, who has record high popularity ratings in the polls, is employing a smart strategy.
"It really does help him to use the bully pulpit in this fashion to rally New Yorkers around the issues," Greenberg said.
SUNY Oswego political science professor Bruce Altschuler, says Cuomo needs to use his leverage now, because he has only a short window to achieve the rest of his goals.
"He's got political capital, and his view is 'I'd better use it'," said Altschuler, who says if Cuomo does not get a large portion of his agenda through the legislature this year, he's unlikely to get it through next year.
Cuomo admits that he's under a tight deadline, he's referred to the last day of session on June 20th as "D-Day". 
The governor during a question and answer session with reporters after his first tour stop in Syracuse, accused legislative leaders of engaging in "Albany speak", and the leaders have begun grumbling about Cuomo's portrayal of them on his campaign.
Siena's Greenberg says as long as the governor doesn't go too far, there will be time to come back to the Capitol and negotiate with lawmakers later, in a strengthened position.
"You're going to see a lot of horse trading over the next five or six weeks," said Greenberg, who says Cuomo can't get any of his agenda items into law by "caveat".
"He knows he needs the legislature to pass that," said Greenberg.
Cuomo does have a big stick when it comes to ethics reform, he says if the legislature won't agree to an ethics overhaul he'll use the powers of a Moreland Act commission to investigate senators and assemblymembers.
Altschuler says there is one item noticeably absent from Cuomo's agenda in his current tour. The governor has not renewed his call for nonpartisan redistricting reform to draw legislative lines more fairly.
"He's put aside the non partisan redistricting commission, at least for the moment," said Altschuler.
He says perhaps that could be a bargaining chip later.
Greenberg, with Siena, says Cuomo has set a high bar for himself, and the end all that will matter is whether he succeeds or not. He says "the old college try" won't be enough when voters ultimately judge him.
Cuomo seems to know this better than anyone else.
"You don't get an A for effort," Cuomo said.