What Tougher State Exams Mean for Test Prep in Brownsville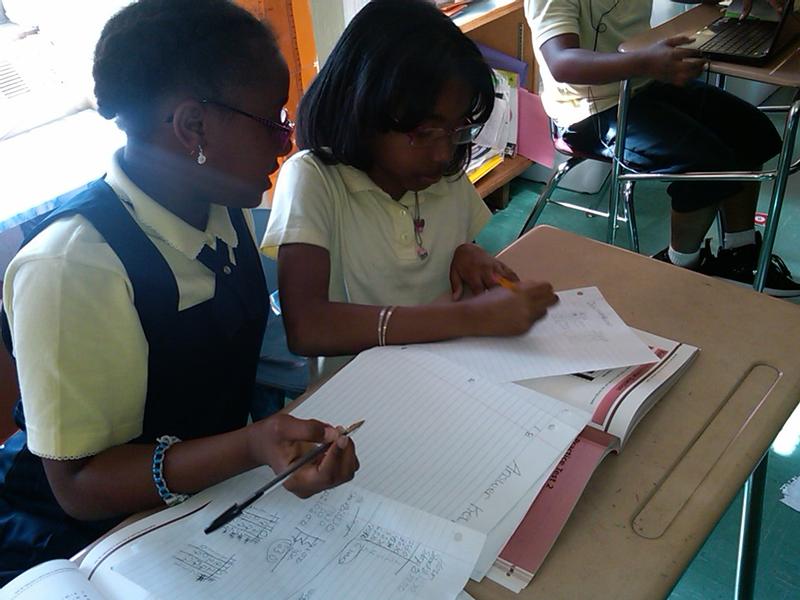 Teachers and principals have been feeling tremendous pressure to raise scores on elementary and middle school state exams – especially since the pass rate fell dramatically last year. At PS-IS 327 in Brownsville, Brooklyn, teachers and students were well aware of the importance of this year's test.
"I feel confident and brave that I am going to pass the test and succeed to fifth grade," said fourth grader Jelaya Johnson.
"I think the same thing as her," added Jada Beatty-Bass, who stayed after school this week to get ready for the state math exam. "'Cause all the rounding is probably going to be easy 'cause we got our song."
Danella Christiani, the girls' teacher, spends part of her time working with students in a group and she also sends them to their desks to practice problems individually on their own laptops. While they work, she can monitor their progress in real time with a grant-funded program called Time to Know.
"I get an alert as to which children have it all correct, partially successful, or incorrect," she said, pointing to a chart on her own laptop. "It will show up for me, so I can pull those children who are not able to grasp it on their own and work with them. So this is a real good feature."
The city's department of education has been embracing different forms of technology through what it calls the Innovation Zone, which now includes about 80 schools in total.
After years of steady gains, the percentage of students passing their state exams plummeted last year when the state began raising standards. Suddenly, students needed to get a higher score in order to pass.
"We're not a Park Slope upper echelon society in this community here," said the school's principal, Dr. Stephen Appea.
Brownsville is in the same high-poverty district where parents demanded school reform in the late 1960s. Despite the community's many challenges, he says the 750 or so students at his combined elementary and middle school "can succeed if we're given the chance."
"So in order to level the playing field, that's where the technology, for me, comes in as being a critical way to help us work smarter" to close achievement gaps, he said.
Last year, only about a third of Appea's students met the state standards in math and reading. That was a drop of more than 30 percentage points from the year before.
Educators say that plunge shows just how easy the exams had gotten, and why New York needs to increase its standards. This year it made the exams both longer and tougher.
Ariana Butler, who teaches fifth grade at PS-IS 327, says she was surprised by one section of last week's English test.
"I noticed that they mixed the genres," she said. "For example, one passage it had both poetry and then a memoir and we've never seen that before. ... So I think for some of the kids they were taken aback."
Fair or not, principals and teachers are also judged by test scores. Appea's school earned a 'C' last year when the scores went down.
"In many places educators were not doing the jobs and not doing right by the kids and so that's why No Child Left Behind - the motivation, the intent of it  - may have been good," he said. "But what happened was what we see now, which is a nation of test prep schools."