'Lone Wolves' Arrested in Alleged NYC Terror Plot
Two Queens men who allegedly planned a terror plot against New York City synagogues and the Empire State Building were "lone wolves" with no known connection to al-Qaeda, authorities said Thursday.
After a seven-month NYPD undercover investigation, Queens residents Ahmed Ferhani, 26, and Mohamed Mehdi Mamdouh, 20, were charged with state terrorism counts after authorities said they plotted to blow up synagogues and purchase weapons.
Officials say there was no link identified with any existing terrorist group.
Distirct Attorney Cyrus Vance said Ahmed Ferhani first came to the NYPD intelligence division's attention when he was overheard saying he wanted to kill Jews and wanted to blow up a Manhattan synagogue. Ferhani has prior arrests in an unrelated criminal case in which a grand jury declined to indict him.
Ferhani immigrated to the U.S. from Algeria in August 1995 with two siblings and his parents, who had applied for asylum. Ferhani, who is unemployed, was here legally on permanent resident status but was facing possible deportation for failing to appear before an immigration judge to explain his prior arrests, officials said. 
Momdouh, the younger suspect, is from Casablanca and worked a livery service dispatcher. He immigrated to the U.S. with his parents in August 1999 and is a U.S. citizen by virtue of his parents' naturalization.
Both men have been charged with multiple felonies under both hate crime and terrorism state statutes and face life in prison if convicted. Ferhani was taken into custody at 6 p.m. on Wednesday at 58th Street near the West Side Highway after he allegedly purchased three handguns and an inert hand grenade from undercover officers in exchange for a $100 down payment. Mamdouh was arrested a few blocks away.
In court Ferhani wore a pin-striped suit and held a Yankees cap behind his back, shaking his bald head as the prosecutor described the crimes and evidence. According to them, Ferhani sold guns and drugs to raise funds for his plan.
The prosecution says they have tape recordings of Ferhani saying, "muslims are abused all over the world, I'm not going to take it."
The prosecution said they committed their crimes because of their hatred of Jews and that they wanted to bomb a synagogue on behalf of Islam in order to send a message.
Mamdouh wore a cream colored sweatshirt, had a line shaved into his short hair and held a red baseball hat. His lawyer asked that he not be treated the same as Ferhani because he comes from a good middle class family.
Judge Jackson denied bail and set a future court date for May 17.
Both Vance and Police Commissioner Ray Kelly stressed that throughout the case they had been in close contact with the FBI's Joint Terrorism Task Force, which historically takes the lead in terrorism cases. In this case, the FBI opted not to participate.
An FBI spokesperson confirmed the agency's Joint Terrorism Task Force was aware of the investigation but said that it was not a federal matter.
Outside Chabad Lubavitch World Headquarters in Crown Heights, Brooklyn, on Thursday, students at the synagogue said they were largely unphased by the alleged threat. An additional NYPD squad car sat outside the synagogue along Eastern Parkway in addition to the mobile command unit that is typically stationed outside.
"I don't feel unsafe. I don't feel in danger, but there are always threats," said Eli, 26, who studies at the headquarters. "It happens in the world. I don't think it would happen here but we always have to protect ourselves."
Chaim, 27, who was on a break for lunch at the synagogue shrugged off the alleged threat.
"We're constantly aware that there issues," he said. "This is the reality of life today."  
At the Riverdale Jewish Center in the Bronx where terror suspects planted two mock bombs in the backseat of a car in 2009, a mom picking her kids up from school at the synagogue Thursday afternoon said "we've all been on guard" since September 11, 2001.
"It's upsetting, very upsetting," said the 30-year old of the new alleged plot. But, she said, life must go on. 
She added, "It's just as threatening to take a subway, cross a bridge or go to shul. You have to live your life."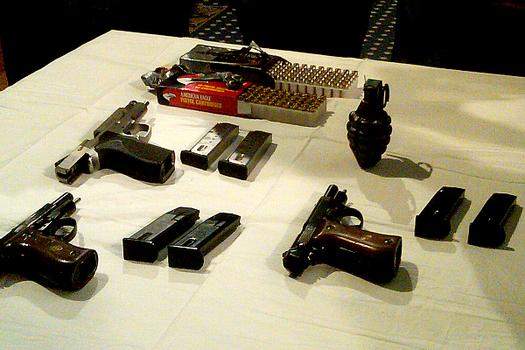 of