Outdoor Pools to Open this Week
UPDATE: A Parks Department spokesperson revised the agency's statement on Monday: "We are delighted to hear that the plan is to keep all of our public pools open for the full season, and look forward to the City Council's vote tomorrow, which is the last step in the process and will, if passed, make the plan official." The plan must be voted on by the City Council before it is official.
UPDATE: Pools will not close two weeks before Labor Day as previously reported because of an agreement reached late last week.

On Wednesday, the city's 54 outdoor pools will open their doors for summer swimming and sunbathing.  But this year, there will be four fewer pools open. Manhattan's Wagner Pool, Brooklyn's Howard Pool, Staten Island's West Brighton Pool and the Fort Totten Pool in Queens will all be closed this summer.
"Our decision was based on our judgment of several factors, including attendance figures, proximity to other pools, access to public transit, and the location of the pools relative to residential communities," said a spokesperson for the Department of Parks and Recreation.
The city's 50 outdoor pools will be open seven days a week from 11 A.M. to 7 P.M. Check out a full list of pools here —  the pools that appear grayed out should appear open on Wednesday — and see a list of our favorite pools in the city below.
The Floating Pool in the Bronx As June winds down, the Floating Pool — a seven-lane swimming pool situated atop a barge — will be anchored on the Bronx River. Located at the tip of Barretto Point Park, this pool, sometimes called the Floating Pool Lady, provides both free instructional and recreational swimming to the public. At Tiffany St. and Viele Ave. in Hunts Point.
Van Cortlandt Pool in the Bronx With both a wading pool and an intermediate pool, this facility has accommodations for swimmers of all levels. Plus, with ample locker space and lifeguards on duty, visitors can enjoy themselves while knowing that both their possessions and safety are protected. At W. 242nd St. and Broadway in Van Cortlandt Park. 
Douglas & DeGraw Pools in Brooklyn This pair of pools is often called Brooklyn's "hidden gem" as it is lesser known than other city pools. That makes this space -- with its main pool and kiddie pool -- often less crowded on hot summer days, and yet it features comparable facilities. If you are looking for a place to swim or catch some R&R, a trip to the "Double-D" or "D&D" pool, should not be missed. On Nevins St. between Douglass and DeGraw Sts. in the Thomas Greene Playground in Gowanus.
Red Hook Pool in Brooklyn Sporting an Olympic-sized pool (complete with decorative pyramids spotting the water) and surrounded by Red Hook Park, individuals and groups traveling to the Red Hook Recreation Center and Pool can easily make their trip a full-day affair. After swimming in the pool, take a stroll through the park for a huarache or pupusa from one of the host of delicious food trucks or enjoy one of the athletic courts and fields. Or, if you prefer to work up a sweat indoors, you can take advantage of the park's recreation center. At  155 Bay St. in Red Hook.
Dry Dock Pool in Manhattan This facility is ideal for younger swimmers, with its two pools clocking in at 1.5 and 3.5 feet deep. When utilized in conjunction with its adjacent playground, a trip to the Dry Dock Pool can satisfy a child's entire afternoon. On E. 10th St. between Aves. C and D in the Dry Dock Park in Alphabet City.
Hamilton Fish Pool in Manhattan Sporting both a wading pool and an Olympic-size pool, this venue attracts both serious and recreational swimmers. Before cooling off in the water, visitors can enjoy Hamilton Fish Park, complete with athletic courts and a playground. For those who don't quite make the 56-inch height requirement for swimming in the main pool, a 2.5-foot-deep kiddie pool is an accommodating alternative. At 128 Pitt St. between E. Houston and Stanton Streets in Hamilton Fish Park on the Lower East Side.
Lyons Pool in Staten Island Set in the property originally known as Tompkinsville Playground in honor of Daniel Tompkins, Lyons Pool offers visitors access to a diving pool and a wading pool. This Olympic-sized pool was also singled out in 2008 as a historic landmark. The pool is accessible via the ferry at St. George's Pier 6. At Pier 6 and Victory Boulevard.
Tottenville Pool in Staten Island Equipped with both a wading and intermediate pool, picnic tables and a play area, Tottenville Pool is another perfect spot for adolescents and adults alike to enjoy the summer. This facility adds a splash of convenience for visitors with its comfort stations, lockers, showers and first aid building. At Hylan Blvd. between Joline Ave. and Sprague Ave. in Tottenville.
Astoria Pool in Queens Both the oldest and largest pool in New York City, the Astoria Pool, situated in Astoria Park, was the site of the 1936 and 1964 Olympic Trials. Today, it serves as a locale for swimmers of all ages to enjoy the summer sun (and the views of the East River, Triborough Bridge, and Manhattan skyline). Make your outing a full-day affair by stopping by one of Astoria's many delicious restaurants for a taste of classic Greek food and other specialties. On 19th St. and 23rd Dr. in Astoria.

Liberty Park Pool Liberty Park Pool is situated in Detective Keith L. Williams Park and has both a large wading pool and a kiddie-sized pool. This site, complete with a number of sports and recreational facilities, is unique, however, for its huge, 600-person capacity deck. At 173rd St. and 106th Ave. in  Jamaica.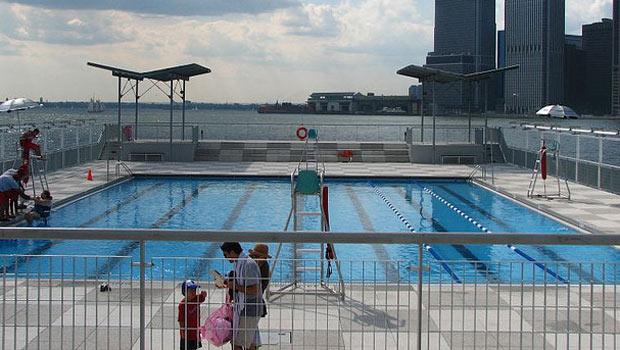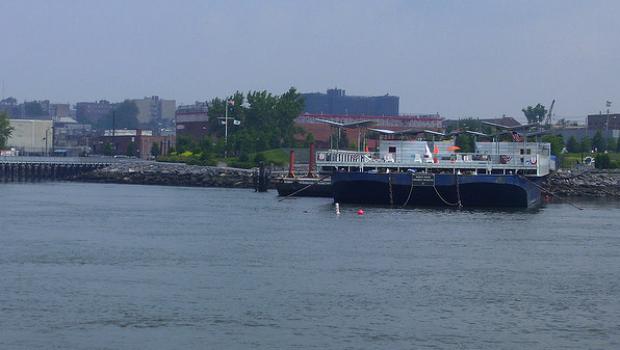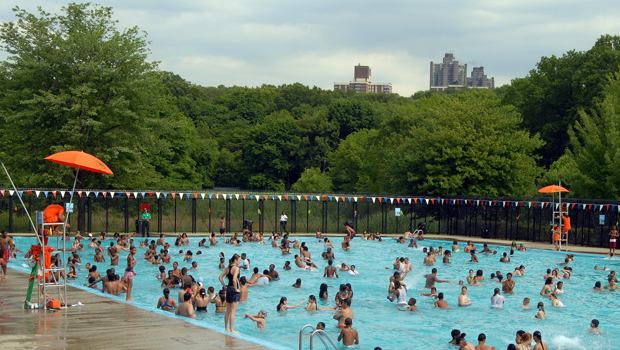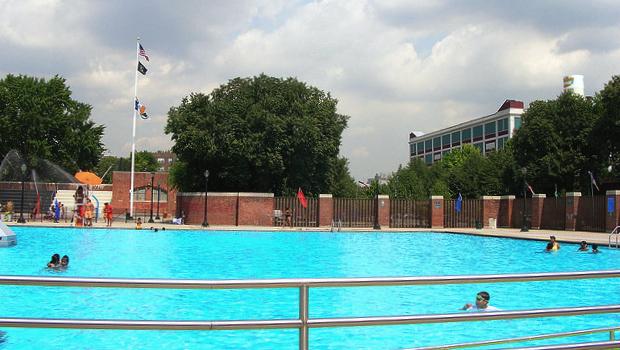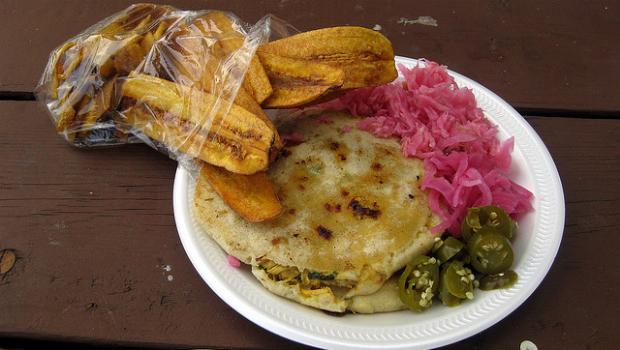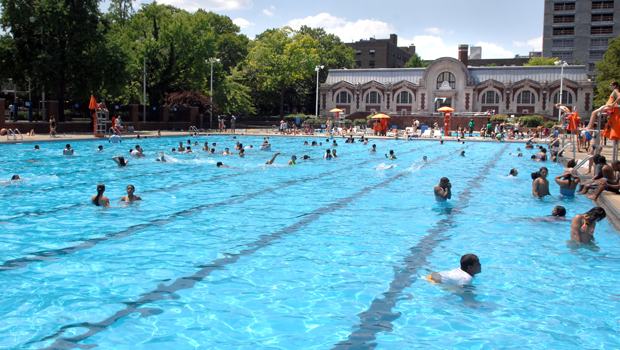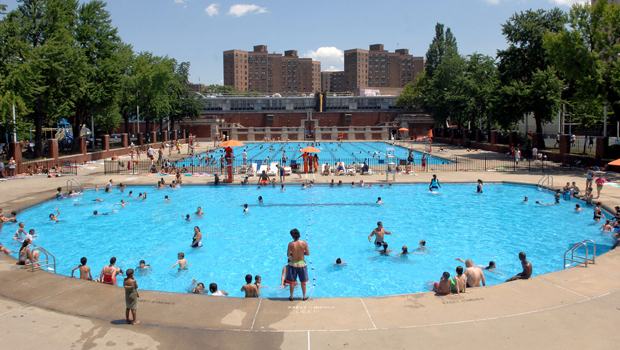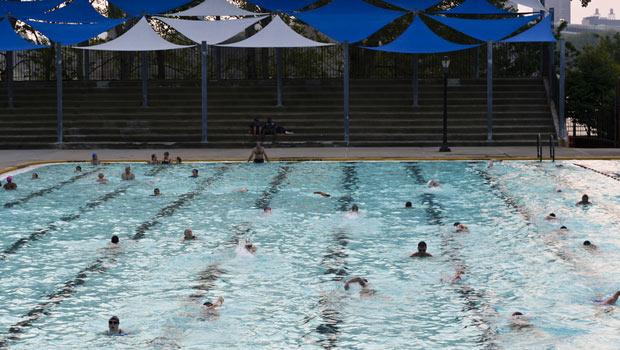 of