At BAM, 'The Landlord' Shows Park Slope Before Gentrification Took Hold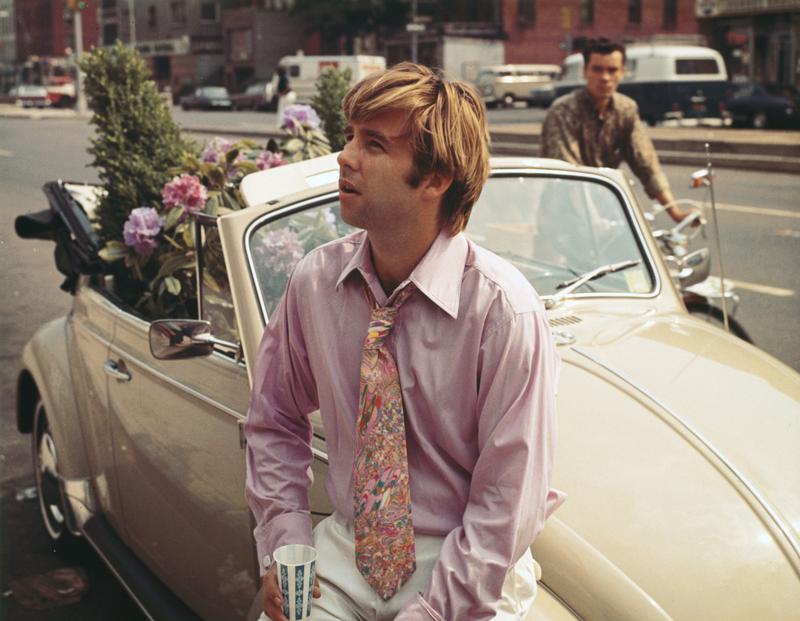 It's hard to imagine Park Slope, Brooklyn as anything but the picture postcard neighborhood of today. But on Thursday, May 12, Slope residents can get a rare glimpse of its grittier past on the big screen. As part of its month-long celebration of filmmaker Hal Ashby, BAMcinématek is screening his little-seen 1970 gem "The Landlord."
The landlord of the film's title is a preppy rich kid from Long Island named Elgar (Beau Bridges) who buys an apartment building at 51 Prospect Place near 6th Avenue in Park Slope. Elgar intends to evict the current residents — all of whom are black — and convert the property into a posh flat for himself. 
"Well, of course what happens is he gets involved in the life of his tenants, and they get involved in his life," said Mike Woram, who happens to be the current landlord of 51 Prospect Place. "And it gets very, very complicated and very interesting. Sometimes hilarious and sometimes tragic."
"The Landlord" was Hal Ashby's directorial debut. It was released a year before his romantic cult classic "Harold & Maude" hit the silver screen. With a funky soundtrack by The Staple Singers and a great ensemble cast (including Lee Grant who was nominated for an Oscar as Elgar's mother), the film was unusual at the time for its frank treatment of race and class.
As the plot unfolds, Elgar gets high at a rent party and has an affair with an upstairs tenant named Fanny (Diana Sands). Fanny becomes pregnant and Elgar is forced to deal with the consequences: her unhinged husband (Louis Gossett, Jr.) chases Elgar up and down the stairs with an axe.
There are no such escapades at 51 Prospect Place today, but current landlord Mike Woram (pictured right) said the movie was a fascinating time capsule of pre-gentrification Park Slope. Woram bought his first house in the neighborhood in 1977 for $44,000. When prices went up ten years later he sold it and purchased 51 Prospect Place for $300,000. The block wasn't that different from the one depicted in "The Landlord."
"When I first moved in here, I was on good terms with a dozen junkies who lived on the street," Woram said. "You walk down 5th Avenue and you think 'Please God, let me get off this block before somebody sticks a knife in me.' And now it's the Champs-Élysées of Brooklyn."
According to Woram's next-door neighbor Fern Serrell, who bought her place in 1979, the most recent purchase on the block sold for $1.6 million.  "And I think they've gone up," Serrell said. "I used to call this half of the block 'The Demilitarized Zone.'"
It's an amazing transformation for a neighborhood that is variously described in Ashby's film as "an old ghetto area" and "a dreadful slum."  In one memorable scene, Elgar proudly tells his wealthy conservative parents about his new home.
Brother: Where is this real estate, Elgar?
Elgar: It's in the Park Slope area.
Brother: Park Slope?
Sister: Park Slope!
Brother: Good god, Elgar. Are you aware that's a colored neighborhood?
Forty years later, the predominantly black, working-class block depicted in the movie is almost unrecognizable. Serrell was one of the first to plant the trees that now tower over the block in every direction — a far cry from the bare, sun-drenched streetscape portrayed in "The Landlord."
While a handful of longtime black residents remain, Woram says the newest gentrifiers are ironically more like the farcical character of Elgar — whiter and richer — than before.
"We get to live like rich people without being rich people," he said.  "I don't know how people buy these things today — it's nuts!"
Not that the current landlord of 51 Prospect Place is complaining.  Woram says he prefers the Park Slope of the present, except for one thing.
"It seems to be the hardest block in all of this area to get a parking space on."
"The Landlord" plays at BAM on Thursday, May 12 at 4:30 P.M., 6:50 P.M., and 9:40 P.M. During the 6:50 P.M. screening, actress Lee Grant will have a conversation about the film with actor and director Robert Downey, Sr.  Click below to watch an edited video of "The Landlord" courtesy of Abeni Garrett.