What Do I Want? I Wanna Be A Rockette.
Even though most of us are just beginning to bring out the summer frocks and flip-flops, some folks are already planning for winter. Calls to be part of The Radio City Christmas Spectacular kicked off last Tuesday, May 3 with auditions continuing next week. This Tuesday's open casting call for The Rockettes drew hundreds of women, all of them vying to take to the stage as members of the high-kicking, high-energy dance team.
At 10 A.M., dancers began congregating outside Radio City Music Hall. By 11 A.M., a line of women — all of them between 5'6" and 5'10 ½" tall and most of them fully made up — snaked along the length of the hall's marquee on 6th Ave. between 50th St. and 51st St.
For those new to the audition process, the sheer size of the line offered a glimpse into the competitive nature of the auditions.
"It's a little overwhelming," said 17-year-old dancer Abby Reich, who traveled to the city from Massachusetts for her Radio City audition. "There [are] a lot of girls here and most of them look a lot older than I am, so it's going to be interesting to see ... who's experienced."
The young women auditioning were divvied up into groups of 100 girls. Of each group, less than one third of the dancers would make the first cut and have the opportunity to strut their stuff in front of the judges a second time. Some of the dancers knew this fate all too well, having shown up to the open call in previous years.
"The first time I auditioned for The Rockettes, I was a nervous wreck," recalled Allison Crowl, one such dancer who had tried out before but was giving it another try on Tuesday. "My head was racing the entire time ... This time it's not as big of a deal."
April Sherwin, who had also auditioned before, echoed this sentiment.
"It's definitely a little less nerve-wracking," she said. "Going through the process before you kind of know what to expect."
Despite having been rejected before, both returning dancers stressed the importance of maintaining their composure on the day of the auditions.
"For me, at least, today was just [about] trying to calm down, trying to keep it as normal as possible," said dancer Jenna Chin, April Sherwin's teammate on the New York University dance team, as she inched closer to the front of the line.
Sherwin repeated a similar audition-day mantra: "Keep calm, stay organized, stay on top of everything, [and] go in really motivated."
"What The Rockettes represent is such unity and glamour and so much talent," Sherwin added. "I just really want to be a part of that."
Final callbacks for auditioning dancers will be held on Friday, May 13. Check out the slideshow below to see images of dancers who queued up on Tuesday.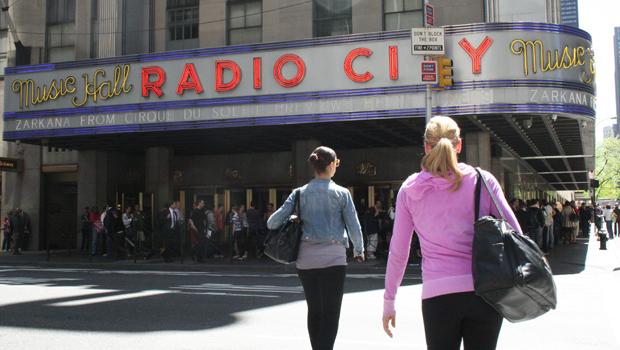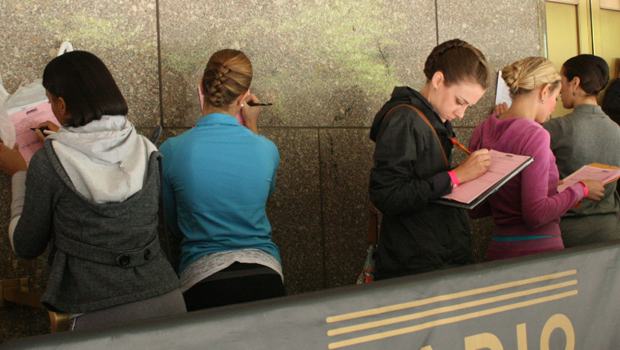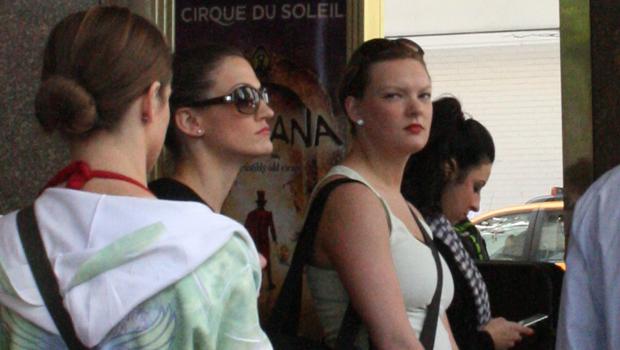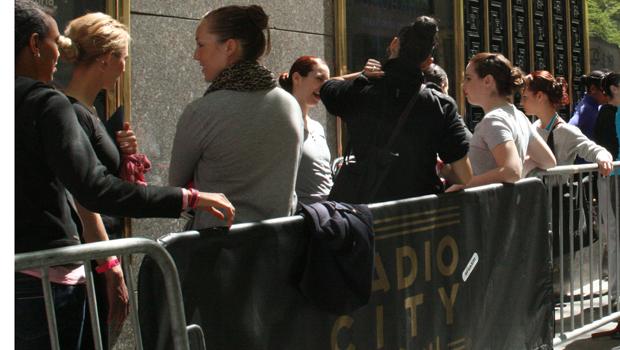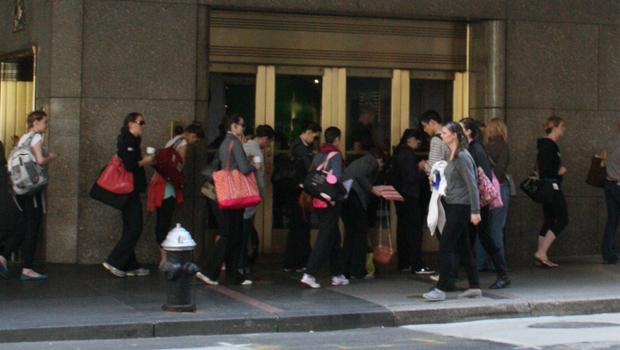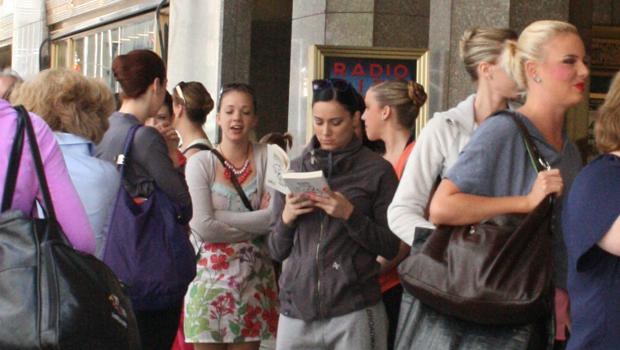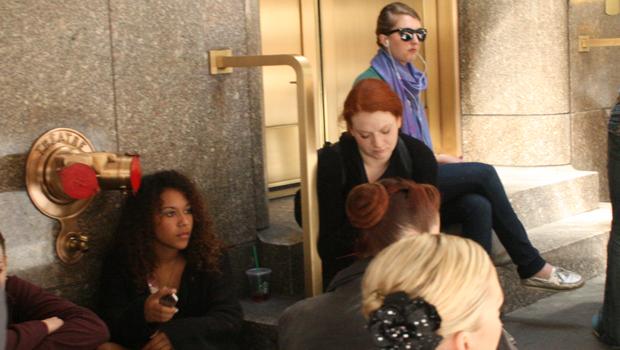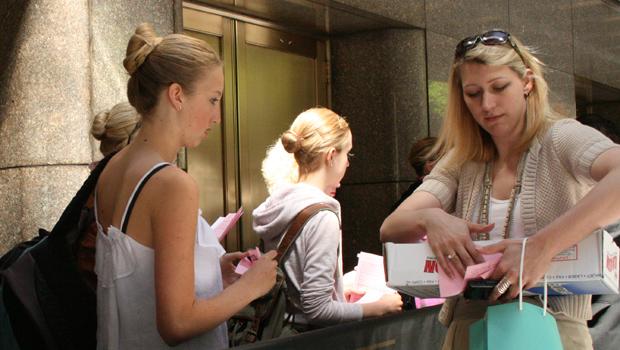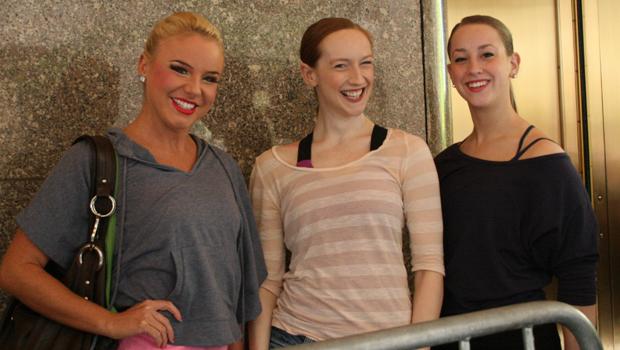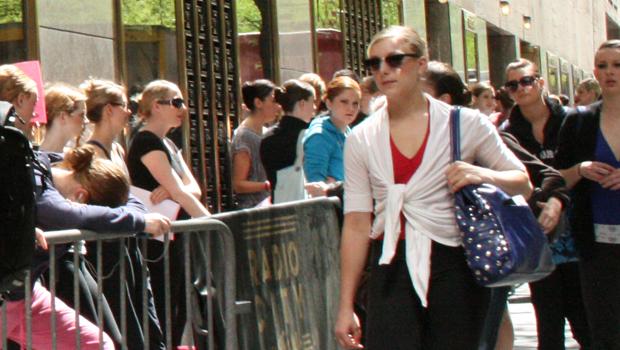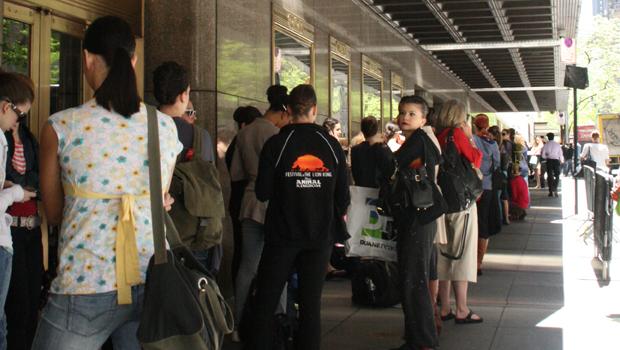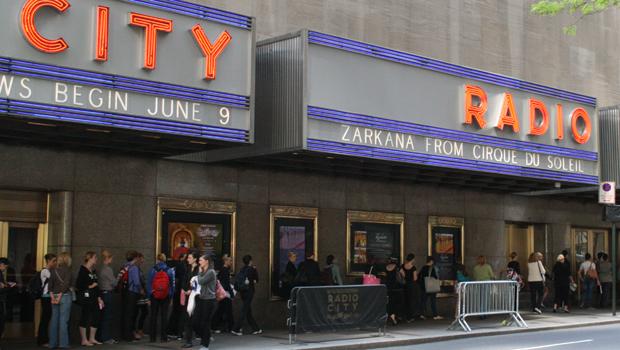 of