New York is a city of specialists from foodies to academics, laborers to shopkeepers. Every Wednesday, Niche Market will take a peek inside a different specialty store and showcase the city's purists who have made an art out of selling one commodity. Slideshow below.
Blatt Billiards
809 Broadway
New York, NY 10003
The pool tables at Blatt Billiards are more likely to be found in the homes of the city's elite than in seedy pool halls in the five boroughs. They are works of art — that can range from between $18,000 and $180,000, and even more for antique tables — owned by the likes of Mayor Michael Bloomberg, Bill Gates, Arnold Schwarzenegger. Derek Jeter is having one commissioned now.
There are 48 employees who work for the company — established in 1923 — at its wood shop on Broadway and 11th Street, where it can take between two and three months to build the simplest of custom tables, which weigh about 1,000 lbs apiece. If a pool table's surface isn't perfectly flat and stable it will ruin the game--a sport based on pin-point precision. The table surface is built out of three smooth slabs of slate, covered with fabric.
Each table's cabinet, or frame, is labored over by the hands of a single craftsman before it is decked out with pockets, fabric and about 20 coats of finish. The craftsmen spend days working on one detail such as carving and positioning decorative inlay into the corners of the table. 
"When you make stuff, when you create stuff and you make stuff by hand, it's inherently yours," said carpenter Darren Zubrycky, who has worked at Blatt for 11 years. "I know my work when I see it. I can go some place and see a table that I made 13 years ago and know that it's mine."
Q & A with owner Ron Blatt
It's unique to have a factory in the middle of Manhattan. Why do you stay in this location? 
I've been here all my life and the business has been here forever, and to move an operation like this is really very expensive. We own the building, and where are we going to go, really? Besides, I'm a born-and-bred New Yorker, you can't take me out of New York; I wouldn't survive anywhere else.
Are there advantages to having the factory here?
The advantage is that New York is the capital of the world, and people come from all over the world to buy unique things, unique products in New York. And we're probably the most unique product in New York. We make the finest pool tables in the world. They're Rolls Royces. We have the largest collection of antique tables in the world, and people seek us out from all over.
Are there inconveniences to being in Manhattan?
Logistically it's a nightmare, absolutely. You can't park outside. You can't do this, you can't do that. We're in a five-story building so we're not on one level. We go from floor to floor to floor. The fifth floor is the finishing department. The third floor is the shop, so we're constantly back and forth. When we get a lumber delivery it's difficult. Everything is difficult in New York, but that's New York.
How did this business start?
It's started on a very modest basis. [My grandfather] started to repair cue sticks and make cue sticks. Eventually, he was making the ivory balls. From that he would send my father and his brother out to different pool rooms to do service work, and it just expanded upon that and expanded upon that. 
What's the most important thing for a pool table?
The most important thing is the playing surface of the table. We consider the table to be not just a piece of art but a precision instrument first. So you have to fine tune everything — the pockets, the rails, the slate, the frame of the table — before you get involved with the cosmetics of the table. There's a lot of different stuff that goes into it. It's like building a Steinway.
Has the popularity of the sport remained constant?
No, we're fighting with the Internet and all the games that are available: the electronic games, the Wiis, the Nintendos and all that stuff. The young people of today they seem to want instant gratification, and you can't get that from a game of pool. It takes skill. It takes practice. So we're fighting against that. 
What does it take to get hired at Blatt?
The people who are in the shop upstairs are first of all master cabinet makers when they come here. Then it takes about six months to train them to build a pool table. Just because you're a cabinet maker doesn't mean you can build a pool table. So there's a level above that they they have to achieve.
Do a lot of people in New York have pool tables?
Yeah. you'd be surprised. Some of these pre-war buildings with the huge rooms. Also we have some pool tables that convert to a dining room table. So what happens is the table lowers to a dining room height, there's about a two inch difference. People are using those now in their dining rooms on Park Avenue, some of the lofts. We sell a lot of those in the city.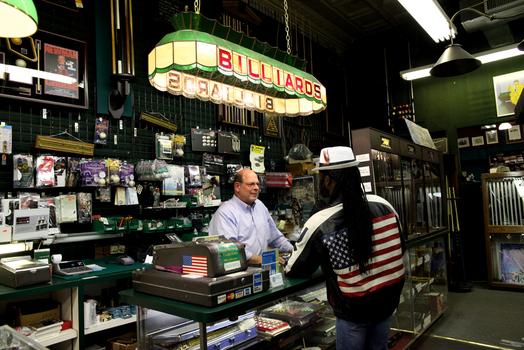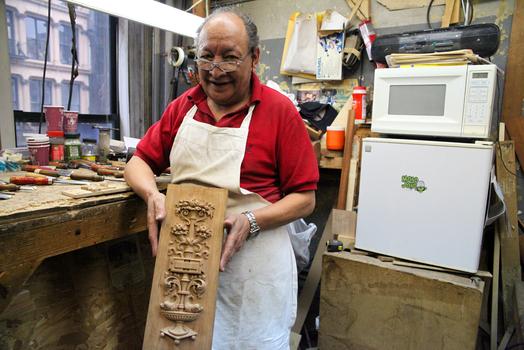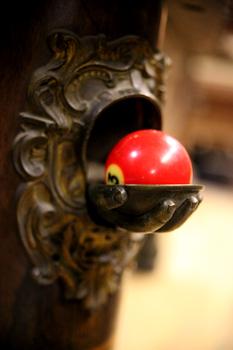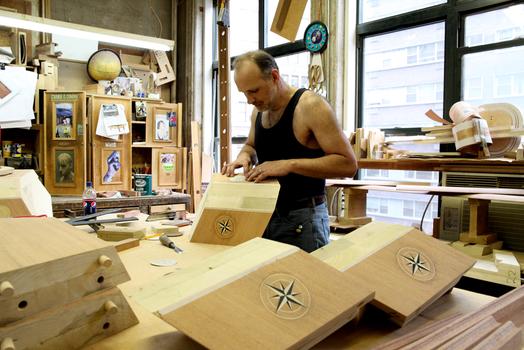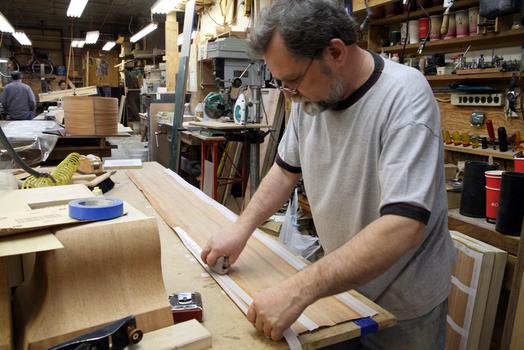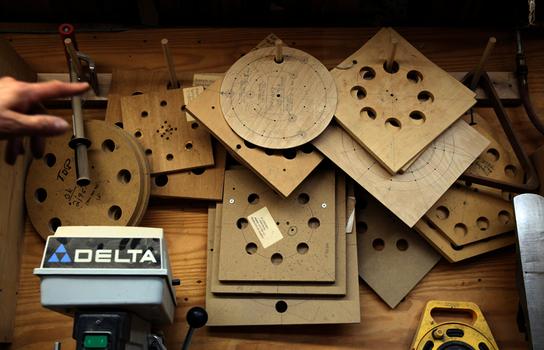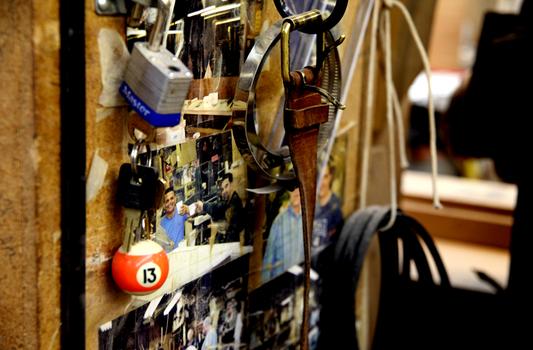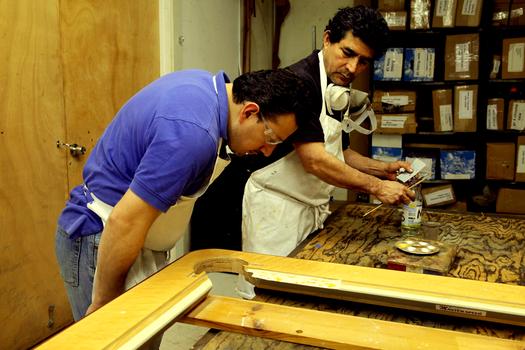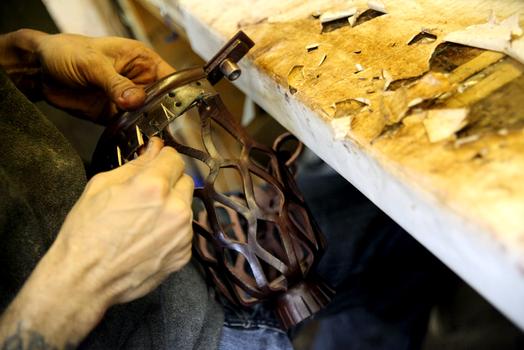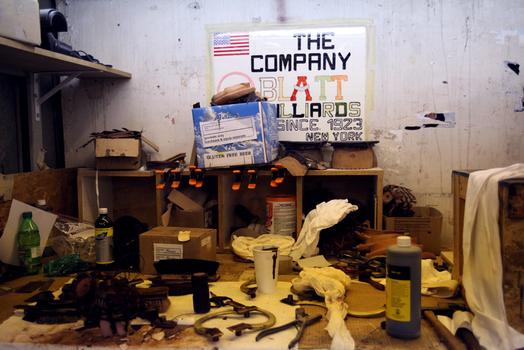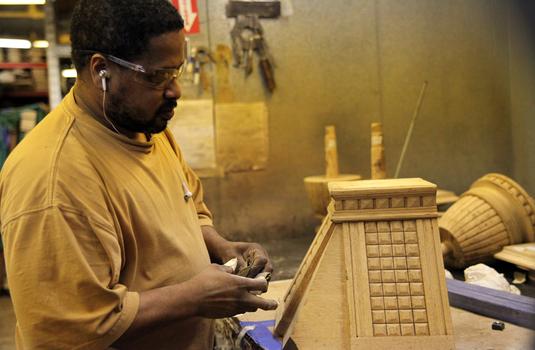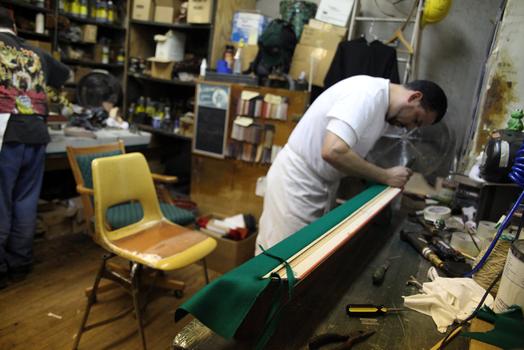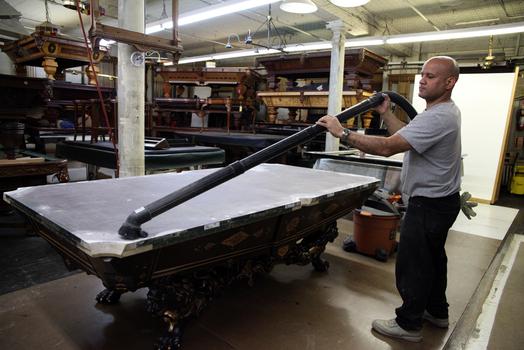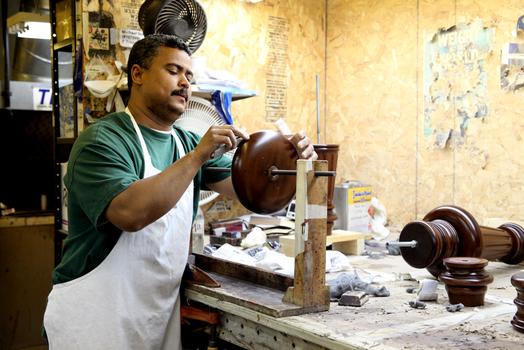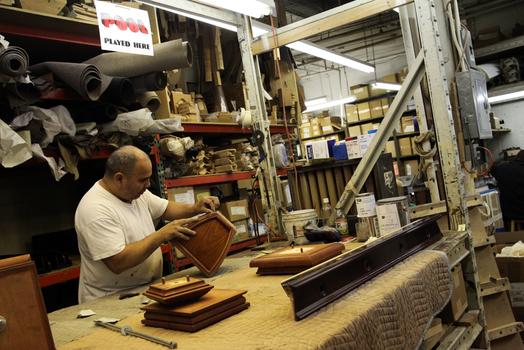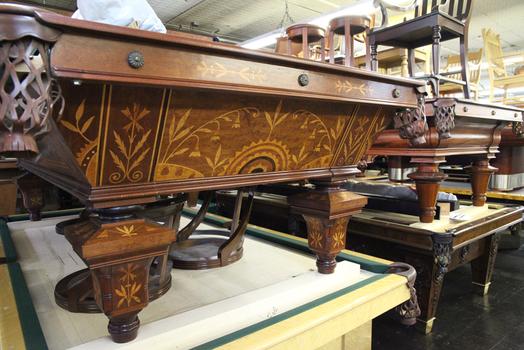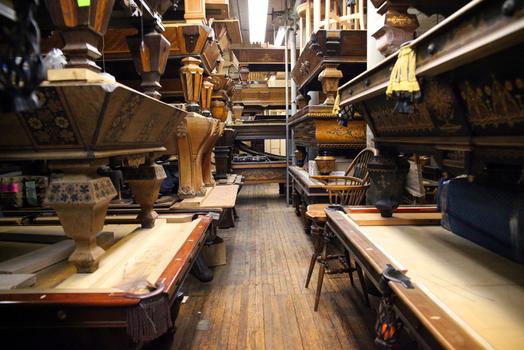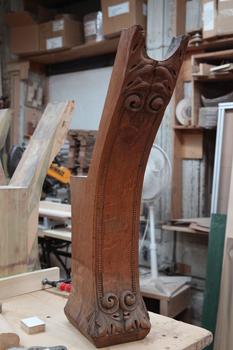 of