Duffy Stands In for Cuomo at Gay Marriage Rally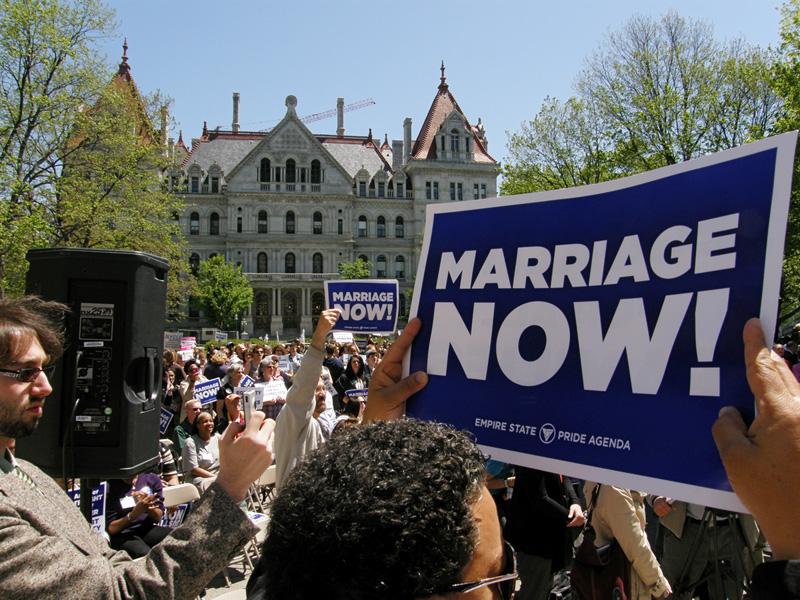 New York's Lieutenant Governor Robert Duffy told a major gay marriage rally at the State Capitol that his boss, Governor Andrew Cuomo, remains committed to the issue.
Even though Cuomo was at his Capitol office, the governor did not speak at today's rally. His lieutenant governor said repeatedly in his speech that the governor is strongly "committed" to legalizing same sex marriage.

"The governor has made marriage equality one of his top three legislative issues this year," Duffy told the crowd. "He has spoken publicly, he has spoken privately, he is leading on this front."

Duffy says New York State, which has been steadily losing population, will decline even further if gay marriage does not become law, predicting that people will "flee" the state.

Pride Agenda executive director Ross Levi, who helped organize the rally, says he's "thrilled" with the governor and lieutenant governor's support, and hopes that this will be the year that the State Senate finally approves a gay marriage law.

Governor Cuomo later released a robocall proclaiming his support for gay marriage. In it, he said "This is not a Democratic or Republican issue. It is a question of New York going forward or backward".

The measure has been approved in the State Assembly in the past, it failed in the state Senate in 2009. Senate Leader Dean Skelos has said he will permit a bill to come to the floor again this year, but he has not set a date.

Opponents of gay marriage, including State Senator and evangelical minister Ruben Diaz, a Bronx Democrat, plan their own rallies against the measure later this month.