Obama to Push Immigration Reform in Texas Speech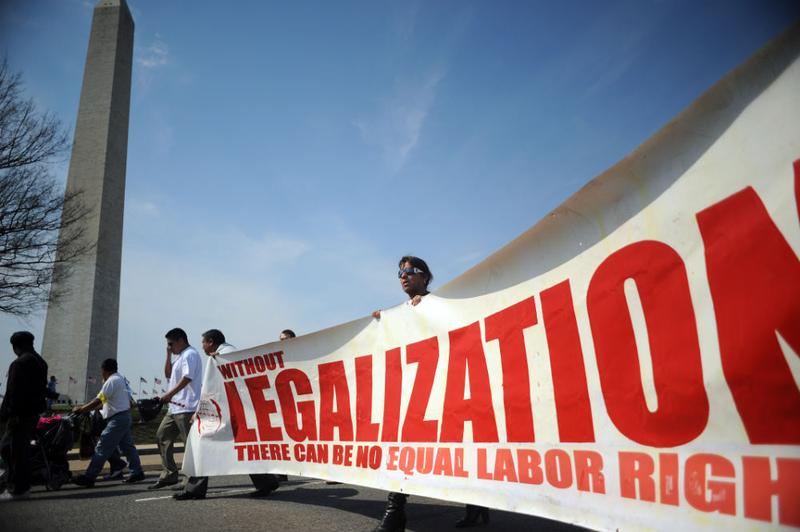 President Obama first made his case for immigration reform on the national stage during the 2008 campaign. Many advocates say they have yet to see that fight play out, but on Tuesday, the president will give a speech to college students and faculty from the University of Texas in El Paso to talk about reform, once again.
Since the bold words of "reform" in his election campaign, the president's actual position has hovered somewhere in the middle and has not led to any significant legislation. As the White House posted on its blog: "The President cannot fix our broken system on his own." Senior administration officials say the trip is a "call to action" and that the president is committed to comprehensive immigration reform.
The midterm elections in 2010 were a big loss for Democrats, so now bipartisan support is crucial for the passage of any immigration reform legislation. In his speech tomorrow, senior administration officials say this is what he'll be pushing for in El Paso.
Tuesday's speech is the latest event in a string of efforts at outreach to the Latino community - including White House blog posts in Spanish - to remind the public that he's still aiming for comprehensive reform. By choosing El Paso, Obama is putting himself right on the U.S.-Mexico border where the national debate on immigration is very localized. Ciudad Juarez, where thousands of people have been murdered in the last few years due to trafficking and drug violence, is a scant three miles away. Homeland Security Secretary Janet Napolitano will travel to the border with the president to see the border security operation firsthand.
There have been signs in the last several weeks that Obama is prioritizing the immigration issue. He participated in a town hall meeting in the capital, hosted by the Spanish news network Univision, where he talked about education. He spoke at Florida's Miami-Dade College and released a White House report on Latino education, which documented the finding that Latinos have the lowest education attainment level as a group in the U.S. He hosted a meeting with Latino leaders on May 5th at the White House, during which he said the DREAM Act should become law and that we need to "address the status" of undocumented workers as well as dealing with border security and law enforcement. Now he's heading to Texas, to a city right near the border where there is a high Latino population as well as a high stakes investment in border security — two components that aren't always in agreement.
You could say the president is on a mission to make good on his campaign promise. You could also call it a political mission. It's campaign season again after all, and folks are waiting to hear what's next. Obama has said time and time again, "We are a nation of laws and we are a nation of immigrants," but his administration and Congress have not yet been able to weave those two ideas together into successful legislation.
Senior administration officials say comprehensive immigration reform means both border security and legislation, not one or the other, a point the president will make again in his speech on Tuesday. Officials say the president will emphasize the benefits immigration reform has on economic growth and entrepreneurship as well as attempting to garner support for the cause, encouraging other leaders to step forward on the issue and push for bipartisan consensus in Congress. The president has several planned meetings with community leaders, labor and law enforcement around the country to discuss comprehensive reform in the upcoming months. Officials say he will release a blueprint on Tuesday of what he'd like to accomplish.
Tuesday's speech will take place at Chamizal National Memorial - a monument to the peaceful settlement of a border dispute between the U.S. and Mexico over territory surrounding the Rio Grande river. It will mark the first presidential visit to the memorial since its inception in 1963. The event is closed to the public, but the University of Texas in El Paso received 500 tickets for students and faculty. First come, first serve. (The tickets were snatched up in 45 minutes.)
Here are a few topics the president is likely to discuss:
The DREAM Act
The DREAM Act (the Development, Relief and Education for Alien Minors) was a bipartisan bill when it was introduced in 2007 with Obama's support (though, immigration advocates have been fighting for it for a decade), but in December of last year after passing the House, it stalled in the Senate and failed to pass before the new year. The controversial legislation would allow undocumented immigrants who entered the U.S. under the age of 16 to apply for legal status if they fulfill several requirements, including continuous presence in the U.S. for no less than five years and showing "good moral character."
Many Republicans, including some that supported the DREAM Act when it was introduced, say they will not pass this bill until border security is addressed. Texas Gov. Rick Perry agrees that border security needs to be a priority in any comprehensive immigration reform.
During his speech at Miami-Dade Community College in Miami last week, Obama promised he would continue to push for a path to citizenship for undocumented students, while they chanted, "Education, not deportation!"
Border Security
The issue of border security has heated up since Arizona passed SB 1070 last year, a law directing state law enforcement to be more aggressive in apprehending undocumented immigrants. A federal judge has since struck down many of the law's provisions but it remains a rally cry for advocates on both sides of the debate.
In August of last year, President Obama signed a bill granting $600 million more for border security on the U.S.-Mexico border, but despite the GOP's demand for this very thing, the same amount was on the chopping block again in their budget proposal this year. The money was intended to provide more security and communications equipment and more border patrol agents, including the deployment of the National Guard. The Homeland Security Secretary, Janet Napolitano called it a "step forward" at the time, but this funding is due to expire in June. Senior administration officials say they intend to continue national guard deployment along the border. They don't yet have a time line for the deployment extension, but plan to finalize plans as soon as possible.
Officials also say the border is the safest its been in U.S. history, citing the increase in border control agents, screening of southbound rail and vehicle traffic and 649 miles of fencing.
The president has mentioned "border security" over the past few weeks in his remarks about what comprehensive immigration reform would look like, but exactly what he means by this is not yet clear. In his comments to the Congressional Hispanic Caucus on May 5th, the president said, "I strongly believe that we've got to fix this broken system so that it meets the needs of our 21st century economy and our security needs. I want to work with Republicans and Democrats to protect our borders, to enforce our laws and also to address the status of millions of undocumented workers."
Undocumented workers
There are approximately 11 million undocumented immigrants in the U.S. today so "addressing" this number in any way is an inevitable challenge.
The Obama administration has gone after companies who are suspected of hiring undocumented workers by using E-Verify, an electronic system that companies use to check their employees immigration status and social security numbers. Previously, this electronic program was voluntary. Its implementation has been shunned by immigration advocates saying E-Verify won't work unless there is a complete overhaul of the immigration system.
On the other hand, the president supports the DREAM Act but it's not clear what kind of guest worker and visa reform the president would support for immigrant workers. Senior officials say what doesn't make sense is training and educating job creators and entrepreneurs and then forcing them to return to their country of origin to compete against us. They say there is a benefit to having more people legally part of our system, creating jobs and paying taxes.
The GOP generally opposes discussion about a "path to citizenship" as it seems too close to amnesty, something most of them vehemently oppose.