What did GOP Hopefuls Talk about in '07 Debates? Deficit and bin Laden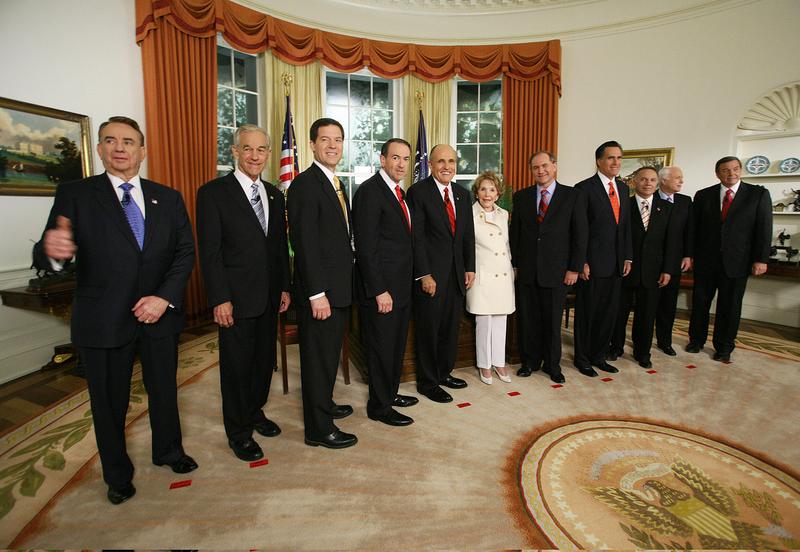 Four years ago this week, Virginia Tech was still recovering from the shock of a massacre, James Franco was best known for new star turn in Superman 3 (not his multiple grad degrees), and Osama bin Laden was missing.
There was also a wide open field for the Republican nominee for president.
On May 3, 2007, ten candidates met in their first debate at the Ronald Reagan Presidential Library in California. John McCain was there. So were possible 2012 contenders Mitt Romney, Ron Paul, Mike Huckabee, and Rudy Giuliani -- along with former Health and Human Services Secretary Tommy Thompson, California Rep. Duncan Hunter, Former Virginia Governor James Gilmore. Remember those campaigns?
Looking at their line of arguments now is a stark reminder of how much would change before the actual vote for president in 2008.
The only candidate to talk about Wall Street was Ron Paul, who called overspending by the federal government "the inflation tax." "That's a transfer of wealth from the poor and the middle class to Wall Street," he said. "Wall Street's doing quite well, but the inflation tax is eating away at the middle class of this country."
Mike Huckabee talked about jobs, but he focused on the outsourcing of jobs overseas.
The most important thing a president needs to do is to make it clear that we're not going to continue to see jobs shipped overseas, jobs that are lost by American workers, many in their 50s who for 20 and 30 years have worked to make a company rich, and then watch as a CEO takes a hundred-million-dollar bonus to jettison those American jobs somewhere else. And the worker not only loses his job, but he loses his pension.

That's criminal. It's wrong. And if Republicans don't stop it, we don't deserve to win in 2008.
And then, of course, was Osama bin Laden, looming large in the debates about American security and the response to the threat of terrorism.
"We will do whatever's necessary. We will track him down," McCain vowed. "We will capture -- we will bring him to justice, and I'll follow him to the gates of hell."
Mitt Romney was more circumspect about how much bin Laden mattered seven years after September 11. "We'll move everything to get him," Romney said. "But I don't want to buy into the Democratic pitch, that this is all about one person, Osama bin Laden. Because after we get him, there's going to be another and another.
Of course, some things remain the same from that debate four years ago. "My friends, we face enormous challenges," McCain said at one point. "Whether it be a burgeoning deficit, out-of-control spending, a need for energy independence."
But in a reminder of how 2012 differs from 2008, he continued, "we need most of all to restore faith in our government and confidence in the leadership." That was a clear swipe at the outgoing president, a member of his own party.
Tonight, Republicans get their first clear shot at arguing why they are the candidate to argue that the current president has created the same crisis of confidence.