P. Club organizer Claudia La Rocco reports back on two recent Performa events: a problematic panel discussion called "Writing Live" and Christian Tomaszewski and Joanna Malinowska's Soviet sci-fi fashion show.
Saturday was a doubledecker Perfoma day for me, ending with an art-world bon-bon: "Mother Earth, Sister Moon," our second P. Club outing of the month.
Oh brother…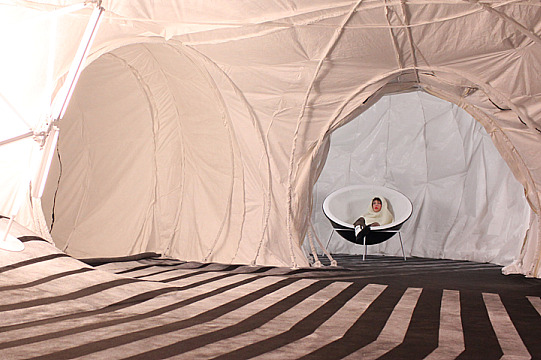 More on that in a sec. But first, a few thoughts on the day's first event, one of the most dysfunctional panel discussions I've ever attended. I'm not sure what it wanted to be, but it wasn't boring (tedious, maybe). People seemed to have come intent on fighting, without any real thought to what they were fighting about. Who cares? Fight! Fight! No doubt the Futurists would have been pleased.
The topic was Writing Live, Performa's experimental writing project. I know two of this year's fellows, Patricia Milder and P. Club's own Ryan Tracy, whose Writing Live persona, Gina Performa, can be heard here. Both had intriguing things to say about the project, so I thought I'd check it out.

Gina Performa: she's always a woman to me
But, you know, it's never a good sign when the people in charge begin by telling you their aim is to deconstruct the idea of a panel (Translation: Organization, what?) … and, really, let's face it, we writers need to be kept on a short leash, lest our egos start dry-humping every innocent trouser-leg in view. It didn't take long for the poet Charles Bernstein to pick an intellectual fight, for the critic Richard Kostelanetz to declare the room's acoustics untenable and for some UK writer to claim holier-than-thou, mortally affronted ground as a print journalist dinosaur. I even had an unexpected cameo when asked an out-of-the-blue question, followed by Performa founder RoseLee Goldberg interrupting my rambling answer to cheerfully inquire about my recent pan of the video artist Keren Cytter (all the visual art critics loved it, apparently, while I fumed in my performance-world darkness…)
Nothing, in other words, was said. Just all the usual fluff – about "old" writing being not up to the task of "new" art, about the necessity, or not, of specialized knowledge in order to view said art.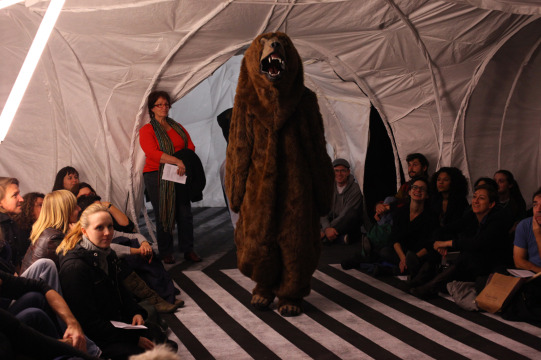 Every fashion show needs a giant bear
Blah blah blah. That was bad fluff. Christian Tomaszewski and Joanna Malinowska's Soviet sci-fi fashion show was good fluff. "Almost perfect – just vodka was missing," P. Clubber Marie-Christine pointed out.
We were, however, served milk, blended with ice and bananas, once we had crammed ourselves into an inflatable sculpture, a replication of Russian astronaut Valentina Tereshkova's spacesuit. And then in came the ladies, from leather-faced divas to fresh-faced innocents, unzipping various flaps along the sculpture's surfaces and clambering inside in futuristic, outlandish getups.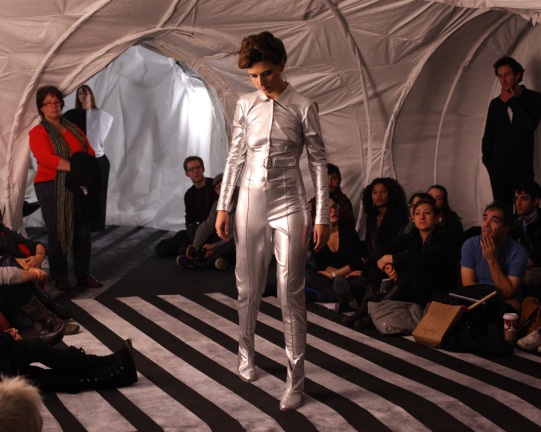 Eat your heart out, Captain Kirk
And of course there was the bear, who was apparently some random male worker roped into the task. Power to the workers? I wish he had been a woman. But what's a Russian-themed parade without a little ursine action?
As we were sitting there, I kept watching these two little girls react to the adult silliness happening all around them. Yes, you could contextualize this work in various intellectual and art historical ways. But on another level, the one I liked much more, it was milk and fairy tales. We were already tucked in.