You may know me as The Takeaway's sports guy, but I spend most of my days working with young people in a pilot program that engages youth to fight climate change and improve community environmental health through service. The group is called Green City Force and its goal is to prepare people for careers in the green energy economy. It's part of the green jobs movement, but at its core, it's about developing young people.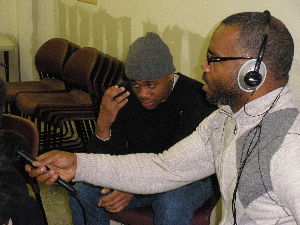 I have been working with youth all my life. It started when I joined a mediator program as a freshman in high school. The program helped me develop  confidence and communications skills and I noticed similar benefits in my peers. As a young person helping other young people, I thought to myself, this was something good to pursue.
 
Here are a few of the highlights from over a decade of youth work:
When I was in college, the local high schools suffered from high dropout rates among students of color. I worked alongside my professor and we started a mentoring program that brought college students into the schools. The Mentor/Tutor Internship (MTI) program at the University of Rhode Island is now going into its 11th year.
I can never forget going out to Thompson Island where Outward Bound's Choices program held its end-of-the-season graduation ceremony. I heard what the young people said they learned in a week-long adventure course and I was stunned. Any program that touched and challenged black and Latino middle school students like that, I had to be a part of. By the start of the next season, I was an instructor using the outdoors as my classroom to teach young people about themselves and life.
After 9/11, I was busy calling young people all over the country who were working to transform their communities. We were creating a database of youth organizing and activism. This intersection of youth work, service and organizing was all catalogued in the Future 500 – a book and searchable online database now called the Future5000.com.
Another highlight was starting the Brooklyn Academy for Science and the Environment. I was the Youth Program Director at Brooklyn's Prospect Park. I was on the founding team and ensured that young people were included in the planning process. My woodlands youth crew did restoration work in Brooklyn's last forest.

I hope my youth work has made an impact. I know that I continue to develop each young person I work with.
Tune in Friday to hear my interviews with unemployed youth from East New York who are trying hard to find jobs in this tough economy.