Proposed ER at St. Vincent's Part of Larger Health Care Debate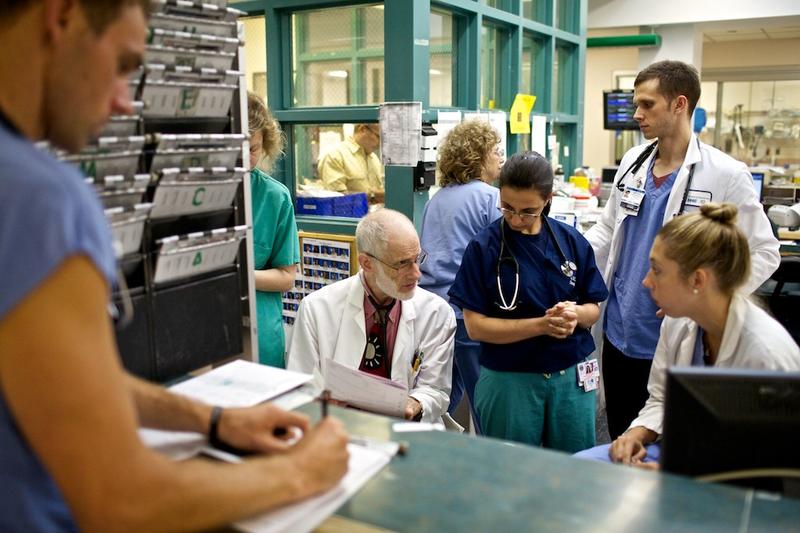 On a recent afternoon, Dr. Suzi Vassallo made the rounds in the Bellevue Hospital Emergency Room, one of the busiest in the country — but it doesn't mean it always resembles the pressure-cooker you see on TV. At the time, there were no gunshot wound or cardiac arrest victims and instead only a few accidents and a lot of people who are varying degrees of sick and don't have anywhere else to go.
"What made you come to the ER today?" Vassallo asked an elderly Jamaican woman named Claphille.

"My blood sugars have been consistently high – from 200 to 400," answered Claphille, who gave only her first name to protect her privacy.

Claphille said she has had diabetes for 35 years. It runs in her family, but she said she keeps it in check pretty well. Recently, though, her doctors changed some of her medications, and she thinks that what caused her blood sugar to soar. When she couldn't get into her usual diabetes clinic, Claphille came to the ER

It's a story repeated millions of times a year across the U.S.: chronic health problems like diabetes, heart disease and asthma are increasingly bringing patients to the ER when, with better treatment, their conditions would be manageable, and they would stay home. There's wide agreement that this is bad for patients and bad for hospitals, taxpayers, insurers, employers, among others. There's also a consensus that primary care services aren't keeping up with the growing demand.

The collapse of St. Vincents Hospital in the West Village just over a year ago and a proposal by North Shore-LIJ to build a new facility on its site, a mile from Bellevue, have raised questions about how best to serve a community's medical needs.

North Shore wants to build a free-standing emergency department that will be open 24 hours, seven days a week, year-round. The $110 million facility would basically be a regular hospital ER, minus the hospital: no inpatient beds, no operating rooms and no intensive care unit, among other things. They exist elsewhere in the country, mainly in rural and suburban areas.
Site of proposed stand-alone E.R. (Courtesy of North Shore-LIJ)

North Shore president and CEO, Michael Dowling says it would be a "unique new hybrid," filling an important niche.

"Remember: 99.9 percent of patients who come into emergency rooms come in with abdominal pain, allergic reactions, cardiac arrests, chest pains, concussions, infections — and all of those types of conditions will be easily taken care of in this facility," Dowling said. "It's not a full trauma center, but then most hospital emergency rooms are not trauma centers."

Critics think a lot fewer than 99.9 percent of patients could use the proposed ER. Community opponents who want to restore a full-fledged hospital at the site call the proposed facility a glorified urgent First Aid station, good for little more than setting bones and stitching cuts.

And the skeptics aren't just West Village hard-liners pining for a new St. Vincent's. A mile away, at Bellevue Hospital, Dr. Lewis Goldfrank, the head of emergency medicine, said a free-standing ER doesn't give patients what they need – and could dupe them into coming to the wrong place.

"If someone's got pain of the abdomen, it might just be a bad sausage. On the other hand, it could be a ruptured aortic aneurysm," said Goldfrank, who's run the Bellevue ER for more than 30 years. "The patient's not supposed to know the difference; we're supposed to know the difference. And that needs some testing and it needs some rapid action to do the things that have to be done. You need to be in a place where there's an operating room."

North Shore said patients with more serious conditions will be transferred to other hospitals — either to nearby ones or to another recent North Shore franchise: Lennox Hill Hospital on the Upper East Side. Goldfrank and others say transferring can mean losing precious minutes.
North Shore's chief of emergency medicine, Dr. Andrew Sama, said transferring probably wouldn't occur very often – but it''s simply a fact of life a lot of places.

"Patient comes in with a subdural hematoma. Needs neurosurgery. What do you think happens?" Sama asked. "If you're at certain community hospitals anywhere in the country – probably more than half don't do that work. So what we're describing is what's going on all day, and it's done safely and successfully."

Since St. Vincents Hospital closed, the Bellevue ER has gone from 80,000 patients a year to about 110,000 – a 40 percent jump.
Goldfrank said the proposed new ER at the old St. Vincents site is creating more demand for the wrong kind of healthcare.

"If people try to run more emergency departments, you'll attract more people there, because, in theory, it'll be faster and get people things for immediate gratification," Goldfrank said. "Emergency Departments are a second choice for everyone. Everyone should have a first choice, which is a primary care doctor, who can say, 'I'll see you tomorrow morning,' or 'I can assure you, it's not a critical problem.'"

Nassau County-based North Shore is the biggest and financially strongest hospital network in the state, but has only recently begun expanding its footprint in the five boroughs.
Emergency Rooms generally lose money — though they're frequently "loss leaders," bringing in patients to populate the rest of a hospital. So, some critics say if North Shore wants to open an ER, it's only because the network wants to feed other parts of its growing network. That would mean keeping well-insured patients who need specialty care, which can be very profitable, and, as much as possible, staying out of the primary care business, which isn't.
North Shore denied this and says it's taking on emergency medicine at the St. Vincent's site for the benefit of the community.

Dr. Andrew Sama, from North Shore, said the proposed free-standing ER will also try to get patients good follow-up treatment to prevent return trips.

"Our goal is really to plug them into a patient-centered medical home, a federally qualified health center, a primary care practitioner in the community, or a clinic at a hospital nearby where they live," he said.
 
North Shore's proposed emergency room would be in the distinctive white O'Toole Building on West 12th Street. But it would only take up about a fourth of the structure. With so much available space, why not use it to expand some of the neighborhood's primary care services?

"Well, it's not my decision to make," he said. "But what I would do first is partner with the existing ones, and if it turns out that that's not adequate or they're unable to bear the increased referral load that we will send them – which I personally find hard to believe, but it's possible – that will certainly be a consideration."