Talk to Me: From Russia with Love at the Greene Space
Friday, May 06, 2011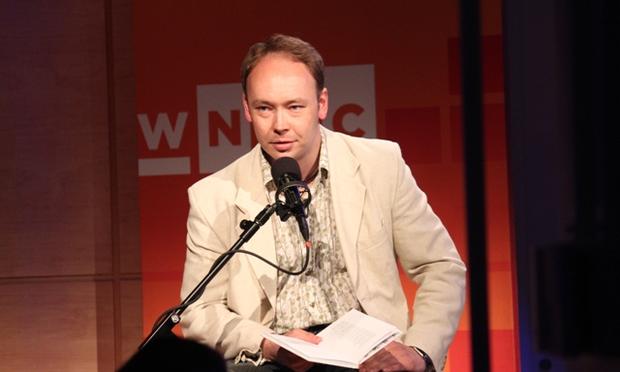 (Photo: Theodora Kuslan, WNYC)
Are you craving a little continental culture? Do you need a good book recommendation? Both were on offer on Tuesday, April 26, when New York Public Radio's Jerome L. Greene Space hosted a literary salon as part of the 2011 PEN World Voices Festival. The event: "From Russia with Love," featured Russian poetry, criticism, and classical music.
Talk to Me brings you downloadable readings and conversations with writers, artists, and scholars – from author Joshua Ferris to choreographer Mark Morris to poet Sharon Olds – recorded at cultural institutions in New York City and beyond. Stream, download, or subscribe to the full-length podcasts here.

More

Recommended Links
This year, PEN invited members of the National Book Critics Circle to come to each event and recommend notable books. Jane Ciabattari, the president of the National Book Critics circle, opened the evening with her favorite five books. (Get out your pen and paper!)
The night was hosted by Ina Parker, who regularly hosts A Global Literary Salon, which is a radio and online television program transmitted from The Greene Space. Parker interviewed the Russian poets Igor Belov and Ksenia Shcherbino, as well as the Russian pianist, Svetlana Smolina. Belov has published two books of poetry: "All That Jazz" and "Music Not For Fat People." Shcherbino has been published in the journals Babylon, Arion, Kreschatik, Reflect.
The poems were read in the poets' native language, but the lively commentary was in English, and the classical music transcends all language barriers.  Close your eyes and pretend you are in a literary salon—here is your beret.
Igor Belov on censorship: "Since the leaders of Russia hardly read books at all, we can basically write almost anything that comes into our heads. Although now so-called 'extremism' is an offense that carries criminal liability...this is a concept that is so broad, that I could say just a little bit more than I'm saying right now and find myself in violation of that statute." 
Ksenia Shcherbino on Soviet mythology: "In order to understand another culture, the best way to do that is to understand the myth of that other culture. I was born in 1980 so I grew up without the Soviet pressure. So, I had to re-invent Soviet mythology for myself."
Jane Ciabattari on loving Russia: "What to love from Russia? Well, it could be Russian music, Russian poetry: all of the things that make us human beings. And I recall the words of Nietzsche, who said that art is what we have to keep us from perishing from the truth."
More in: