Bin Laden's Death: How It Rewrites the 2012 Script for Obama, GOP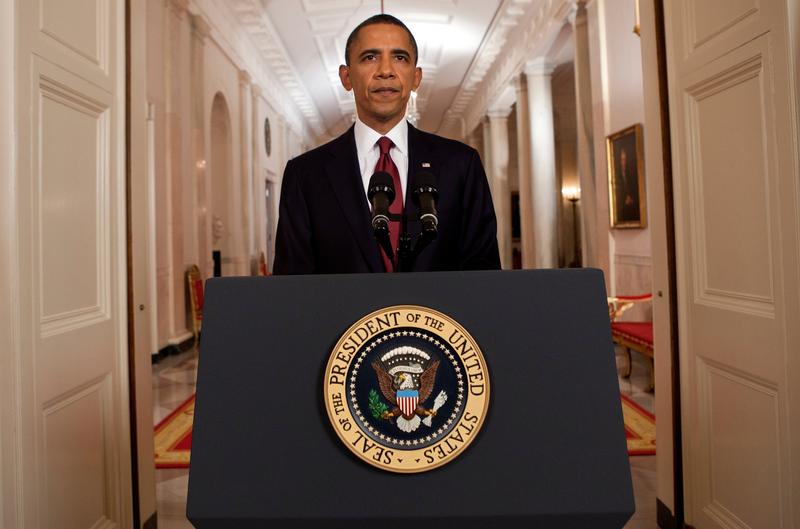 Editor's note: Join reporter Anna Sale, IAFC Editor Caitlin Thompson and our political bloggers on itsafreecountry.org Thursday night for a live chat of the debate!
It was just five days ago that Obama was admonishing the media for its breathless obsession with "sideshows and carnival barkers" in the face of America's overwhelming challenges. Now, the death of Osama bin Laden has made that frenetic bouncing between birth certificates and zingers at black-tie parties all feel remarkably tone deaf.
The unexpected news of the death of the al Qaeda leader has brought catharsis and some closure, while serving as a painful reminder of the trauma America experienced together nine and half years ago. It also forces difficult questions about what this symbolic victory means for actual security.
It will also likely shift the 2012 debate's substance, and add a new gravitas to its style. Domestic spending, the federal debt, and taxes will still be major points of contention, but there's a new debate now — what Osama bin Laden's death means for the future of America's foreign policy, and more immediately, the American people's opinion of the Obama presidency.
On Monday morning, there was one striking remnant of the shift in the political moment: Donald Trump's most recent tweet, from the previous Friday, pointed to the "preview of this Sunday's The Celebrity Apprentice." (He later tweeted out a statement on bin Laden's death, but that came 30 minutes after one advertising "Donald J. Trump's Fabulous World of Golf" on the Golf Channel.)
What It Means for Obama's Case for Reelection

By authorizing the mission that killed bin Laden, President Obama has unquestionably burnished his Commander in Chief image, which needed polishing. After muddy progress in Afghanistan, tentative reactions to the protests in Egypt, and confusion over the aim of military strikes in Libya, 36 percent of Americans described his leadership as "indecisive and dithering" in a March poll.
Obama's early campaign speeches to supporters have referenced the end of combat operations in Iraq, legalistic as that distinction may sound with American troops still there through the end of the year. This military and intelligence achievement adds quite a flourish, as does his comforting and unwavering delivery of his address to the nation on Sunday night.
"Over the years, I've repeatedly made clear that we would take action within Pakistan if we knew where bin Laden was. That is what we've done," President Obama said.
The killing of bin Laden is also reminder that debates on the campaign trail matter. In 2007, then-Senator Obama said that "if we have actionable intelligence about high-value terrorist targets and President Musharraf won't act, we will" — a statement Hillary Clinton later called naïve for improperly risking the U.S. relationship with Pakistan. 
Obama will have to answer ever-more urgent questions about his vision for American foreign policy. What, for example, is the future of the U.S. relationship with Pakistan, with revelations about bin Laden's Pakistani hideout adding to existing strains from drone attacks and the January shooting involving CIA contractor Raymond Davis.
Similarly, with this symbolic justice in hand, the American people may lose their stomach for ongoing operations in Afghanistan. Will the president remake the case, or take advantage of the opening to begin a drawdown?
What It Means for Republican Challengers
In first hours after the announcement of bin Laden's death, the still-fuzzy Republican field was tentative on all these questions, including how much credit to grant Obama for this operation.
In statements, some of the possible Republican contenders congratulated President Obama by name. Tim Pawlenty called this "terrific news for freedom and justice" and offered his congratulations to the president. "I applaud the president's handling of the mission," Jon Huntsman, Obama's former ambassador to China, added. Even Donald Trump offered his personal congratulations to Obama "for a job well done."
Newt Gingrich split the difference, crediting George W. Bush and Obama, and added, "without the courage and professionalism of our men and women in uniform and in the intelligence services, this victory would not have been achieved."
Others directed their praise more broadly to the military, without mentioning the president by name. Sarah Palin said Americans are "united in celebration and gratitude," while Mitt Romney called this "a great victory for lovers of freedom and justice everywhere."  Rick Santorum shared credit all around when he offered, "I commend all those involved for this historic triumph."
Michelle Bachmann was the most ambivalent. She offered her "deepest gratitude," but noted, "The news does not bring back the lives of the thousands of innocent people who were killed that day by bin Laden's horrific plan, and it does not end the threat posed by terrorists."
Mike Huckabee focused on the former al Qaeda leader. "Welcome to hell, bin Laden," he said. 
Look for at least a handful of these potential candidates to expound more on how bin Laden's death changes the talking points about Obama. Tim Pawlenty, Rick Santorum, Ron Paul and Buddy Roemer are set to meet in the GOP primary's first debate in South Carolina on Thursday.
Out of the crowded field of maybe-candidates, Rudy Giuliani may be the big political winner of the moment. He's been making stops in New Hampshire and is scheduled to be there again next week. Before stopping by Ground Zero on Monday, he told Politico he admires "the courage of the president to make a decision like this," recalled to NBC that he'd asked George W. Bush to personally execute bin Laden if he were caught, and when CNBC asked whether bin Laden's secures Obama's reelection, he quipped, "Nothing guarantees you a second term!"
On that, history agrees with Giuliani. And most likely, so does George H. W. Bush.
In February of 1991, his approval rating surged to 89 percent during the Persian Gulf War. 17 months later, when the shine of that military victory wore off, it dropped 60 points, before he went on to lose his campaign for reelection.