New Yorkers Flock to Ground Zero After Osama bin Laden's Death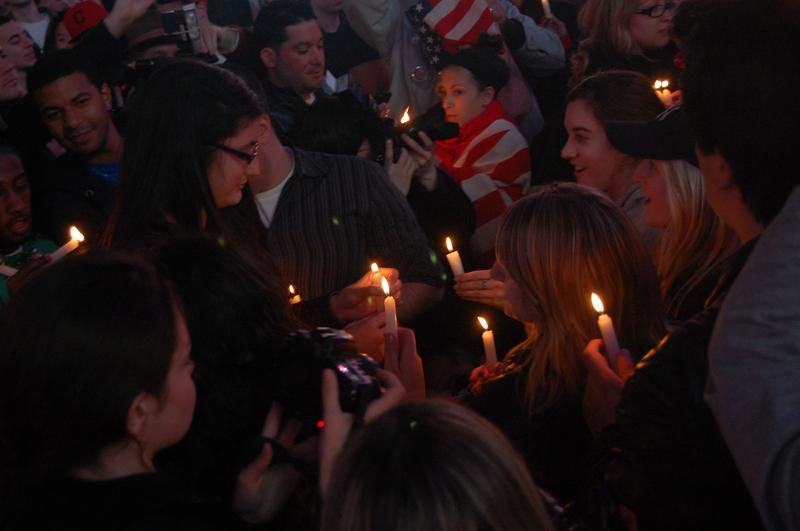 Throngs of New Yorkers — many waving American flags and erupting in chants of "U-S-A!" — gathered at Ground Zero following the news that Osama bin Laden had been killed by U.S. forces nearly 10 years after the terror mastermind brought down the Twin Towers. 
Listen to Morning Edition Host Soterios Johnson speak with WNYC reporter Marianne McCune about the scene above.
Mayor Michael Bloomberg, in a statement released Sunday night, called the event a "critically important victory for our nation" even though bin Laden's death will not alleviate in full the pain felt by New Yorkers.
"New Yorkers have waited nearly 10 years for this news," Bloomberg said. "It is my hope that it will bring some closure and comfort to all those who lost loved ones on September 11, 2001."
Following President Barack Obama's address to the nation Sunday night, New Yorkers flocked to Ground Zero, cheering and singing "The Star-Spangled Banner" — images that were captured in photos and on video and broadcast around the world.
"I've been closing my eyes trying to remember this place nine or 10 years ago," said former Army Major Bob Forrester, a first responder who worked on restoring communications on the site.
"It's hard to remember how all of Lower Manhattan from Canal Street to Battery Park was closed, and I sat on that tower over there on the 10th floor at night when we were working here, and people were sleeping on the sidewalks together."
Connor Fudge, 20, acting student at The New York Conservatory for Dramatic Arts, said his brother just graduated Navy boot camp this weekend. "I've never been more proud of my country than I have been this weekend," he said at the World Trade Center site. "And living in this neighborhood and being a student, you have to come down and celebrate."

But James Dowdell, a firefighter, whose father Kevin died on September 11, dismissed the notion of closure as if it was a concept too complex to grasp in such moments.
"It's a victory for us," he said. "I'm happy to be here. I wouldn't want to be anywhere else."
With reporting by Marianne McCune
New Yorkers in Times Square