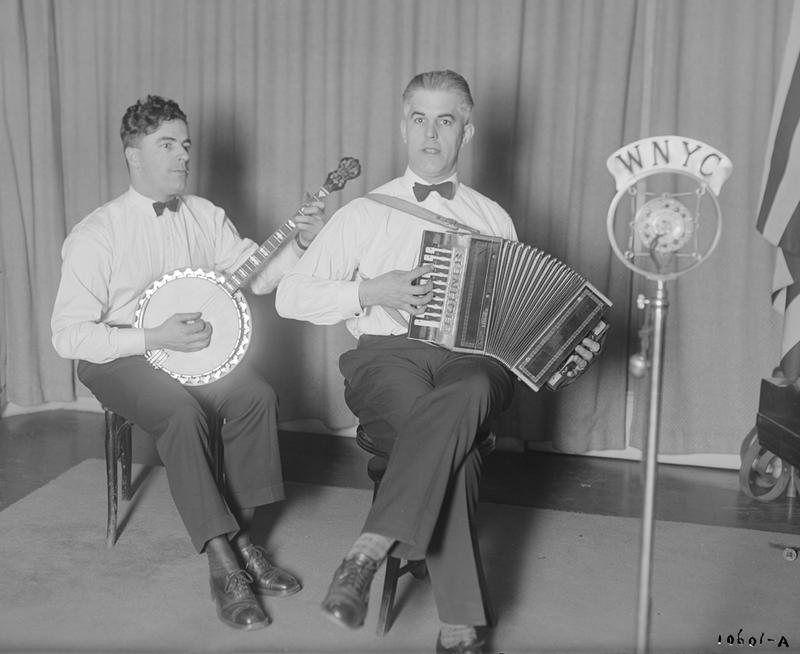 The Flanagan Brothers were the most popular group of Irish entertainers in New York City between the early 1920's and the late 1930's. Joe, Mike and Louis (who is not pictured here and played harp guitar) were born in Waterford City, Ireland in the 1890's and emigrated to the United States with their parents at the turn of the century. They settled in Albany, New York. The brothers, all self-taught, played at concerts, dances, bars, clubs, and on WNYC. They recorded 160 songs for several labels and their discs sold well across the U.S, Britain and Ireland. Many have since been reissued in anthology collections. Here is an original version of the Kerry Mills Barndance courtesy of the Irish Traditional Music Archive.
In the liner notes to An Irish Delight: Classic Recordings of Irish Traditional Music in America on Topic Records, Mick Moloney writes:
"The Flanagans had a keen eye and ear for the musical tastes of the public and this heavily influenced the repertoire they chose to perform. They had arrived in New York at the end of an era which had seen the demise of the vaudeville and music hall circuit, but they found that audiences still expected the slickness in presentation which were so characteristic of both these domains. As Irish entertainers, they faced the additional audience expectation that they perform Stage Irish material. So they dressed up in green, white and gold costumes and did just that. They wrote lots of Stage Irish skits in the "Mike and Pat" mold (several of which they recorded) and sang sentimental Irish American songs, like Too Ra Loo Ra Loo Ra and I'll Take You Home Again, Kathleen, and humourous burlesque songs, such as Cod Liver Oil and The Widow McCarthy, They also played and recorded driving, rhythmic selections of jigs, reels, hornpipes and barn dances on accordeon and banjo. It is perhaps for these instrumental selections that they are best remembered today, but in fact all their recorded material provides a fascinating insight into the musical and theatrical skills of this remarkable trio."