A 1926 Edition of Soundcheck: The Flanagan Brothers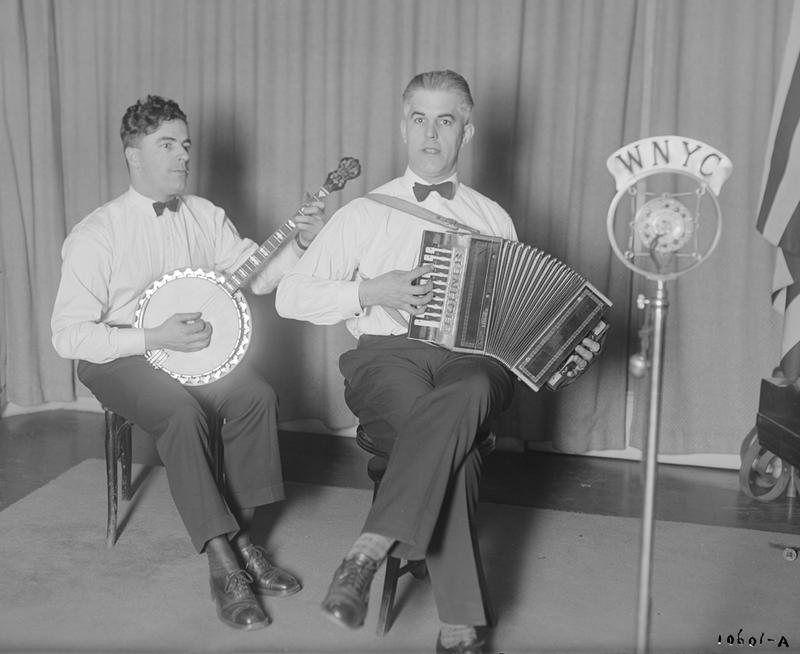 The Flanagan Brothers were the most popular group of Irish entertainers in New York City between the early 1920's and the late 1930's. Joe, Mike and Louis (who is not pictured here and played harp guitar) were born in Waterford City, Ireland in the 1890's and emigrated to the United States with their parents at the turn of the century. They settled in Albany, New York. The brothers, all self-taught, played at concerts, dances, bars, clubs, and on WNYC. They recorded 160 songs for several labels and their discs sold well across the U.S, Britain and Ireland. Many have since been reissued in anthology collections. Here is an original version of the Kerry Mills Barndance courtesy of the Irish Traditional Music Archive.
In the liner notes to An Irish Delight: Classic Recordings of Irish Traditional Music in America on Topic Records, Mick Moloney writes:
"The Flanagans had a keen eye and ear for the musical tastes of the public and this heavily influenced the repertoire they chose to perform. They had arrived in New York at the end of an era which had seen the demise of the vaudeville and music hall circuit, but they found that audiences still expected the slickness in presentation which were so characteristic of both these domains. As Irish entertainers, they faced the additional audience expectation that they perform Stage Irish material. So they dressed up in green, white and gold costumes and did just that. They wrote lots of Stage Irish skits in the "Mike and Pat" mold (several of which they recorded) and sang sentimental Irish American songs, like Too Ra Loo Ra Loo Ra and I'll Take You Home Again, Kathleen, and humourous burlesque songs, such as Cod Liver Oil and The Widow McCarthy, They also played and recorded driving, rhythmic selections of jigs, reels, hornpipes and barn dances on accordeon and banjo. It is perhaps for these instrumental selections that they are best remembered today, but in fact all their recorded material provides a fascinating insight into the musical and theatrical skills of this remarkable trio." For the complete review, see: FLANAGAN.
__________________________________________________________________________________________
Broadcast on WNYC Today in:
1926: Department of Plant and Structures benefit for St. Vincent's Hospital. Mayor James J. Walker and Commissioner Albert Goldman speak. Those performing include: impersonator Evan Davies, The Three Reillys, The Paulist Choristers, and the Vincent Lopez Orchestra. Note: Lopez's group performed on WNYC's opening broadcast night, July 8, 1924.
1931: H. Ida Curry, Superintendant of County Agencies for Dependent Children, State Charities Aid Association, New York City, speaks on the New York State program for crippled children.
1943: The Story of Harlem renaissance sculptor James Richmond Barthe on Great Americans, a series dramatizing the lives of influencial African Americans. Note: Others profiled on the program in April and May, 1943, include contralto Marian Anderson, sea captain Hugh Mulzac, and the fighter Joe Louis.
1951: "How to Correct World Misconceptions About America" on the University of Chicago Roundtable.
1960: Footloose in Greenwich Village, a documentary. An unidentified WNYC interviewer sets out in 1960 to comb Greenwich Village for Beats, though he found almost no one who would admit to being one.  What he does manage to capture are the ramblings of various residents and several anguished poetry recitations.   The program narrator also tries to understand the Beats: their protest and quest for meaning, and interest in eastern religions.  The second half of the work gets into the history of Greenwich Village and it's bohemian tradition.
1989: Steve Zahar interviews Gervaise de Peyer, English clarinetist and conductor, on this edition of the Chamber Music Society of Lincoln Center.
1998: Historian Howard Zinn reviews The Zinn Reader and Poet Hal Sirowitz tells what My Therapist Said on New York and Company with Leonard Lopate. 
2005: On The Media: "A year ago last week, the world was confronted for the first time with images of prisoner abuse at Abu Ghraib. Ever since, the American Civil Liberties Union has worked to keep the spotlight on allegations of torture at American military facilities. Unfortunately for the group, additional photos were never released by the Pentagon. Brooke talks to ACLU media relations director Emily Whitfield about what it takes to keep a story alive."