Panel Votes to Phase-Out Three More Schools with Walcott's Support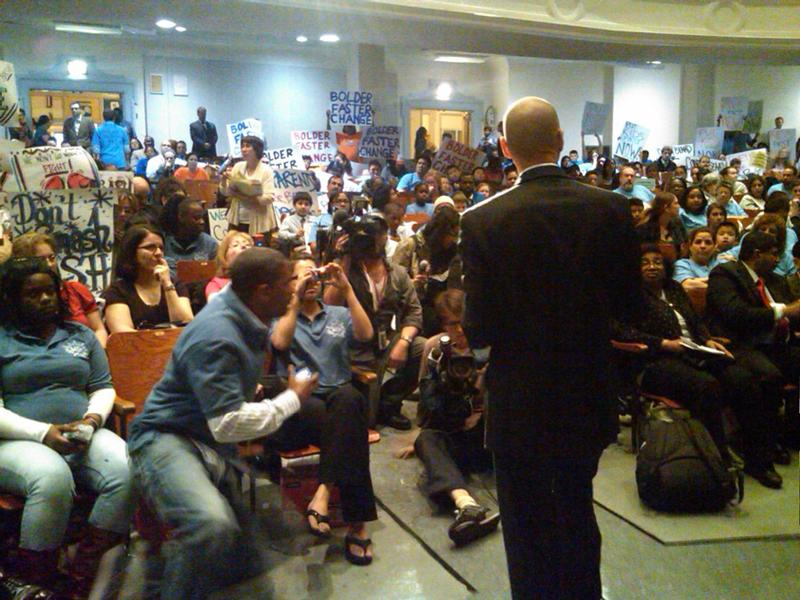 The city's Panel for Educational Policy voted to phase-out three more low-performing schools late Thursday night. The vote capped an emotional night even as the new schools chancellor appealed for respect.
Chancellor Dennis Walcott started the meeting at the Prospect Heights high school campus in Brooklyn by descending from the auditorium stage to speak directly to the audience of several hundred people, most of whom cheered.
He said panel members would be giving the crowd a more detailed update than usual on construction plans and policy matters including school report cards. And he continued what's become his mantra, saying he will always respect parents, teachers and students - and that he expects the same from them.

"Debate is healthy. Debate is extremely important," he said. "Debate benefits us all, and the debate I want us to have is what is in the best interests of our children."
Panel meetings have been notoriously rowdy, with audience members walking out of a vote in February to close several failing schools. Former Schools Chancellor Cathie Black, who recently stepped down after three months on the job, made a sarcastic comment when she was booed by audience members.
Walcott got far fewer boos on Thursday, but the evening was still full of rancor. Parents and students from Brooklyn's District 21 were divided over plans to move Coney Island Prep charter school into a building with three other schools.
Dionne Hastings, whose son attends IS 303, said she feared the school would be too crowded with the addition of the charter. But several elementary students from Coney Island Prep, including fifth grader Kadin Herrera, said "we're not going to take over." Their school has been temporarily located in a housing authority building.
Plans to phase-out the Bronx Academy transfer school drew scores of students and teachers who testified that they thought their school had improved dramatically since a new principal was installed in September. They pleaded with the panel to give them more time.
Eighteen-year-old Angel Sosa said he barely attended the school at all last year because it was so dangerous, but "I woke up this morning with three acceptance letters to college."
Parents and teachers from PS 30 in Jamaica also turned out in force to persuade the panel not to phase-out their struggling elementary school. 
But after almost four hours of public comment, the panel voted to close the two schools plus a third in Brooklyn. Eight of the panel's 13 members are appointed by the mayor. The Bronx and Manhattan members, who were appointed by their borough presidents, spoke out against the school closings. Monica Major, the Bronx member, was especially concerned about the fate of the transfer school.
"We asked for a miracle, and we got one in a short eight months," she said of its improvements as she asked for patience.
But Walcott told her he was impatient about the need to improve schools. In a departure from previous chancellors who tended to sit at the sidelines during panel meetings, Walcott led an extended discussion. He asked his deputy chancellors to weigh in with data showing the schools hadn't made as much progress as audience members claimed.
"While I understand the emotion," he said, "I have a responsibility to make sure we deal with facts, not just emotions."
Parent Tareeka Kelly, the PTA president of PS 30 in Queens, said she was disappointed by the vote.
"The whole process has been very disrespectful," she said, explaining the Department of Education should have helped her school improve.
When asked if things seemed different with Walcott as chancellor she said, "It's more of the same."
Seventeen-year-old Lavonte Bell, who attends the Bronx Academy Senior High, said the vote showed Walcott didn't listen to kids who came to say their school had changed for the better.
"He's not doing anything. He made up his decision because his bosses made a decision," Bell said, before heading back to the Bronx.
With the vote Thursday, the city will begin phasing-out a total of 26 low-performing schools in the fall. The schools will stop accepting new students as new schools and charters open up in their buildings. Walcott has pledged to create a new network of staffers to help all of the phase-out schools during the transition.