It's possible for a ground-breaking artist to maintain their magic touch even after decades of work.  That's what Performance Club organizer Claudia La Rocco found with Richard Foreman's Idiot Savant.
One of the fascinating things about watching groundbreaking artists age is observing the ways in which those who once agitated for – and delivered – the greatest change almost always settle into comfortable patterns themselves. As with politics so with art, I guess (hello elected officials of America!).
Patterns can sustain, of course. I'm thinking about how Merce Cunningham made chance a certainty in his process, and how, with some exceptions, it served him extraordinarily well until the end. But they can also congeal: Robert Wilson, Anne Bogart, Paul Taylor … the list goes on.
After seeing Richard Foreman's previous effort I had him at the top of the list (And I suspect he might have agreed, having been threatening to quit theater now for awhile). But, happily, anyone who wants off this register can get off, and "Idiot Savant," playing at the Public Theater through December 13, does the trick.
This isn't to say Foreman has reinvented himself, nor that he needs to (The man exploded our ideas about what theater could be, after all). It's only to say that this 80-minute spiral down the linguistic rabbit hole of Foreman's consciousness has an unmistakable, happy itness, a certain thrum of energy and purpose, as if it needed and wanted to be made. It is, in other words, a good play: smart, darkly humorous, full of heady questions about the nature of experience.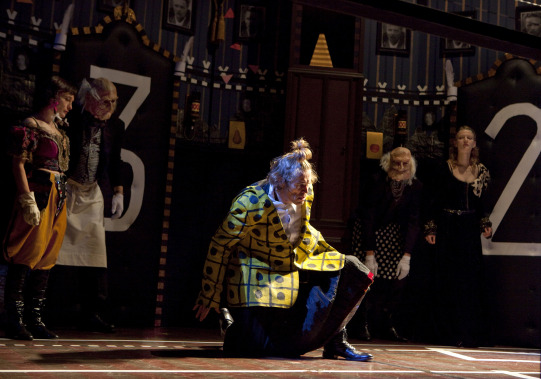 Elina Lowensohn, Dafoe, Kraigher and the company.
It doesn't hurt that Foreman's got Willem Dafoe for an idiot savant. He is deft and surprising, a cunning fool: Now lost, now menacing, always suspiciously charming. But "Idiot Savant" doesn't live or die with Dafoe. As he and Alenka Kraigher and Elina Lowensohn (keenly smart actors) circle each other, the play itself becomes both quarry and trap – another idiot savant, always tricking them, as an altered recording of Foreman's voice intermittently reminds.
And we are tricked, too, sucked into impossible questions about what is and isn't and cannot be and yet might be.
In a 1970 review of Robert Wilson "Life and Times of Sigmund Freud," Foreman wrote that the work's "very impenetrability is what satisfies as it produces awe and delight." I kept thinking of that line while watching "Idiot Savant." I thought, also, that I would like to see the play again – and it's nice to feel that way about a recent Foreman play.