5Pointz, a Graffiti Landmark, Faces an Uncertain Future in Queens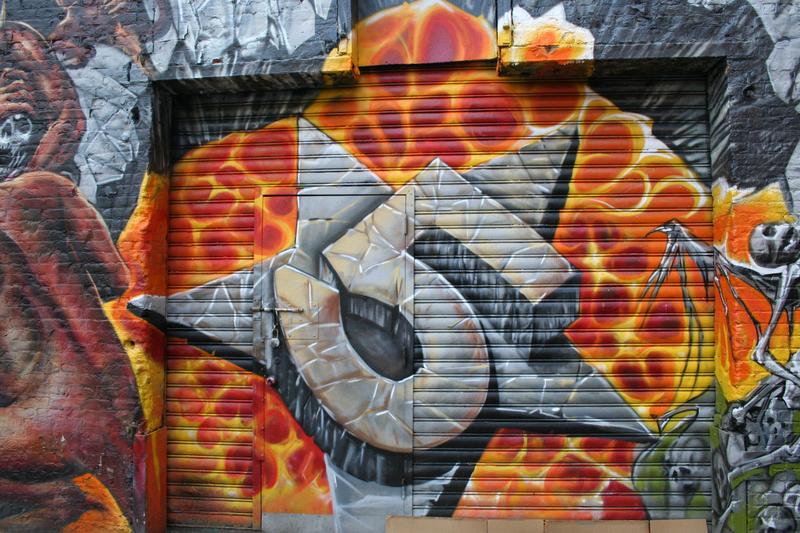 In Long Island City, Queens, there's a five-story, mostly empty warehouse where graffiti is legal. It's called 5Pointz, and for years, the building's owner has allowed graffiti artists to spray paint most of the facade.
But as the artists at 5Pointz prepare to celebrate a 10th summer season, there's renewed concern that the building might not be around for much longer. The owner recently proposed tearing it down to bring new high-rises and retail space to Long Island City. The potential closure of 5Pointz, and construction of a new development, would have implications for the graffiti artists, as well as a neighborhood in transition.
Many people catch their first glimpse of 5Pointz – named for the five boroughs of New York City – from the elevated No. 7 train, near the Court House Square station in Queens.

The 200,000-square foot building is covered in bright, colorful tags. Then there are the larger pieces. There's a grinning Cheshire Cat and the hookah-smoking Caterpillar from Alice in Wonderland. In another corner, there's the scheming Joker from Batman, with the Caped Crusader's symbol flashing above. There's the Zombie wall, where the undead, with arms outstretched, seem to lurch right out of the concrete.


Jonathan Cohen, better known as Meres, has been curating the space since 2002. His vision is to one day create a graffiti museum. On most days, he's out at 5Pointz explaining graffiti to people passing by.

"It is expression," he said. "Every piece is somebody's mood, and they're telling you a story – the colors that they use, the flow of the lettering that they do, the theme of the background," he said.

Many of the artists who've painted at 5Pointz say it's a safe and legal way to do their work — as opposed to the illegal and dangerous channels of tagging subway tunnels, bridges and other off-limits spaces.

Brad Smith, known as Bisco, painted the Zombie wall for hours with some fellow artists. He calls 5Pointz his oasis. "I've definitely been in trouble in my life with painting, you know? And this is like a nice place to just peacefully paint, and express your art," he said.

Over the years, 5Pointz has become a global attraction. Artists from all over the world come to visit and to paint. Photographers and filmmakers use it for an urban backdrop — for everything from high-fashion magazine shoots, to underground and mainstream music videos and documentaries. 
Artist Carlos Game (photo below, right) said 5Pointz brings income and exposure to Long Island City. He considers it an artists' haven, and said his work is for the visitors.

"It's a very selfless act," he said. "We don't take it with us. We leave it behind. And you're not going to find that anywhere else."


Locals also stop by to admire the work. Tom Evans, who's lived in Long Island City for nearly 60 years, is one of them. He's a fan of the space.

"Some of these kids are very talented," he said. "I don't get the stuff that's the, the letters? But the other stuff is fantastic."

He also understands why not everyone's a fan.

"Graffiti artists in general, if I find them I'd like to, you know, knee-cap them because you're messing up somebody else's property," he said. "But this is done with permission."


To get permission to create a piece at 5Pointz, artists submit a sample of their work to Meres. Under a long-standing agreement with the building's owner, Gerry Wolkoff of G & M Realty, they can paint whatever they want -- as long as there's no pornography, explicit language or inflammatory politics.

After a certain amount of time – and depending on the amount of work that goes into a piece, the walls are erased. Game said it's like a huge canvas.

"Somebody will come by, and they'll like it, appreciate it, take pictures of it, and that's it," he said. "And then they'll go over it. Then we do it all over again."

For years, the building has evolved in this way with the artwork. So the recent news that 5Pointz might be torn down came as a bit of a shock to artists and admirers of the space.

In March, Wolkoff proposed razing the warehouse and constructing two residential towers, plus retail space. His son David said the development would include a gym, a pool, a billiards room and hopefully other amenities that the neighborhood is lacking, like a supermarket.

But the Wolkoffs are also mindful of the art on the walls.

"We appreciate the art that's there," David said. "But there's a bigger issue – there's the issue of what Long Island City needs, or what we believe Long Island City needs, which is an exciting area."

Wolkoff said the development may also include loft space for artists, and possibly, a wall in the back so graffiti artists can continue to paint.

"We believe that we can create a 24-hour, seven-day-a-week area, like downtown Brooklyn," David said. "An exciting, great area. And it just hasn't happened here in Long Island City, as of yet."

Even though it could take years for the project to be completed, the news has prompted a global outpouring of support for 5Pointz, including independent petitions to save it.

As for Meres, he said he has no ill-will toward the developer, and, like many of the artists, said he's never taken for granted the opportunity they've been given to paint there. But he said he also understands the value of having a dedicated space for graffiti art.

"It just saddens me to think that the art might go, and the only place to kind of express legally and for free in New York might go," he said.

Depending on the viewer, the space can be an inspiration, or an eyesore. Councilman Peter Vallone, Jr., who has crusaded against illegal graffiti citywide, said he has mixed feelings about places like 5Pointz.


"They're a gray area," he said. "One the one hand, it's the one place you can actually look at some of these works and tags and say, 'Hey, that looks like art, and that kid potentially has some talent,' because it's done with permission. But on the other hand, there's the realization that that talent was most likely honed during the destruction of a lot of property owned by other people."

It's a stigma Meres often fights against. And he believes a safe, legal space like 5Pointz can help dispel some of the negativity against graffiti.

"It's the fact that it started off being done on trains and, you know, bombing on the streets and everything that people automatically close their imagination and their doors to even wanting to understand what it is," he said.

Graffiti is also constantly changing. It's now garnering recognition among advertisers, and at major art galleries. And it's no longer just an illegal, underground activity.

Eric Felisbret co-authored the book "Graffiti New York," tracking the movement – in words and pictures — from its early days on the city's subways to the contemporary scene. He said 5Pointz is unique because it acts as a bridge between the more formal "art world" and the street roots of graffiti.

"It's an art form that evolved outdoors to be viewed outdoors," Felisbret said. "Environment was always really important – a really important aspect of the art form, like sights, sounds, architecture, I mean even the weather, all added to the experience."

But the condition of the building is a problem. It's received dozens of violations from the city, many for maintenance issues, dating back to 1996. According to records from the New York City Department of Buildings, most of them have been resolved – save for a few administration issues – and that no new complaints have been filed in more than a year.

Joe Conley, chairman of the local community board, said any new development in Long Island City should include space for artists, like studios and display areas. But he said the warehouse is in pretty tough shape.

"I can't see that the community would lose anything with that building," he said. "It's an outdated building, it's from a bygone era, and it's certainly not the efficient use of space."
 
The artists at 5Pointz know Long Island City is prime for development. It's right under the No. 7 train, across the street from P.S. 1 Contemporary Arts Center and just a few blocks from the rapidly rising Long Island City waterfront.

Bisco Smith (photo above, left) the Zombie Wall artist, said he understands that progress is inevitable, especially in New York City. But he said he'd like to think 5Pointz can be turned into something other than condos, which are popping up all over the neighborhood.

"Why not make it something that continues to push the art forward? There's money in that, you've just got to see the money in that," he said. "I think this developer mindset in New York is killing New York."

The artists at 5Pointz have always known their stay in Long Island City could be temporary — much like graffiti itself. For now, they're focused, as they are every season, with putting on their best show yet. They're bringing in international artists, DJs and musicians, and curating events to draw the local community in to see the art.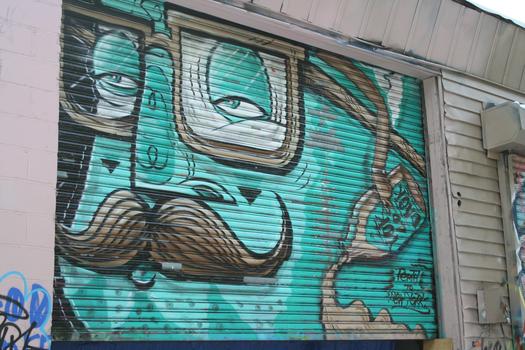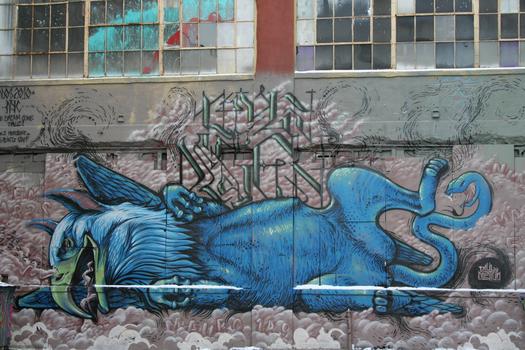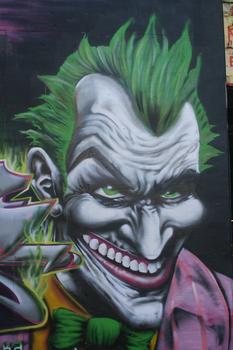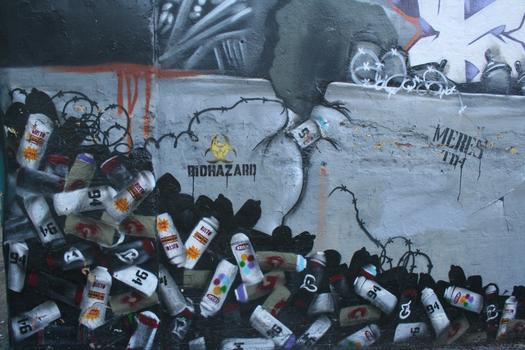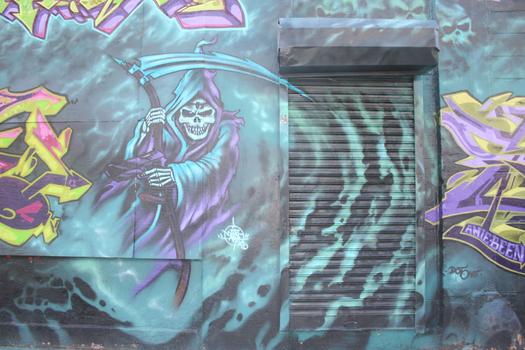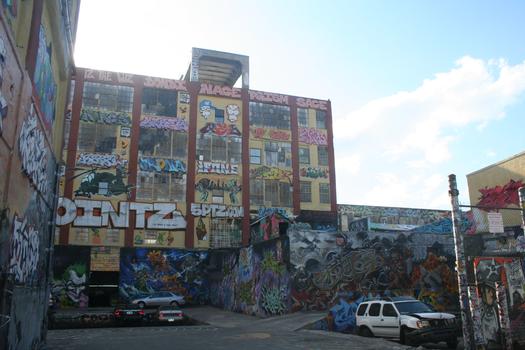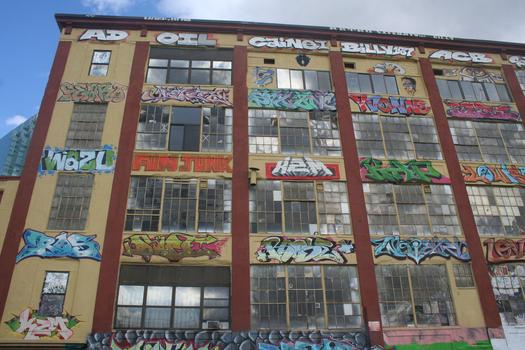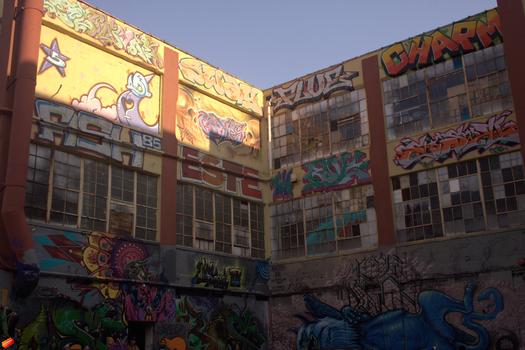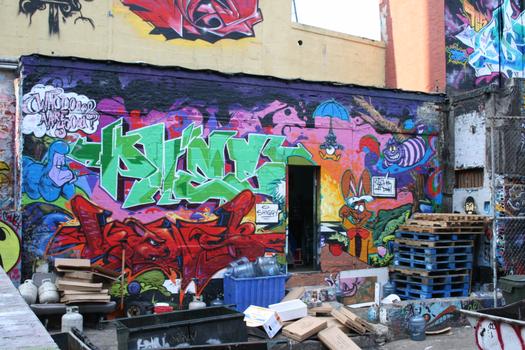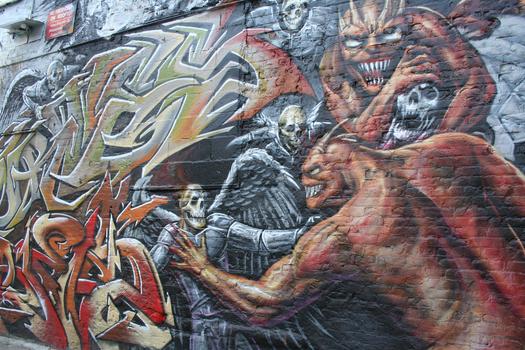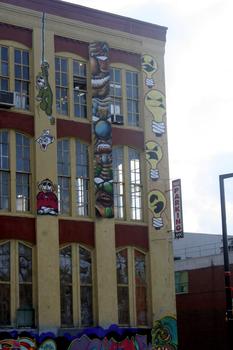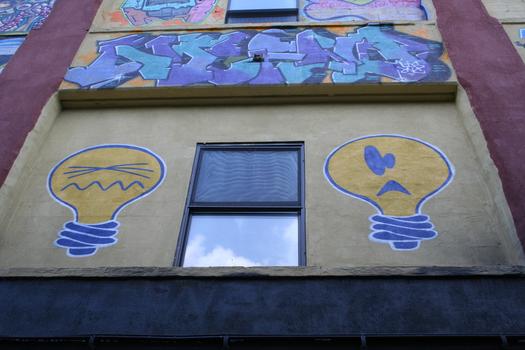 of