Ohhh, Those Wild and Crazy "Romanians"
A Romanian theater troupe that doesn't include a single Romanian. The Performance Clubbers went to see the show in a Grand Street loft, and were uniformly delighted.
Well, so, I was wrong.
I predicted that "Cycatrix Adaptitude" would enrage some of the P. Clubbers and delight others. Turns out everyone was pretty much delighted, me included (Still, this beats me being wrong about "Provenance of Beauty.").
On Saturday evening a group of us headed over to Bill Young's loft on 100 Grand Street to see Inverse Theater's great Romanian tour …except, of course, these weren't actual Romanians, as the playwright and sneaky P. Club member Kirk Bromley advertised in his advance press. This was an all-New York effort, and a marvelous, maddening, dizzying one at that. It was written and directed by Bromley, choreographed by Leah Schrager, composed by John Gideon, costumed by Karen Flood and featuring one of the most adroit, fully present ensembles I can remember seeing: Michael O'Brien, Sarah Engelke, Beth Ann Leone, Denice Kondik, Josephine Cashman. (And a special mention for Jane Stein, for that hypnotic, utterly disturbing Matthew McConaughey mask.) Catch Cycatrix this weekend if you can.
How to describe this torrent of words? I kept thinking of that famous Gertrude Stein passage about theatrical time, and how "the emotion of the one seeing the play is always ahead or behind the play."
Stein wrote this as a critique of conventional drama. But it can also be a critique of audience members, no? I found that the moments when I was impatient with "Cycatrix" were mostly the moments when I wanted to linger where it had just been, or anticipated (usually wrongly, naturally) where it might be going. When I gave into its rhythms and jagged gear shifts, I was entranced – when, in other words, I stayed in the moment of its emotional time, as Stein had argued was necessary: "I felt if a play was exactly like a landscape then there would be no difficulty about the emotion of the person looking on at the play being behind of ahead of the play because the landscape does not have to make acquaintance. You may have to make acquaintance with it, but it does not with you, it is there and so the play being written the relation between you at any time is so exactly that that it is of no importance unless you look at it."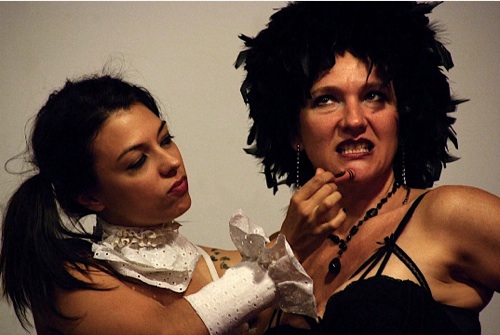 No importance and every importance. Amen.