Behind 'War Horse': The Puppeteers at The New School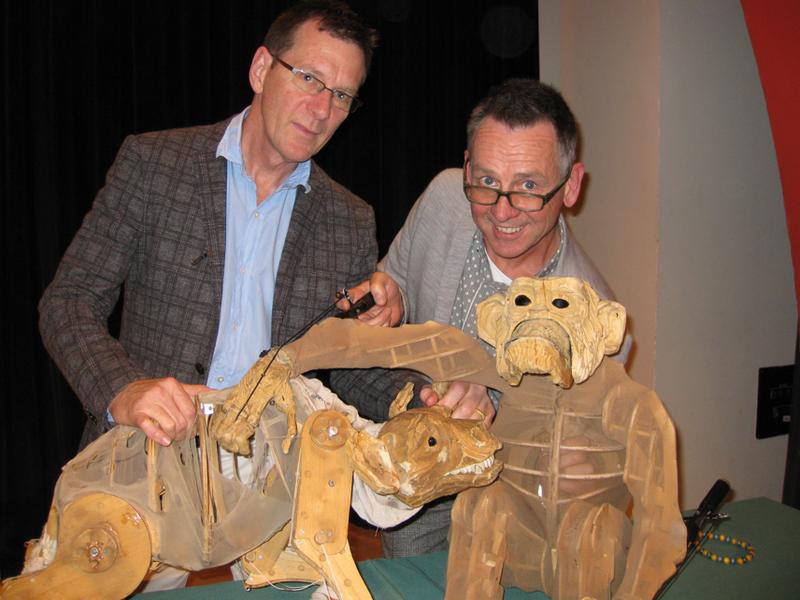 One of the most powerful aspects of "War Horse," which opened at Lincoln Center on April 14, is, of course, the astonishing puppets. Minutes into this riveting tale of a boy and his horse against the background of World War I (see our feature here), the audience has completely invested the "horses" with life.
This is just what the co-founders of the Handspring Puppet Company, Basil Jones and Adrian Kohler, who developed the production with Great Britain's National Theatre, intended.
However, at a lecture given in The New School's Tishman Auditorium the night before the opening--the event was co-sponsored by The Vera List Center for Art and Politics and the Sheila C. Johnson Design Center--puppeteers pulled back the curtain during a lively panel discussion and demonstration.
Joined by South African-born poet Yvette Christianse and Obie Award-winning puppeteer Dan Hurlin, Kohler and Jones talked about the origins of their company in apartheid South Africa; the use of puppetry as vehicle of advocacy; its place in the theatrical tradition; different schools of puppetry; and the form's emotional and psychological impact. 
Steered by the delicate-voiced Christianse, the quartet also explored some of puppetry's central paradoxes: that we see (but choose not to see) the puppeteers; and that like a poet refining herself out of a poem (Christianse's image) the operators must be willing to disappear for the puppet to live.
Since the material and immaterial go hand in hand in puppetry, Jones and Kohler showed some video clips (excised in our audio above) of '"War Horse' in rehearsal," and demonstrated the origins of their legendary horse puppets in some earlier old friends—a hyena demon from their production of "Faustus in Africa," and Lisa, a chimpanzee from their piece "The Chimp Project." 
Bon Mots:
Adrian Kohler on submission to the puppet: "There is a form of…subjection.  You have to put your whole being into this emotional prosthesis."
Basil Jones on movement as thought: "We're moving towards a slightly radical and cheeky proposition—that movement is thought. We're trying to say that thought and the body are not two separate things."
Adrian Kohler on the impact of "War Horse": "That loss [of nearly a million horses in World War I] that affected us all is somehow reflected in our love of the beauty of a real horse: we no longer live with them, and that's part of the tragedy of the story."
Dan Hurlin on what we see: "Because of the distance between the puppets and us, they are actually better mirrors of who we are."
Yvette Christianse on art and puppetry: "The true aim of the artist is to disappear."