Contemporary Art Flourishes at New York City Churches
The late Gothic Revival Church of St. Paul the Apostle has become a modern art gallery in the past five years. In a nook on the left side of the church sits a stuffed white lamb atop a pillar wrapped in AstroTurf and gold bunting. The lamb, which is a piece called "Untitled" by the Bushwick, Brooklyn, artist Lori Merhige, twists its head slightly towards a 19th century devotional altar.
Father Frank Sabatté, 59, said his church bought the work because Merhige and other emerging artists are giving the church a fresh look at spirituality.
"Through their art, through their passion, they are giving us new connections, new insights into the transcendent — into mystery," he said.
Five years ago, the Paulist Fathers asked Father Sabatté, a Catholic priest for 30 years and an artist himself, to start a project that would bring contemporary art into the church. What resulted was "Openings." The project brings contemporary artists like Merhige into the church with their work.
Sabatté finds artists by visiting the city's art schools. So far, he's met more than 300 of them.
"I didn't charge in and say, you know, 'Hi, I'm Frank Sabatté, and boy, aren't you lucky to have me here,'" he said. "I would ask them, you know, 'What is it that's pulling you? What's stirring inside of you? What's moving you in this direction?'"
Through that process, Sabatté (pictured right) has brought the work of 60 artists to the halls of St. Paul the Apostle. Shows at the church that once brought in 40 people now draw hundreds of young art lovers.
"Many of them under 25 or so. Hipsters, we had artists, we had Catholics, we had angry ex-Catholics, we had Protestants, we had Buddhists, we had Hindus," he said. "And they hung out!"
Dayonel Mejia goes to church at St. Paul the Apostle. He likes Mehige's stuffed lamb beside the St. Agnes altar because it shows his church can keep up with the times.
"The passion that it brings out in people to make new art and to continue to express their faiths in, like, artistic ways is a great way to show that it's not dead," he said. "That the fate is not dead."
Several churches in the city have flourishing modern art programs, including St. Paul the Apostle, the Episcopal Cathedral Church of St. John the Divine and a Lutheran church in Midtown called St. Peter's.
Nyack College Art History Professor Dr. James Romaine says in the last decade, more and more churches are commissioning contemporary work because there's a growing interest in the intersection of modern art and faith.
"Ever since 9/11, there's been a lot more interest in issues of religion in contemporary life," he said. "And so, contemporary art often reflects the ways in which contemporary life addresses certain issues."
A little bit further uptown near Columbia University, the Cathedral of St. John the Divine has an abstract show up called "Stations" by Gregory Botts.
Reverend Thomas Miller, who is the canon for liturgy and the arts at St. John the Divine, said the show made it possible for people to sit in the cathedral's main worship area while pondering the 14 Stations of the Cross--the final hours of Jesus.
"As you go along from one around to 14, the blue square or rectangle changes its position on the canvas and that in itself is a kind of pilgrimage," Miller said.
St. John the Divine has contemporary art displayed throughout its cathedral, including a gleaming gilded triptych by graffiti artist Keith Haring and a massive black walnut "Peace Table" by George Nakashima.
Reverend Miller said some people don't know what to make of the abstract art in such an old, lofty cathedral. But the church wants to show all kinds of art--ugly and beautiful.
"We almost make a point of looking sometimes to make sure what is unlovely and unloved is included in this place," he said.
Not all church goers are on board with the mix of modern and traditional art in their church. A parishioner at St. Paul the Apostle, Nora Cocheo, is not a fan.
"I think we need you know brand new and breaking boundaries and all that, but it's appalling," she said.
On Saturday, the day before Easter, the Church of St. Paul the Apostle puts up a new show of paintings by Alfonse Borysewicz called "Eastertide." St. Peter's has an exhibit of weaving by Ann Sherwin Bromberg up and has extended its show of abstract, red collages by Barbara Brocklebank. In addition to its contemporary art on view, St. John the Divine is planning a contemporary art show this September that its hopes will include a 200-foot crocheted river and two massive sculpted phoenixes.
Back at St. Paul the Apostle, Father Frank Sabatté has heard that artists who show their work in church have been moved spiritually. But he's not trying to convert anyone.
"Jesus said, 'You plant seeds,' but I really don't think that Jesus had a hidden agenda," he said, adding that that was a conversation to be had between the artists and their maker.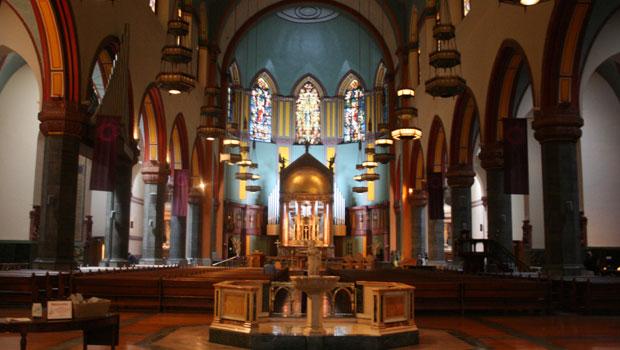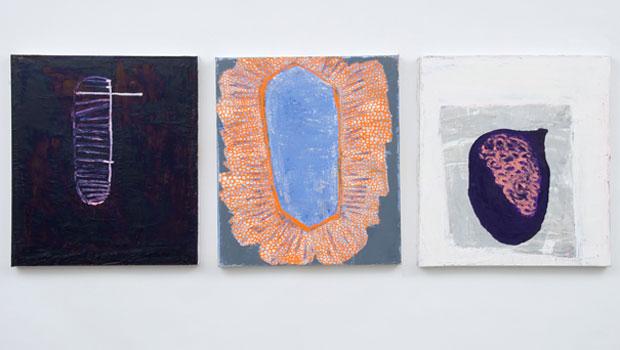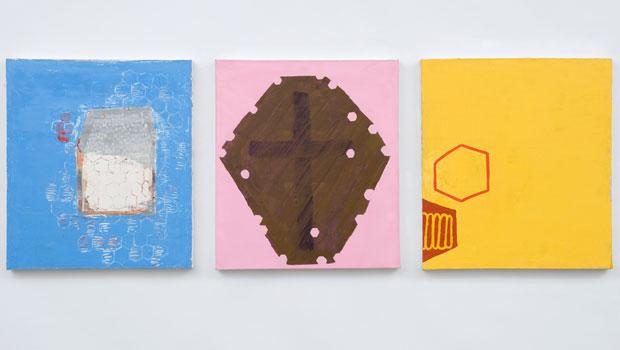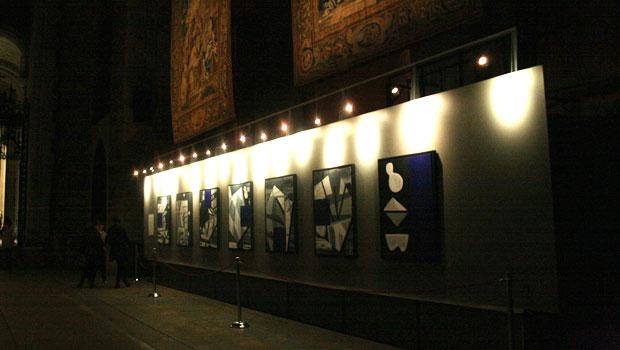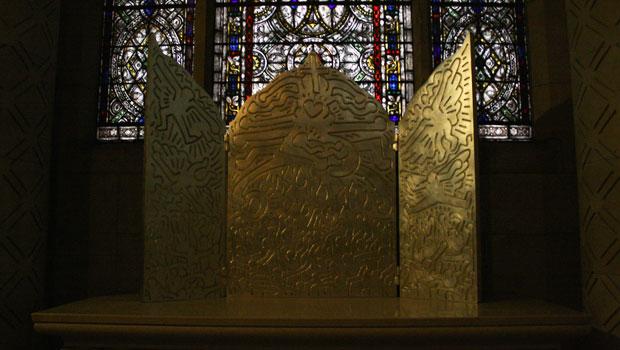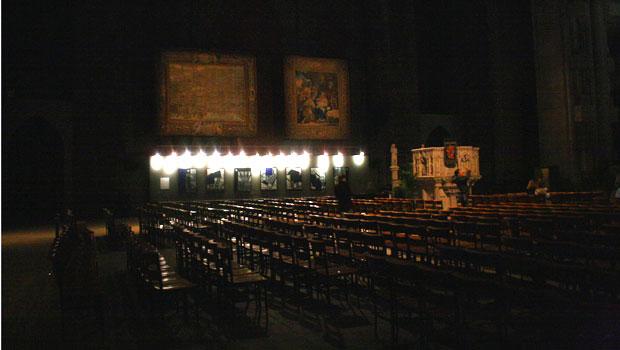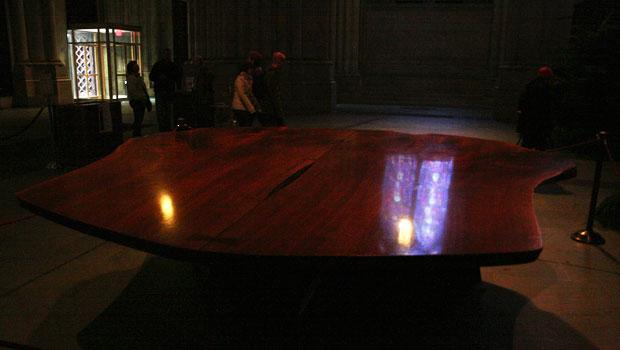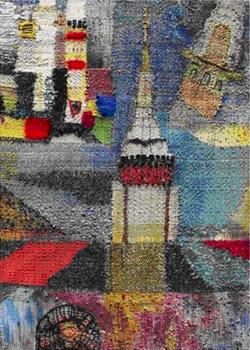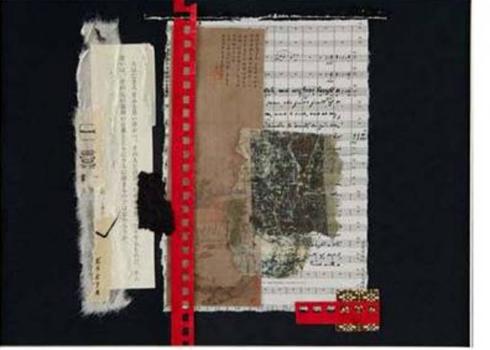 of