Last Chance Foods: Kimchi
Kimchi, Korea's national dish, is a phenomenon. The sheer numbers speak for themselves: The average Korean eats about 40 pounds of kimchi a year, according to one source. That means 1.6 million tons of kimchi is consumed in South Korea annually.  In fact, when South Korea sent its first man into space last year, he took with him a specially created, bacteria-free space kimchi to share with his Russian counterparts at the International Space Station.
Kimchi — despite being smelly, full of microbes, and a living, bubbling, specimen — is delicious. Savory, spicy, sour, and carbonated at times, kimchi is made from cabbage and/or radish. The traditional kimchi, known as kimjang, is made at the end of the harvest season. Women from the community typically all gather to prepare the last of the year's Napa cabbage crop. The leaves are soaked in salt brine for several hours, then smeared with a paste made from chili and anchovy sauce, among other secret ingredients that vary from family to family. Then the whole cache is stored in clay pots and buried underground. A Korean family typically uses 100 to 200 heads of Korean cabbage to make enough kimchi to last through the winter. Lauryn Chun, the owner of Mother-In-Law's Kimchi, recalls her grandmother making kimjang in South Korea. A small-batch kimchi maker, Chun spoke with WNYC's Amy Eddings recently about the fermented cabbage and its role in Korean culture.
"You would get a community of women, three or four houses, and the women would gather around together and make this whole communal batch of this kimchi," Chun said. "When I was 6 years old watching my grandmother make this, it probably felt like it was 500 pounds [of kimchi]."
Chun, a former sommelier, started making artisanal kimchi after losing her job in wine marketing. She had shared her mother's kimchi with friends and noticed that she was bringing more and more jars back to New York from her family's home in California. The transition to making it a profession seemed natural. Then, after launching her product at New York City's International Pickle Day last October, Florence Fabricant wrote a New York Times review about Chun's kimchi.
Chun explains that the active bacteria in kimchi is the same as that found in yogurt. "Bacteria is the beginning of all life forms," she added, "so there's this connection in all types of pickling, in that it's really based on this fermentation process, which is kind of magical."
While kimchi is traditionally eaten as a side dish, or used as an ingredient in Korean cooking, Chun encourages experimentation. She noted that kimchi pairs particularly well with pork and shared her recipe for kimchi tacos, below.
Mother-in-Law's Spicy Kimchi Tacos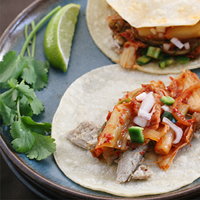 Sauce for pork:
1/2 cup of olive oil
1 tablespoon of soy sauce
2 tablespoons of mirin
3 peeled garlic cloves
1 tablespoon of whole grain mustard.

Garnishes:
1/2 cup of chopped MILKimchi
2 tablespoons of diced jalapeno
fresh cilantro
lime wedges
Soft corn tortillas

1. Preheat the oven to 350ºF.
2. Combine ingredients for sauce and pork loin in a ovenproof pot (Le Creuset, for instance).
3. Roast pork in oven covered for 1 1/2 hours.
4. Remove pork and chop for tacos.
5. Heat soft corn tacos in skillet over medium heat.
6. Plate taco with chopped pork, MILKimchi and other garnishes.