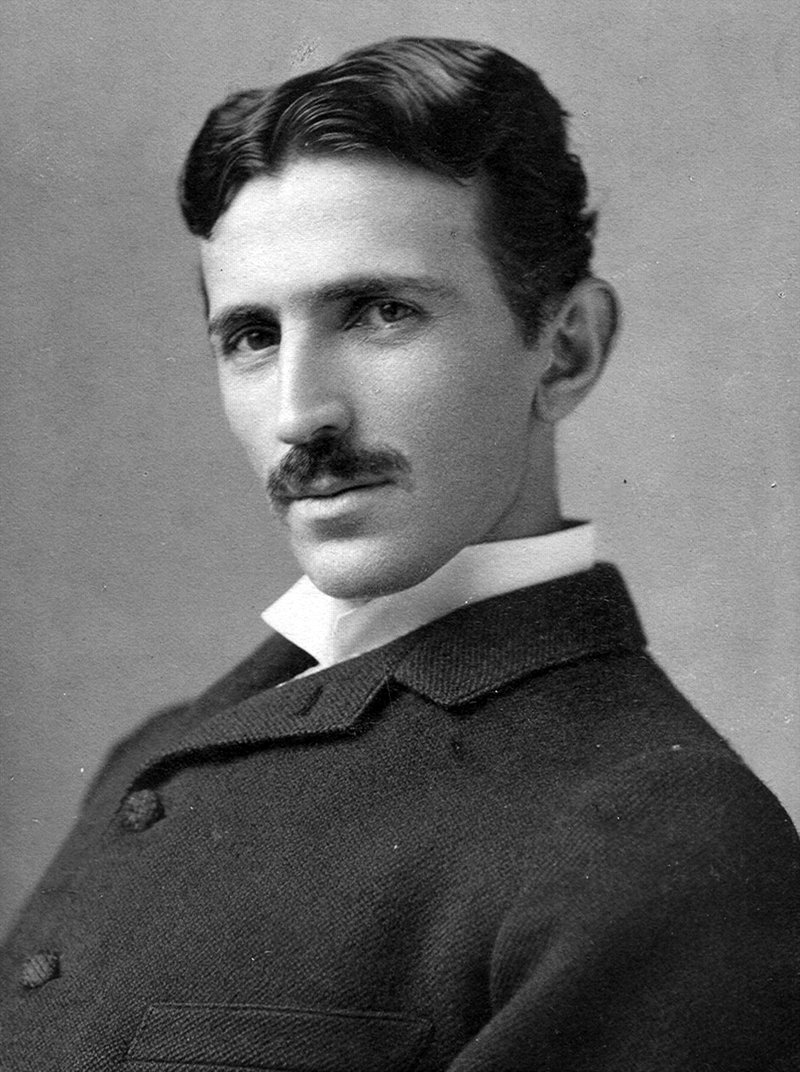 Nikola Tesla, the father of alternating current and one of the greatest inventors of all time, died on January 7, 1943 at the New Yorker Hotel. Three days later, WNYC broadcast this memorial to him.  The Croatian-born violinist Zlatko Baloković performed Ave Maria live in the studio, as well as a piece known to be a favorite of Tesla's, identified as Therefore Beyond the Hills is My Village, My Native Land.  Mayor F. H. La Guardia read a moving tribute to Tesla written by Slovenian-American author Louis Adamic. Announcer Joe Fishler concluded the program this way:
Fishler: "Nikola Tesla was a man of the future. Always thinking ahead of his time. He predicted interplanetary communication and death rays that would make America impregnable from land, sea and air and war impossible. Not many years ago he announced that he was working on a new tube that would produce radium for as little as one dollar a pound."
Other voice: "That's fantastic!"
Fishler: "Fantastic, unbelievable, impossible! That's what they said when Nikola Tesla predicted the advent of the radio many years before Marconi actually devised a workable radio. Tesla prophesized:
[Other voice] 'Someday we shall be as familair with transmission of intelligence without wires and someday we shall transmit power without using wires'."
Tesla's inventions numbered more than 700 and included a telephone repeater, a polyphase alternating-current system, the induction motor, the Tesla coil transformer and fluorescent lights. The prolific inventor wrote in 1919, "The greatest good will come from the technical improvements tending to unification and harmony, and my wireless transmitter is preeminently such. By its means the human voice and likeness will be reproduced everywhere and factories driven thousands of miles from waterfalls furnishing the power; aerial machines will be propelled around the earth without a stop and the sun's energy controlled to create lakes and rivers for motive purposes and transformation of arid deserts into fertile land...'' For the complete quote and more about Tesla's life, we recommend Professor Bogdan R. Kosanovic's Tesla site.
With special thanks to NYPR Senior Archivist Marcos Sueiro, the above audio is courtesy of the NYC Municipal Archives and its transfer was part of an NEH-funded preservation project with NYPR archivists Haley Richardson and Emily Vinson. Check out their project blog, Annotations.
_____________________________________________________________________________________________________ 
Broadcast on WNYC Today in:
1925:  Lt. Commander George E. Brandt outlines the Navy's plans for oceanographic research in the Gulf of Mexico and the Caribbean. Speaking at an American Institute of Engineering Society exposition of inventions, Brandt said he expects future ocean-going expeditions will provide valuable data for weather forecasting, a key to solving world food shortages as global population grows, and cheaper methods for generating light.
Brandt, who was expected to command the first of a series of Navy undersea explorations, told the listening audience, "Since no sunlight penetrates the profound depths of the sea, many of these inhabitants [sea creatures] carry their own illumination. In some types the entire body glimmers from a coating which exudes from the pores and emits a soft, silvery glow. In other types luminous organs run along the sides of the body or flashing light spots are provided on the head or face. These  lighting plants are a thousand times as economical as any that our engineers have been able to design. The expense of the materials which furnish the light is almost negligible because the lantern is capable of self-regeneration by a reverse action in the substances which act upon each other to produce the light. In other words, imagine a kerosene lamp capable of regenerating the oil it consumes. It is one of the fascinating hopes of science and industry that some day the master engineer will arrive and lead the way to imitation of the economical methods known to the tiny fish that carries his light at the end of a stick." 
1939: Governor Lehman, Mayor La Guardia and others host the opening ceremonies for the Bronx-Whitestone Bridge.
1953: Sociologist William H. White and actors Quentin Reynolds and Tyrone Power speak at the New York Herald Tribune Books and Authors luncheon.
1962: Campus Press Conference interviews Milton Halpern, NYC Chief Medical Examiner on the function of his department. Helpern is known as a pioneer of modern forensic medicine. He was professor and chairman of the Department of Forensic Medicine at New York University's School of Medicine from 1954-1974 and was on the faculty of Cornell University Medical College.
2001: Portrait painter Chuck Close tells Leonard Lopate what he would take on a sojourn to a remote cabin in the woods or a desert island in this episode of Survival Kit.