Walcott Gets Warm Reception at Town Hall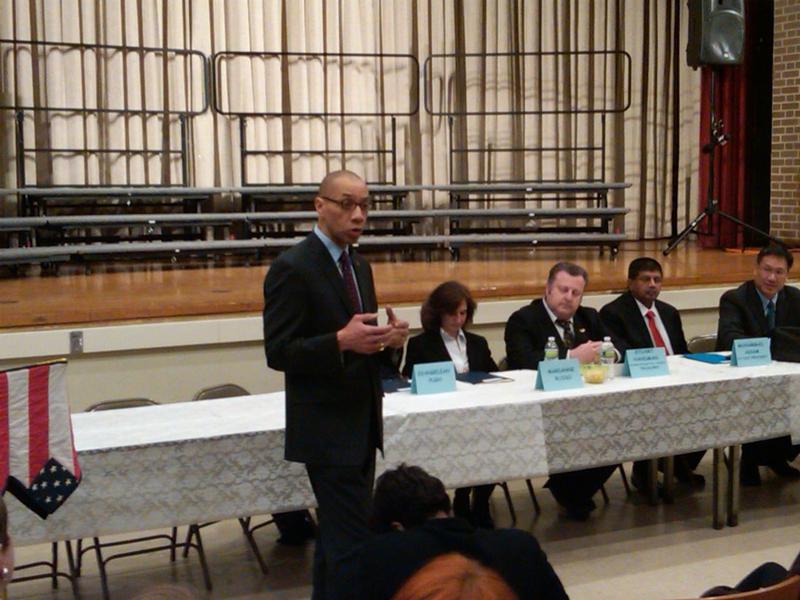 Hours after receiving state approval to become the city's next schools chancellor, Deputy Mayor Dennis Walcott received a hero's welcome at I.S. 98 in Sheepshead Bay, Brooklyn, Thursday night.
Walcott spoke at a town hall meeting for District 21, which also includes Brighton Beach. State law requires the Department of Education to conduct town halls in each of the city's 32 community school districts over a two-year period. Walcott's appearance coincided with his approval by State Education Commissioner David Steiner earlier in the day.
When a member of the Community Education Council asked if he'd be there for parents who worry about important issues such as co-locating schools in the same buildings, Walcott received a round of applause when he responded, "I won't just be there, I'll be there with my sleeves up."
"I'm your chancellor, plain and simple," Walcott said. "I mean I am at your call. You pay my salary, and I have the responsibility to take any question that you raise and take the heat, respond to it and try to plan better or address it as far as moving forward."
Walcott said he was "bothered" by some of the tensions surrounding phasing out and co-locating schools.
"We can have great debates," he said, but noted it's important to come out "knowing these are our students" regardless of which schools they attend.
Several parents from I.S. 303 attended the meeting to express concerns about sharing their space with Coney Island Prep, a charter school. They worried that special education students who need their own classrooms would lose space. Walcott asked a department planner to address the crowd, and then said he would continue to look into the matter before the Panel for Educational Policy votes on the co-location later this month.
Walcott answered other questions about the budget, teacher layoffs and technology. He echoed the Bloomberg Administration's response to almost every policy question. He said he supports co-locating schools because the city needs to use space efficiently, and he said the city can't use its surplus to prevent teacher layoffs because the money's needed to close next year's deficit.
But he gave much more detailed answers than his immediate predecessor, Cathie Black, and he was more soothing than former chancellor Joel Klein, a lawyer who didn't shy away from debate.
"I will never be disrespectful to you or your position," he told the audience of between 50 to 75 parents and community members.
Walcott's visit ended as students from the chorus of IS 98 sang Vivaldi's "Gloria." 
"He's the energy we need and he's so knowledgeable and so smart, and we're in good hands," said Fran Marzullo a parent coordinator at PS 226.  Lottie Shannon, the family advocate for District 21, added, "We love him. He should have been chancellor before."
Walcott officially takes office on Monday as the public schools go spring break for a week.