The Big Fix: Staying on Top of Seniors at Chelsea High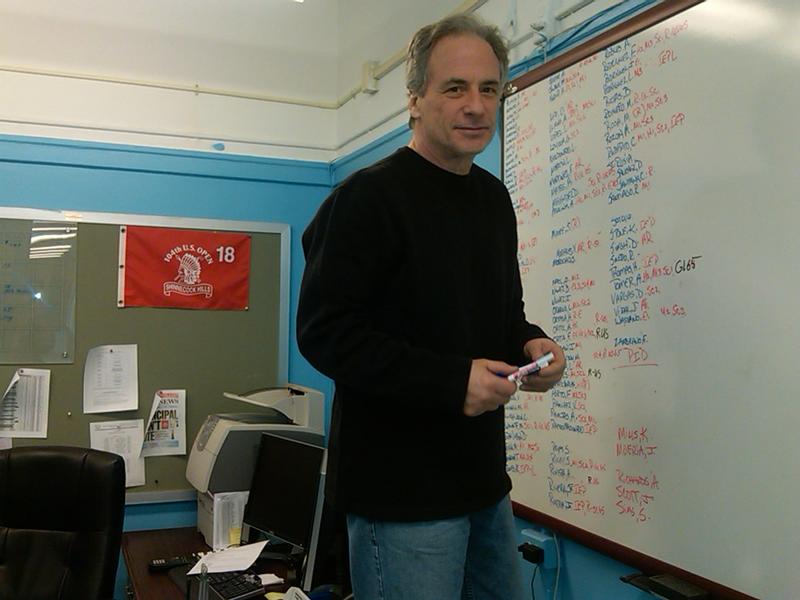 The so-called war board is the the most eye-catching item in Principal Brian Rosenbloom's office at Chelsea Career and Technical Education High School. It's a big, white dry-erase board listing the names of all seniors along with the number of credits and Regents exams needed to graduate in June.
"We want to know exactly where every student stands so that if they do need to make something up we don't want to miss anything," Rosenbloom said. "I don't want any child to be in a position that in May or June they're short a credit and they can't graduate."
Twice a year — once in the fall and once in the winter — Rosenbloom updates the war board.
With the radiator rattling in the background, on a cold Saturday morning in February, Rosenbloom read aloud from each student's transcript. English teacher Leonard Silberfeld stood by the board writing red, coded letters next to the names.
"He's got all his math. He's got all his history ... science, he's fine," said Rosenbloom. Every now and then an 'M' for math or an 'E' for English is erased from the board. Regents exams are updated.
"She's missing three English credits," Rosenbloom said, staring in disbelief at a student's transcript.
Added Silberfeld, the English teacher, "She's running out of time."
He erases the student's name and places it on another list called PID - Promotion in Doubt - for those who aren't likely to graduate.
A total of 12 students would up this dreaded list by the time the war board was updated a few hours later. Of the remaining hundred or so, about a third are sure to graduate in June. The rest are missing at least a credit or an exam.
Rosenbloom said that's doable. And he predicts most will graduate with the more academic Regents diploma (which requires students to pass five exams with at least a 65), as opposed to the easier local diploma. A few will even earn Advanced Regents diplomas for taking extra exams.
But even if most of the students on the war board do graduate in June, the overall on-time graduation rate at Chelsea Career and Technical Education High School is unlikely to go much above 60 percent. That's because not everyone who started in ninth grade is still in school.
"There's probably 40 to 50 kids that dropped out of school from when they were freshman up until recently," Rosenbloom said. "And then we have some kids that we've known for two years they were just missing so much. And we've worked and we've tried very diligently to get them into other programs where ... possibly they'd be able to make up credits at a faster pace. And several of these kids just refuse to go."
When the school was labeled persistently low-achieving by the state last year, its graduation rate was just about 50 percent. Chelsea got a federal "transformation" grant of nearly $1 million to extend the school day and bring in outside experts to work with its teachers.
A total of 11 New York City schools got the grants, which can last for three years. Some had their principals replaced or demoted to advisory positions. But Rosenbloom was allowed to stay because he only arrived in 2008 and the city found he was making progress.
As the clock ticks down to June, those seniors with a lot of marks on the war board are making up credits either in class or on the computer.
"With this I'm able to do the credit that I'm missing, and I'm able to finish everything I want, and learning everything that I was missing before," said Felicia Porto, 18, who is making up a physics class through an online learning program.
"I think the kids are learning more, I think they're going to be better prepared to take their tests," science teacher Stan Kwiatowski said, holding an inch-thick folder full of papers representing the 25 students or more who have made up at least one credit since the fall.
Kwiatowski concedes he was skeptical at first about the value of online learning. He was also wary about the workload for teachers when the school added an eighth period last fall. He was one of two teachers at Chelsea who declined to take the extra shift, though he's since changed his mind.
"It's the most I've put in for official time since I started teaching," said the 30-year veteran. "When I started in New York, the normal teaching day was six hours, 20 minutes. Now it's eight hours."
Kwiatowski now said the longer school day is making a difference for those students who recognize they're being given a second chance. But some are just too far behind, like 18 year-old Akesha Richards.
"I didn't know anything, I didn't know anybody. It was fun," she said of her freshman year as she sat at a computer terminal working on one of many credit recovery courses she needs to complete.
The school had a different principal then. Akesha said the fun stopped when Rosenbloom took over in 2008. Many students and teachers credit him with restoring order to a school that was previously chaotic and for raising academic expectations. Akesha said he stayed on top of her, using "reverse psychology" when she was failing a class.
"He just said I couldn't do it and then I did it," she said. "I got a 67."
But Akesha still has so many credits and Regents exams to pass that she'll be lucky if she graduates in August. If she doesn't graduate, studies show she'll make almost $10,000 a year less than a high school graduate, putting her average annual income at just $17,000.
Rosenbloom knows these statistics and he believes that each of his students can succeed. Seventeen-year-old Mickell John had to make up two history classes and a science course in order to graduate this year. He completed them all by early April and plans to go to college this fall.
"It's a long road, but I came very far," he said.
Rosenbloom believes these seniors will be the last ones at Chelsea to struggle so much. He arrived during their sophomore year – when the school's attendance rate was below 80 percent, and the students were way behind on their credits. The juniors now are in much better shape when it comes to earning credits and passing Regents.
As Rosenbloom looked over his war board, he spotted a trend.
"I'm not going to talk about individual teachers," he said. "However, I did find that that particular cohort of kids (the seniors) they had some very difficult times with certain classes. And none of those teachers are with us any longer."
Rosenbloom encouraged their departure, so to speak. Many experts say teacher quality is the single most important factor within a school when it comes to student achievement. Rosenbloom is working on that by using his federal grant to pay for extra professional development. But he notes that student achievement is also linked to factors outside the control of educators.
"We can send out the letters. We can call the parents in. We can push, push, push," he said. "But I can't go to the house to take the kid to Saturday school. Can't do it. There's a young man I call every morning now to get him here on time."
Rosenbloom briefly considered adding a ninth period this spring to help his students catch up. But he didn't want to burn out the kids or their teachers. Instead, for the next few weeks, Saturday classes will go a little longer than usual as seniors prepare to take their Regents exams in June, hoping to move their names from the war board to their diplomas.