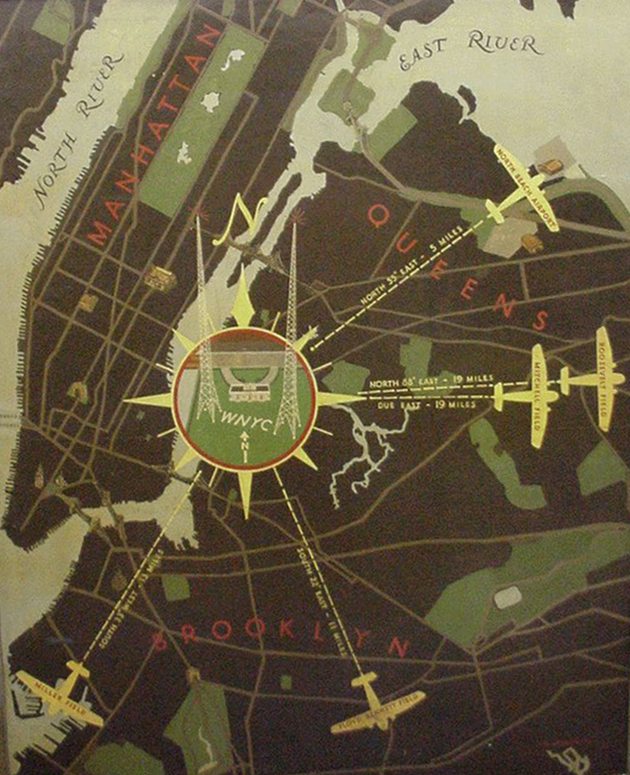 In 1937, WNYC opened a new transmitter site in Greenpoint, Brooklyn. Flanked by two 304-foot towers, the site featured massive, illuminated WNYC call letters and a north symbol so that planes flying overhead on a clear night could easily get their bearings. WNYC-AM left the site in 1990, and the towers came down about 10 years later. The 10 Kent Street site is now a project of the New York City Economic Development Corporation, which is in the process of creating WNYC Transmitter Park.
On the year the transmitter opened, architect Allan Gordon Lorimer painted the two renditions featured here. The 42" x 52" painting on plywood shown at left hangs in WNYC's Alexander Kaplen Green Room, where our guests wait before going on the air. If you click on the image to enlarge it you will see that each of the five airplanes is flying to a different area airport: Mitchell Field (closed in 1961), Roosevelt Field (closed in May, 1951), North Beach Airport (now La Guardia Airport), Miller Field (acquired by the National Park Service in 1974) and Floyd Bennet Field (now part of the Gateway National Recreational Area). The frontal view depicted below hangs in the 9th floor green conference room of our 160 Varick Street offices.
In the 1930s, Lorimer was working in private practice and as a New Deal-era Civil Works Administration (CWA) architect. He produced designs for Parks Department amenities under Robert Moses in 1934, and was active in the planning of the city's exhibits at the New York World's Fair.
By the 1940s, he was the Chief of the Bureau of Architecture at the New York City Department of Public Works, where he supervised the design of the city's postwar building program. He was elected a Fellow of the American Institute of Architects in 1960. While we have yet to discover specifically how Lorimer came to produce these paintings, it was probably because the CWA gave way to the WPA (Works Progress Administration), and the WNYC Transmitter site was a WPA project.
WNYC's Greenpoint, Brooklyn transmitter site portrayed by Allan Gordon Lorimer in 1937. Gouache on paper. Dimensions: 31.5" x 22.5"  (WNYC Archive Collections).
Lorimer's daughter, Lindsay L. Rettie, says her father was close to both Robert Moses (at Triboro Bridge and Tunnel Authority and New York City Department of Parks) and Mayor La Guardia in the 1930's and '40s.  She writes:
 "What we know is that my father was retained by architect Bertram Goodhue, and later by John Russell Pope in the early 1930's.  A friend of his at Goodhue, Herbert Magoon, was hired by Robert Moses when he established the L.I. State Park Commission. When Moses needed some presentation material in a hurry for presentation in Albany, Magoon suggested my father for the task.  On a free-lance basis, my father prepared renderings that passed muster and served as his introduction to Moses.  Later, when his work with Pope ended, he joined Robert Moses when Moses was appointed City Commissioner of Parks. 
"Robert Moses wore many hats and was "lending" talent between and among agencies. This is probably where his involvement with the Federal agencies began.  My father mentions only a few times in his papers the CWA or WPA, for example, regarding the Central Park Zoo and work in Prospect Park, but the connection is there.  Linkage to these agencies was likely through Mayor La Guardia's office.  So far, we have not found a specific reference to WNYC in his papers but we do know that throughout his life he loved 'the City station.' "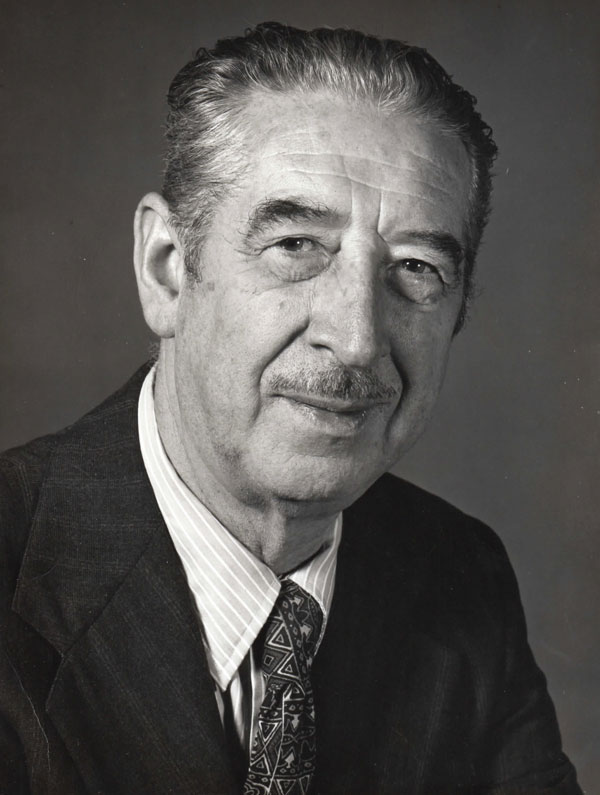 Architect and artist Allan Gordon Lorimer in a portrait taken some time in the 1960s. (Photo courtesy of Lindsay L. Rettie, WNYC Archive Collections)
________________________________________________________________________________________
Broadcast on WNYC Today in:
1925: H.E. Anthony, Associate Curator of Mammals of the Western Hemisphere for the American Museum of Natural History, delivers a talk titled "Hunting the Head Hunters." Anthony was the leader of an expedition to Ecuador (June 1920-March 1921) that encountered the head hunting Jivaro Indians.
1957: David Randolph traces the history of keyboard instruments for this edition of Music for the Connoisseur.
1968: Dr. Gaye Wilson Allen delivers an address at Cooper Union on the "Philosophy of the Free Man's World"  as part of the series Peace, Love, Creativity: Hope of Mankind.
2003: Dramatically set in Morocco, in the largest extant medieval city in the world, the Fez Festival of World Sacred Music is one of the world's most unique and enterprising musical events. On this edition of New Sounds, we hear live performances by three talented women representing the three Abrahamic religions: Houria Aichi sings north African Sufi songs; Angelique Ionatos performs songs by Mikis Theodorakis, and Christiane Zaidline sings Hassidic music.