Niche Market | Streit's Matzos
New York is a city of specialists from foodies to academics, laborers to shopkeepers. Every Wednesday, Niche Market will take a peek inside a different specialty store and showcase the city's purists who have made an art out of selling one commodity. Slideshow and video below.
Streit's Matzos
148-154 Rivington Street
New York, NY 10002
Streit's matzo bakery on the Lower East Side, which opened its doors on Rivington Street in 1925, may be the oldest factory of its kind in the country. Nestled among the trendy bars and restaurants that now populate the neighborhood, the family-owned factory pumps out 8 million boxes of the unleavened bread most notably consumed by Jews during the eight days of Passover.
The family-run venture started with Aron Streit, an immigrant from Austria, who opened the shop to cater to the Jewish population. Now, Aron's great grandson, Alan Adler, runs the business with two of his cousins. Adler keeps a lot of family traditions, even smoking a cigar while working at the factory, like his great-grandfather did.
Of the 8 million boxes of matzo produced in the factory annually, 2.5 million are Kosher for Passover. This special kind of matzo is made with flour and water only, and the dough must be mixed, go through machinery and be baked within 18 minutes under Jewish law.
During the production season, Streit's has six rabbis supervising the matzo-making process. A timer is set to go off every 15 minutes in the second-floor mixing room so rabbis know to alternate mixers since old dough is not allowed in subsequent batches.
After the dough is mixed, it falls down a chute to the first floor and onto a sheet that perforates it before rolling it into the 72-foot long original oven, which cooks the dough at 900 degrees and produces 1,000 pounds of matzo an hour.
Workers break it into squares and send it back upstairs in metal crates on a conveyer belt so it can get packaged.
Today, most of the Jewish community in the neighborhood has dispersed, and the majority of Streit's business is wholesale to supermarkets. They still have a retail store attached to the bakery where a box of matzo sells for $2.
The Streit family said they will stay put on the Lower East Side despite the inconveniences of having a factory in Manhattan. They believe the original oven and the New York City water are what makes the taste of Streit's matzo unique.
Has the business changed much since the time of your great-grandfather?
Alan Adler: The nature of the business has changed. This used to be a local bakery. People would come to the bakery to pick up their hot matzo. There'd be lines around the block. Police would have to be here for crowd control before passover on Sundays. Nowadays, that sort of direct-cash business with the customer isn't there like it was back in the 40s and 50s. Now we sell almost exclusively to distributors — wholesale who then resell to supermarkets. 
How does the business keep going on a year-round basis since Passover is just once a year?
Passover is probably about 60 percent of our business. People eat matzo year round — Jews and non-Jews alike. In addition to the Passover matzo, which is flour and water, we have matzo that has sun-dried tomato, basil, garlic, salt, pepper, poppy seeds, onion, egg. We have lots of different flavors. It's a year-round food staple.
Do you sell mostly to a Jewish customer base? 
It definitely is mixed, predominately Jewish. We're still an ethnically Jewish food, but we get many, many letters from churches looking for our product that they use in communion and the lord's supper. A lot of Italians write in. Our matzo ball and soup mix is almost an American staple at this point that sells. Potato pancakes is another big seller. Polish, Germans, a lot of people eat these products whether they're Jewish or not.
Is there something that makes the actual taste of Streit's matzo unique?
We think the way we bake it is unique. We have a convection oven. Most bakery ovens are direct fire. We have New York City water, which is supposedly the best for matzo, bagels and pizza. And we double laminate the matzo: when the dough comes down it gets folded over in two directions, which adds some layers to the dough. If you were to break open a piece of matzo you would actually see the layers of the dough in it.
Can you keep a box of matzo for a long time? 
Oh, it will stay fresh for years. The outer wrap is airtight, and two years later you could open up a box of matzo and it would still be crisp and tasty.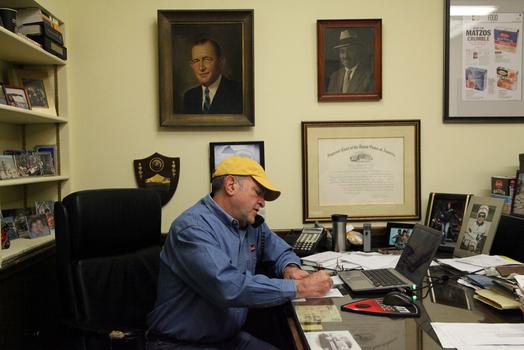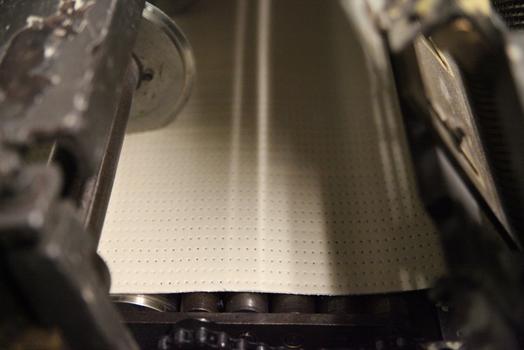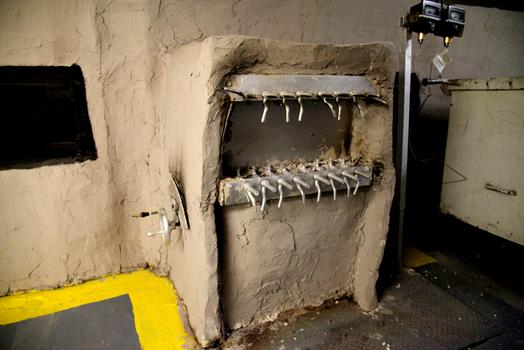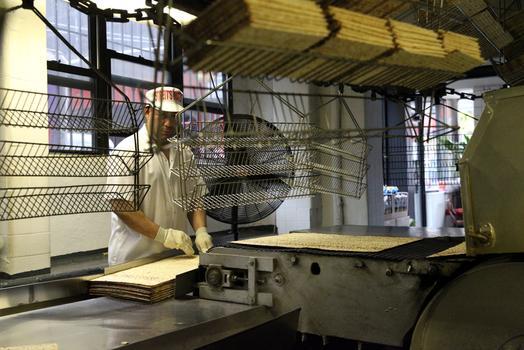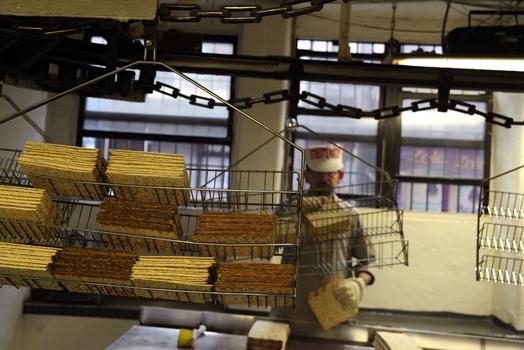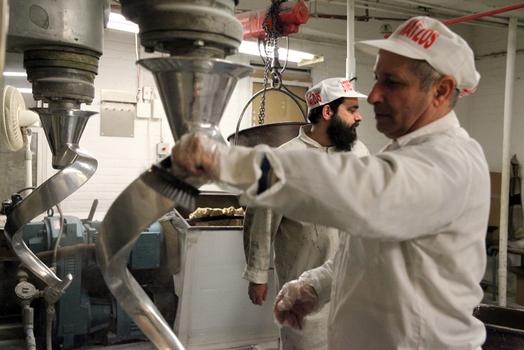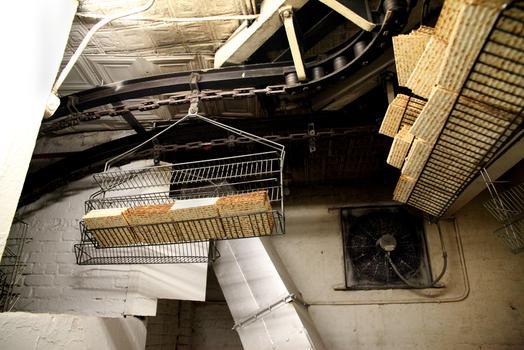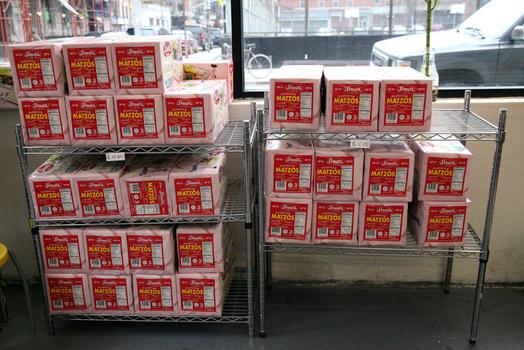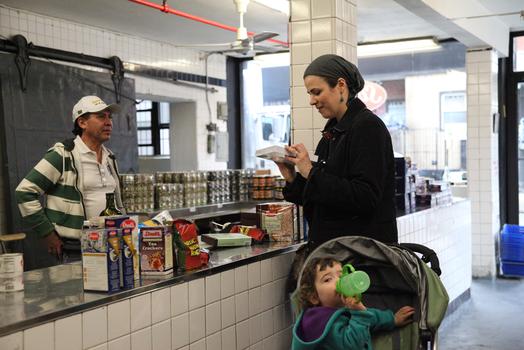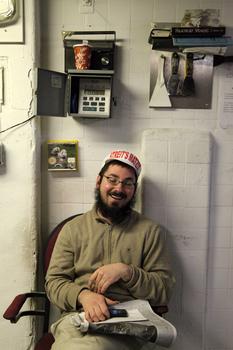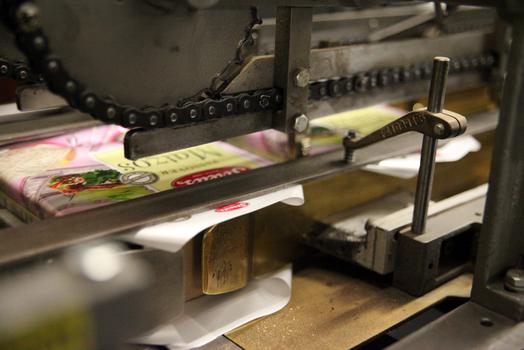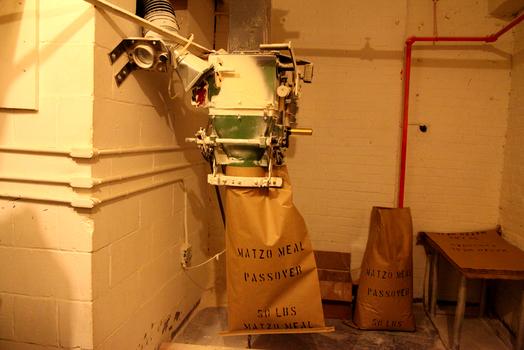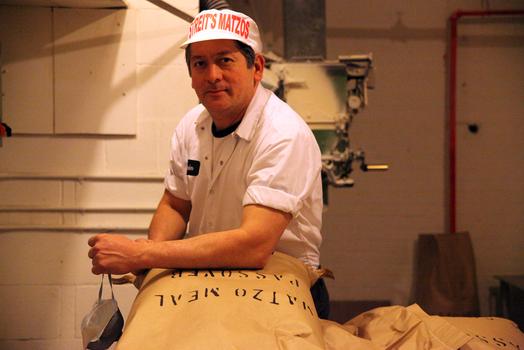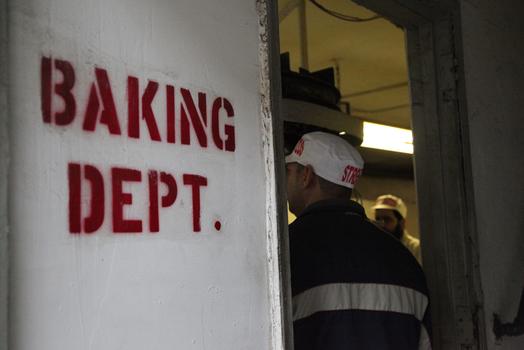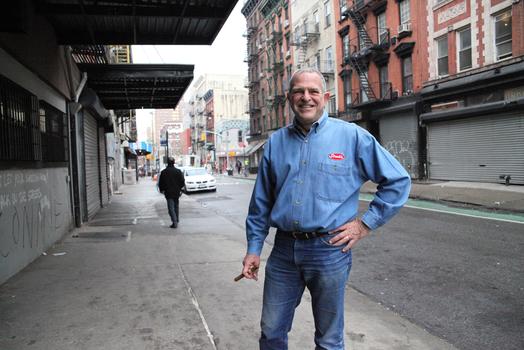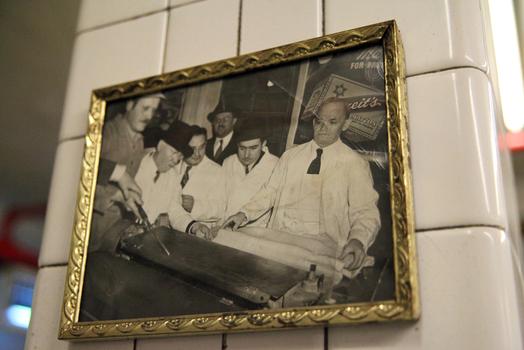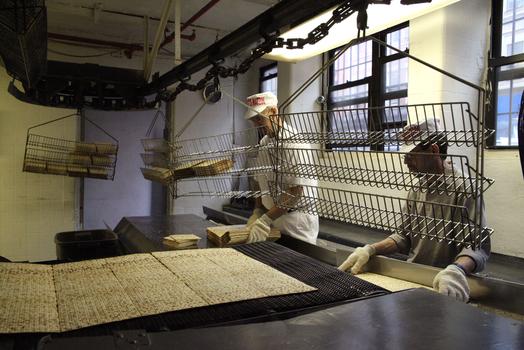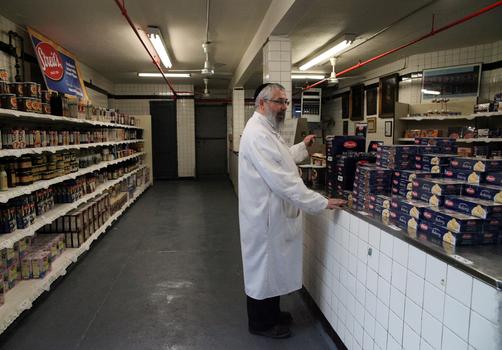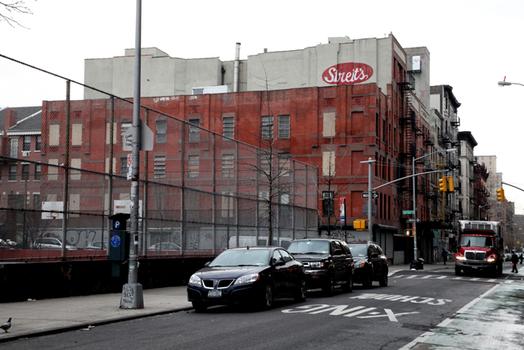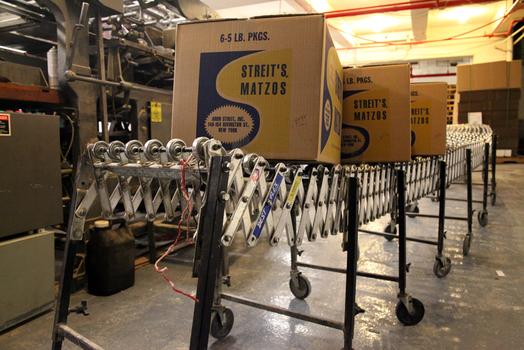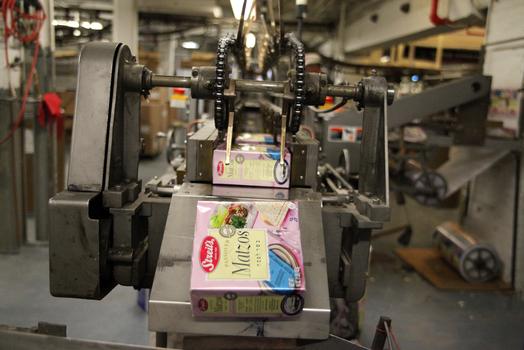 of