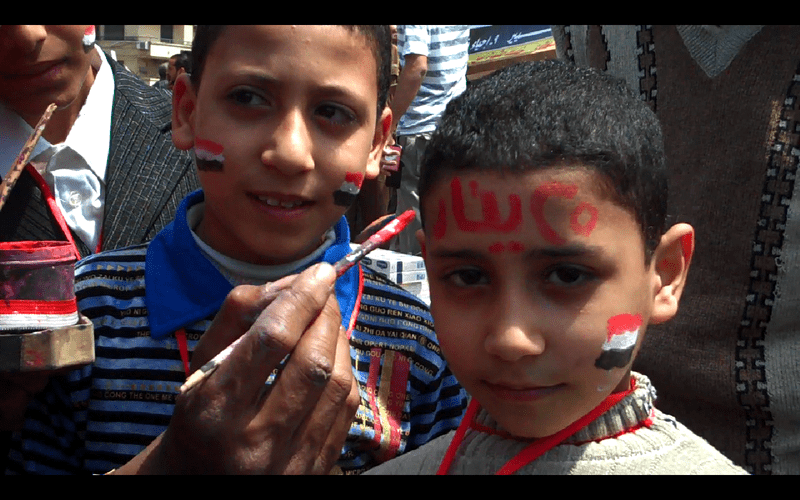 Sarah has been struck by the contrasts of Egypt more than I have. Maybe its because I'm older, or because of those years in Moscow, but I'm grateful for the chance to see the city form her perspective. She has been spending more time on her balcony, not far from Tahrir. Last night, while I slept, she heard gunshots, which (she gleaned from Twitter) was probably the military attempting to disperse crowds in the square defying the curfew. The protesters are determined to remain a constant reminder that there is still a revolution underway.

Yesterday, Sarah and our translator, Mandi, stayed in the square while I went to an outpost of the BBC to do one interview and then to the garden restaurant of the fancy Marriott to do another. I met them in that moneyed garden, and Sarah said she'd been literally crushed by people in the square who saw a microphone as their ONLY way to get their voices out,  their grinding poverty and their lack of opportunity, including a young woman holding a picture of her brother and crying that he had not been heard or seen since he was picked up by the authorities for no apparent reason.

Sarah was struck by the contrast of the chaos of the square with the leafy elegance of the Marriott just a few minutes away. Mandi identified several wealthy Egyptian businessmen, one planning a parliamentary run. We did the interview with a smooth young man newly hired to host one of State TV's most watched public affairs shows, two and a half hours in prime time, six nights a week. He said he knew he had a responsibility to bring Egypt's problems to the public. He said he didn't need the job and was willing to risk it. We'll see.

Then I ordered pizza and a Bloody Mary.