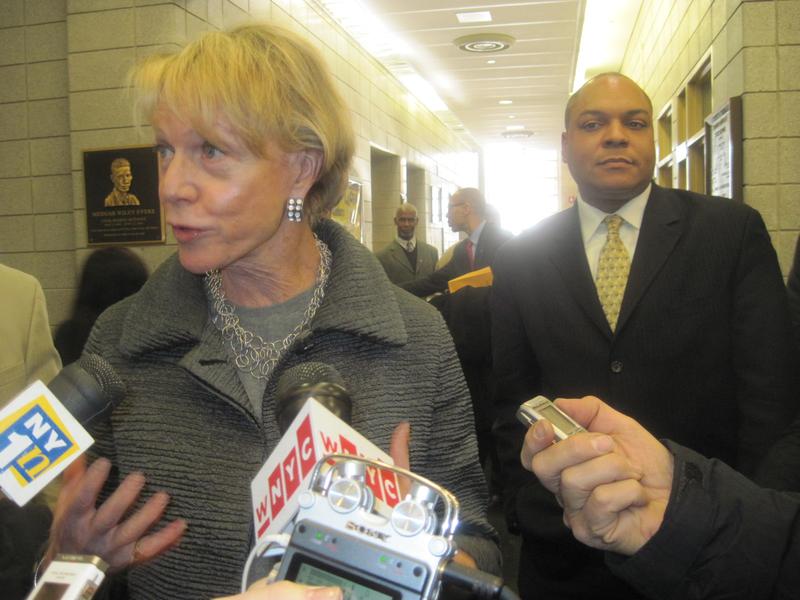 Welcome to Politics Bites, where every afternoon at It's A Free Country, we bring you the unmissable quotes from the morning's political conversations on WNYC. Today on the Brian Lehrer Show, WNYC reporter Beth Fertig, Gotham Schools reporter and editor Elizabeth Green, and political analyst and Mayor Bloomberg biographer Joyce Purnick react to the news that Schools Chancellor Cathie Black is resigning today. 
The Cathie Black era is over.
Appointed just last November, Schools Chancellor Cathie Black will be replaced today by Deputy Mayor Dennis Walcott. Walcott was the deputy mayor for education throughout Mayor Bloomberg's administration.
WNYC reporter Beth Fertig said Black's resignation, though surprising, doesn't come as a complete shock.
I would have expected that she wasn't doing very well. The poll numbers confirmed that. She was obviously struggling in this job, but Mayor Bloomberg is a very stubborn person and when he is sure of something he's sure of it. So I guess what I'm surprised by is that he would admit defeat, because it's only been three months and he was insisting all along that he wasn't appointing an educator, he was appointing a manager. So for this to happen so swiftly is what is stunning to me, because he could continue to argue that she's a manager, and the public still doesn't even really know her very well. I find it very surprising that a mayor who is so committed to his vision, to saying that it's all about being a good manager, would retreat from somebody who he said epitomized that.
Fertig spoke with Black two weeks ago.
I said, do you plan to be here three years from now, and she said 'absolutely', and she told me what her goals were… she seemed very committed to it when I saw her last. But I did get the feeling that it was not a very good job fit, that she was not a person who seemed… passionate about education, that it was not an area that she knew much about, and so she was doing a lot of catching up on it. That's not to say she couldn't have grown into the job, but when I saw her, she did seem quite awkward in her interactions with the students in the school that I attended, in questions that she responded to ..she stayed very much on script. But that's also a political strategy that City Hall was orchestrating.
Elizabeth Green, reporter and editor for Gotham Schools, said she had already spoken to some people inside the Department of Education.
My sense is, the decision seems not to have come from the Department of Ed[ucation] but from City Hall. Everybody who worked at the top levels with Cathie Black… as recently as yesterday they were planning events with her for today, so this was... surprising... At the same time I'm hearing a lot of relief. I'm hearing people saying that there's a lot of work to be done and it seems like she was becoming a distraction. Her low public approval ratings, and her gaffes, and the politics that were beginning to surround her relationships with the community were becoming a distraction from the work that the Department wants to carry on.
NY1 and Marist conducted a poll recently which found Black's approval at 17 percent. In addition a number of high-profile resignations had plagued Ms. Blacks recent tenure. While there is no inherent reason someone could not go from a business background to competently running city schools, as evidenced by Michelle Rhee, Green said Black just didn't work out.
I think that one sentiment around Cathie Black is that there's this desire for these transformative school leaders in districts across the country…. But how can you get someone who can both manage the large complicated system and has educational expertise? The criticism of Cathie Black from the start was that she doesn't know anything about education when she starts. She walks in, having not ever set foot in a public school building… her learning curve was tremendous.
Green said many school districts see high turnover in school superintendents.
The new thinking is maybe we can find people who have both education expertise and management expertise, and, interestingly, that is what Dennis Walcott offers.
Joyce Purnick, political analyst and Bloomberg biographer, finds this a potentially embarrassing moment for the mayor.
It's probably not his strongest, on the other hand it reminds me.. of something that [former Mayor] La Guardia said, which is 'when I make a mistake, it's a beaute.' He's done a very quick turn around on this. It was a mistake, it was a big mistake. I don't think there's any doubt. And he hasn't stuck with her. His ability to turn around, after making a mistake, I guess we all have to respect.