Obama's Sharpton: Consistent Defender and Visible Ally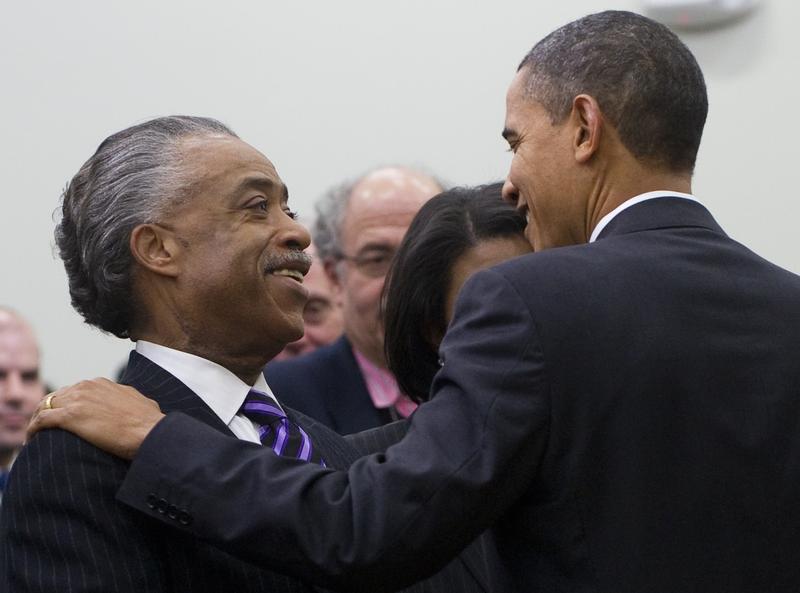 Two days after formally relaunching his reelection campaign, President Barack Obama is coming back to New York to speak to Rev. Al Sharpton's National Action Network.
While some prominent African American activists have called for tougher scrutiny for the first black president – Princeton professor Cornel West quipped on his radio show last week that "for the first time now, some of the Kool-Aid begins to wear off a bit" – Sharpton has enjoyed a cozy, and conspicuous, relationship with Obama while in office.
Sharpton's toured public schools with Obama's Education Secretary, enjoyed Oval Office audiences, and remained a constant attack dog to defend Obama, particularly in the black community.
And it's raised eyebrows throughout.
Here, a look back at when and how Sharpton's weighed in on the Obama presidency.
Obama and Presidential Elections
The reverend and president have known each other since Obama was in the Illinois State Senate, and as Obama's sights focused on the White House, Sharpton was there. In late November 2007, the two sat for dinner together at Sylvia's in Harlem, with the reporters and photographers in tow.
In March 2008, during the heat of Obama's primary contest against Hillary Clinton, Al Sharpton announces support for Obama, but withheld his endorsement. "I said, 'I'm gonna do whatever I gotta do to help you. Hillary Clinton has never done nothing for us,'" Sharpton told a rally of supporters. He declined to endorse the president, but said he told him, "I can be freer not endorsing you to help you and everybody else.'"
After Obama won the superdelegate scramble and secured the nomination, Sharpton chastised the Clintons for not embracing the Barack Obama's candidacy. "It can damage their legacy in the long run if they don't get a grip pretty quick," he said on the eve of Hillary Clinton's speech to the Democratic National Convention.
Obama and When Race Matters
Rev. Sharpton blasted a New York Post cartoon that showed two police officers standing a dead chimpanzee, saying "They'll have to find someone else to write the next stimulus bill."
"Being that the stimulus bill has been the first legislative victory of President Barack Obama (the first African-American president) and has become synonymous with him, it is not a reach to wonder whether the Post cartoonist was inferring that a monkey wrote it?" Sharpton said.
Obama and When Race Doesn't Matter
After Obama was criticized for saying "I can't pass laws that say I'm just helping black folks," Rev. Sharpton defended the president's position after meeting with the president with other civil rights leaders at the White House. "We're not looking for race-based programs but, like the president, we want to make sure that everyone is included," Sharpton said after the meeting.  
Sharpton sparred with radio host Tavis Smiley about whether Obama has done enough for the black community. ""The president does not need to get out there and do what we should be doing," Sharpton said.
The Wall Street Journal took note, and branded him "Obama's new partner," about his visible role as a defender of the president in the black community. To some, it looked like the result of smart positioning. "Al Sharpton learned more quickly than many others that the ascension of Obama meant the end of protest politics," Rev. Eugene R. Rivers III, a leader of a black Pentacostal denomination, told the newspaper.
Obama and Education
In 2009, Sharpton toured schools with Education Secretary Arne Duncan and Newt Gingrich, with stops in New Orleans, Philadelphia, Baltimore and at Meet the Press. "When the president challenged us, I think you've got to go beyond your comfort zone, because what we have been doing has not worked," Sharpton told the show.
Secretary Duncan later joined Sharpton at a "Reclaim the Dream" ally in Washington last summer that was held as the same day as Glenn Beck's "Restoring Honor" rally, which Education Department employees were invited to attend in an emailed memo.
Obama and Controversial Preachers
After Obama denounced his former pastor, Jeremiah Wright, because of controversial statements he'd made in the past, Rev. Sharpton weighed in to defend him. "Barack Obama's not running against Jeremiah Wright. He's running against Mrs. Clinton and later, hopefully, John McCain," Sharpton told ABC. "And when we choose between him and them, even if we disagree on the Rev. Wright controversy, I don't think it changes our vote on whether we think he'd be better for all Americans than his opponents."
Rev. Sharpton later defended Obama's choice of Rick Warren to deliver his inauguration invocation because of Warren's views on gay rights rights and other issues. "I certainly don't agree with Reverend Rick Warren. I'm sure Reverend Warren doesn't agree with me on certain things," he said, while Obama was facing sharp criticism for the pick. "But I think there's room for everyone."
As for his relationship to the president, Sharpton says their bond has its roots in their shared willingness to take on the establishment.
"He and I come out of two different worlds in the African-American experience: I come out of activist tradition; he comes out of political tradition. But the fact is that both of us have tried to come up against established feelings and beliefs in our fields," Sharpton told Politico in 2009. "He wanted to expand where politics was, and I wanted to expand the civil rights movement. Some of the same people that gave him problems gave me problems. So there was an understanding."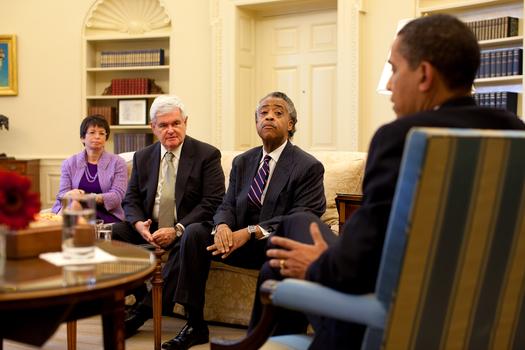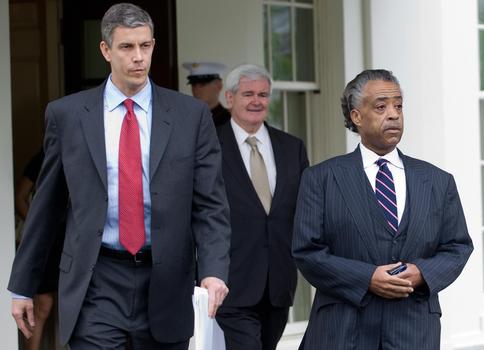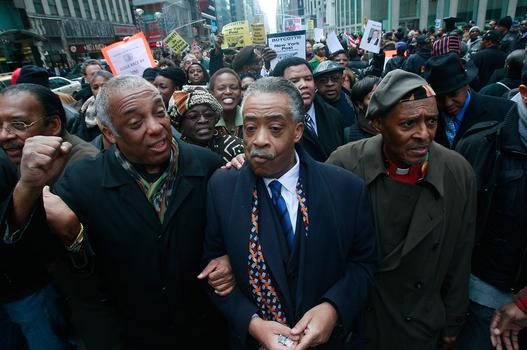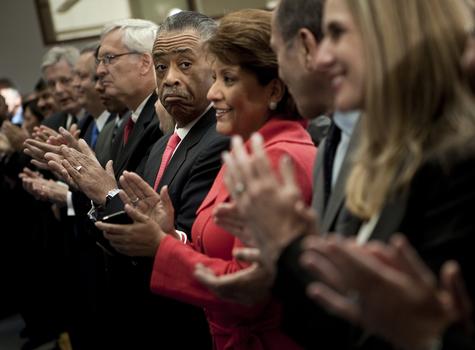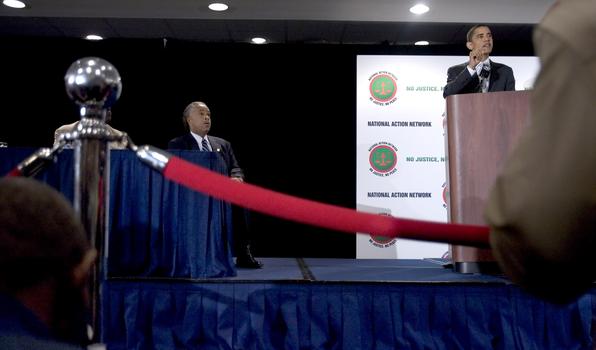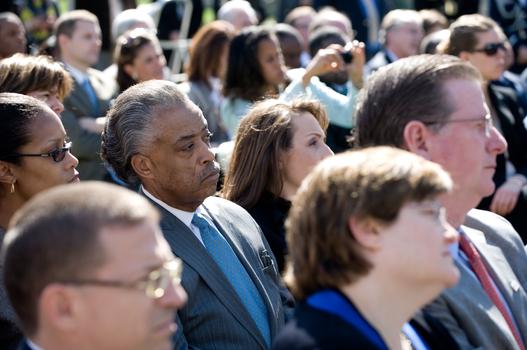 of